The iPhone 11 camera review: What's new, and is it worth upgrading to?
At this point, it's pretty much a guarantee that a new iPhone model means a new and improved camera. And with all three models of iPhone 11, the camera has definitely raised the bar for smartphone photography. Keep reading to see what's different between these models and to dive deeper into the specifics of each feature.
---
Why does iPhone 11 have 3 cameras?
If you've been using an iPhone X or any of the Plus models, then you're no stranger to multiple cameras. But if the iPhone 11 models are your first foray into multi-camera phones, you might not be as familiar with how they work. Each camera has a different lens: telephoto, wide-angle, and ultra-wide. This means you can get a more zoomed in or a wider picture without having to physically move.
However, before you decide to purchase a new iPhone 11, it's important to keep in mind that only the iPhone 11 Pro and Pro Max models have three cameras. The baseline iPhone 11 only has two cameras with a wide and ultra-wide lens.
---
How many megapixels is the camera on iPhone 11?
Across all three models, the specs for the rear camera are similar to their iPhone XR/XS predecessors. The rear camera is 12 megapixels and is capable of the new Night mode feature.
But the front camera on all of the models is what received the biggest improvement in the new phones — going from 7 megapixels in older models to 12 megapixels — and it is now able to take slow-motion selfies, or "Slofies," as Apple has dubbed them.
---
New features of the iPhone 11 camera
Along with new lenses and specs, the iPhone 11 camera is loaded with new features. Some are more automatic than others, but we'll explain some of the bigger ones you should know about.
Deep Fusion
Deep Fusion is a new photography process that is only able to work on the iPhone 11 line because of the A13 chip in them. Similar to HDR, Deep Fusion works because when you take a picture, the camera actually takes multiple pictures at different exposure levels to eventually combine them into one image.
Where it's different from HDR is that it leverages machine learning to combine the picture at a pixel level and, as the name suggests, fuse it together at a deeper layer, resulting in more details so that you can see the textures in elements like skin and clothing.
Deep Fusion happens automatically, which means you don't have to worry about turning it on or off. But it won't work if you have the Capture Outside of Frame setting turned on. To check, go to Settings > Camera and make sure it's toggled off.
---
Night mode on iPhone 11 camera
Night mode is a great new feature for all of the iPhone 11 models that will help you take brighter pictures even in low-light conditions. Fortunately, Night mode is triggered automatically by the camera, so you don't have to worry about enabling this feature. But that being said, you can turn it off or even back on if you want.
When the lighting conditions require Night mode, you'll see a moon icon at the top of the screen. When the moon icon is yellow, your picture will be taken with Night mode.
To turn Night mode off:
Tap the moon icon.
Adjust the slider at the bottom of the screen to turn it off.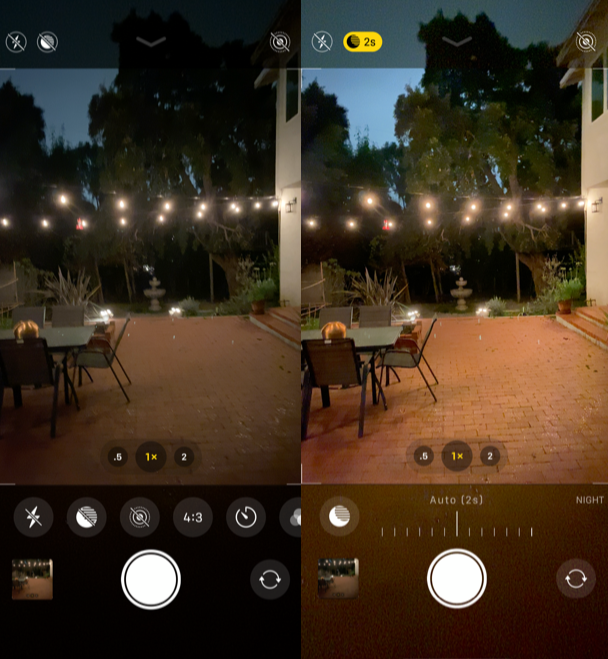 ---
The ultra-wide camera
One of the main features of iPhone 11 is the ultra-wide lens. It allows you to take a much wider picture without having to physically move. This is great for taking pictures when you're in less spacious areas.
Using the ultra-wide lens couldn't be easier:
Open the Camera app.
Tap the .5x at the bottom of the screen.
If that angle is a little too wide for your taste, you can also press and hold the .5x button to initiate a slider for a more precise frame.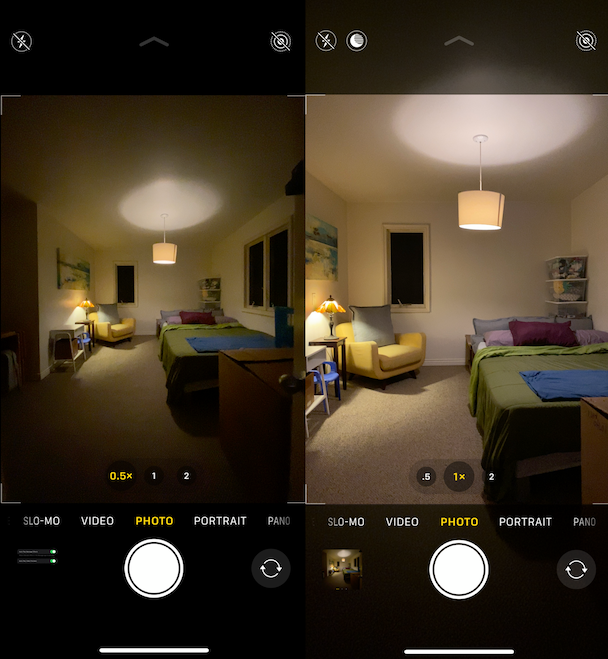 ---
Slow-motion selfies
Along with the upgraded 12-megapixel front camera, all of the iPhone 11 models are capable of recording slow-motion selfies — or Slofies. It works almost the same as filming a slow-motion video on the rear camera.
In the Camera app, turn it to the front camera.
Choose Slow-motion.
Press the record button.
---
QuickVideo
The QuickVideo feature should feel familiar to anyone that's used Snapchat or Instagram to record a video. Instead of having to switch to Video mode in the Camera app, you can just hold down the shutter button until you're done recording.
But if you don't want to have to hold down the shutter the entire time, hold down the shutter button long enough to start recording and then slide your finger to the right.
---
Are iPhone 11's 3 cameras worth the upgrade?
If there's any reason to upgrade to iPhone 11, it's the camera. The camera has improved so much, in fact, that it's practically the sole reason to upgrade. But if you're using an iPhone X or older, you're going to notice a considerable step up in performance as well.
---
The camera on all of the iPhone 11 models is undoubtedly a step up. Having three lenses and features like Night mode and Deep Fusion make it a truly impressive camera. Once you start taking pictures with any of the iPhone 11 models, you're not going to want to use the camera on any other phone.