Harvest new skills
Master a new skill in a booming Ukrainian IT company. You'll learn from experienced mentors, apply your knowledge to real-life tasks, and study the industry from the inside.
Application deadline: July 24
What you'll do:
Work from anywhere in Ukraine for 30 hours a week
Your talent is what matters to us, not where you are. You may work from wherever you feel safe in Ukraine. You'll have a blast and discover a lot either way.
Get a stipend for the entire two months
Yes, we'll pay you for it; that's just fair. Win-win relationships are the most successful ones. Make your internship the best job you ever had.
Deal with real tasks on real projects
Forget theory; this is real life. You'll dive headfirst into the software industry to address real issues. Your ideas may make an impact.
Create your own product as a graduation test
You'll bring home more than just a line on your resume. During a 3-day hackathon, you'll develop your idea and use all you've learned with us.
You can specialize in:
iOS/macOS Engineering

Have you ever tried to write something for iOS or macOS? We hope the answer is yes.

If you know Xсode, Swift, or Objective-C programming languages, understand OOP principles, data structures, and know a little bit about algorithms — you're perfect. We'll guide you and help you grow into a great software engineer. So go ahead and apply! Our programmers love humans!

Back-End PHP Engineering

Do you have a basic understanding of PHP and SQL? Then smash that Apply button.

You're just what we need if you know what OOP stands for, can use at least one framework, and your English is okay to read documentation. And if you've ever heard something about NoSQL, MQ, and Unix systems — it'd be a huge plus.

Front-End Engineering

Passionate about creating flawless web-pages? Awesome! We're waiting for you.

We're looking for a person who understands the basics of Web, knows HTML, CSS, and JS. It'd be perfect if you've worked with JS and CSS frameworks and know a bit about how Back-end works. Worked with third-party APIs and libraries? Superb! Go on and send over your application.

Quality Assurance

Go ahead and apply if you know a thing or two about software testing and OS administration.

Our perfect intern has a technical background, intermediate level of English, understanding of basic backend and frontend principles. If you know any programming language, that'd be a plus.

Social Media Communications

Wanted: an individual with top-notch English skills and a passion for marketing and social media.

We want you to have a desire to create while keeping an eye on the big picture. You'll become the voice of our company and get a chance to communicate with users directly.

You'll find out what makes people engage with content on social media, as well as how to establish a consistent brand presence there. It's your opportunity to get clued up about converting likes into solid business profits!

Internal Communications

You + other people = good? Awesome. We're on the lookout for a talented communicator with a passion for writing in English and Ukrainian.

Learn what it's like to manage in-house communications in a progressive Ukrainian IT company.

We hope you know how to write engaging texts in English and Ukrainian and have an eye for coming up with headlines no one can miss. You'll write, edit, translate, and restructure all kinds of texts for our internal communications. P.S. You aren't scared of speaking in public, are you? Because it'll be a massive bonus for your application.

Content Management

Are you into tech and can't wait to work with a variety of content? Then it's a match!

Become a Swiss Army knife of content management and learn backwards and forwards of promoting a tech brand. Your English should be good enough to deal with tech terms. Speaking of tech, you should be no less than excited about it! Or at least know the difference between iOS and macOS.

You'll learn a great deal as you handle all kinds of content, from texts and visuals to podcast recordings. Prepare yourself for a journey into video production — and be ready to boost your communication skills along the way! Ready to apply? Lights, camera, action!
Apply if
Instead of criticizing things you don't like, you try to make them better. Changes excite you rather than scare you. Your English is at least at an intermediate level.
Time left to apply
Hear from our interns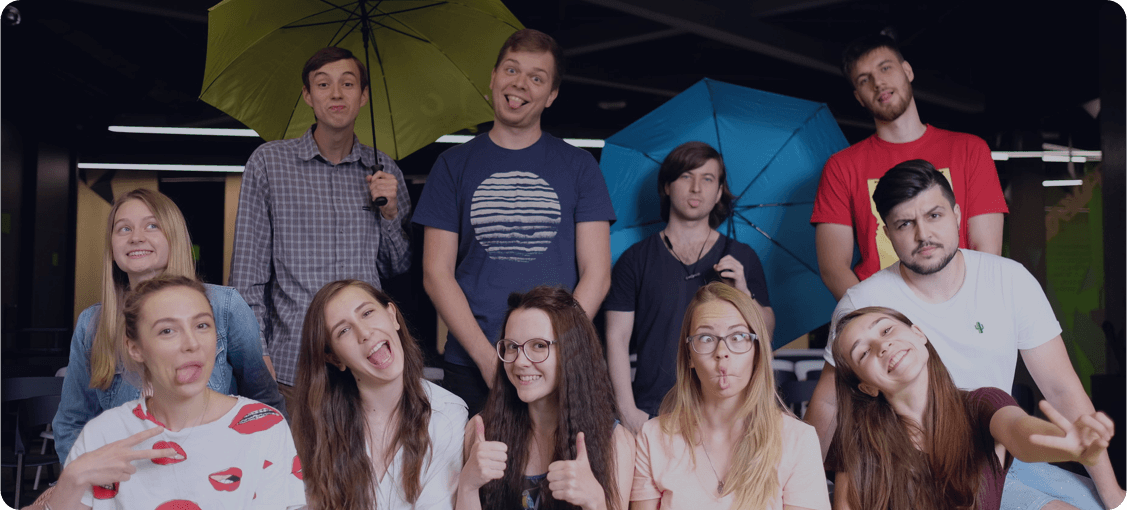 Internship Schedule:
1.07 — 24.07
Application time
8.08 — 26.08
Online interviews