The Unarchiver
Unpack any archive, in no time
The Unarchiver is the world's favorite RAR opener for Mac. Unlike Mac's native tool it's sleeker and supports all known archive types.
Latest Version: 4.3.6 (20 Oct 2023)
Takes seconds
to install
Install right away. Set it as the default archive opener in two clicks.
No license,
it's free
A people's app. Free of charge, free from extra purchases.
Foreign characters?
No problem.
The Unarchiver reads any archive, even non-Latin ones.
Find your archive type
With The Unarchiver you can extract files from the following archive formats.
Common Archives
Zip

Full

Zip

Full support for the normal zip format, with additional support for AES encryption, Zip64 extensions for large files, Mac OS extensions of many different kinds, and several unusual compression methods. Can also extract .EXE self-extracting files using Zip.

Zipx

Full

Zipx

Full support for the new compression modes introduced by WinZip.

RAR

Full

RAR

Including encryption and multiple volumes. Can also extract .EXE self-extracting files using RAR.

7z

Full

7z

All common compression methods are supported. Also supports Unix extensions.

Tar
Gzip
Bzip2
LZMA, XZ

Full

LZMA, XZ

Both the old "LZMA-alone" format, usually named .lzma, and the new .xz format.

CAB
MSI

Full

MSI

This format is also used by many other Microsoft formats, meanings that you can use The Unarchiver to extract internal data from DOC and PPT files, and others. There is probably no reason to do this, but you can.

NSIS

Extensive

NSIS

Supports many different versions, starting from version 1.1o

EXE

Some

EXE

Many kinds of .exe self-extracting formats are supported. However, if you find one that is not, please post an issue on the bug tracker.

ISO, BIN, MDF, NRG, CDI

Extensive

ISO, BIN, MDF, NRG, CDI

Most common disc images can be unpacked, both normal and raw.

Split files

Basic

Split files

Can join files named .001, .002 that do not use any extra wrapper format.
Older Types
StuffIt

No encryption

StuffIt

Can unpack all files I've been able to locate.

StuffIt X

Partial

StuffIt X

Can unpack many files, some more obscure features are still unsupported. JPEG compression is also unsupported.

DiskDoubler

Almost full

DiskDoubler

Only lacks some old compression methods, because I have not been able to locate any files using these. If you have some that do not work, please post them here.

Compact Pro
PackIt
Cpio
Compress (.Z)
ARJ
ARC, PAK

Full

ARC, PAK

Full support for all algorithms, including proprietary ones from PAK. Encryption only works in command-line utilities.

Ace

Only old files

Ace

No support for Ace 2.0 and up (WinAce).

Zoo
LZH
ADF

FFS

ADF

Can extract files from Amiga disk images using the regular FFS file system.

DMS

FFS

DMS

Can extract files from compressed Amiga disk images using the regular FFS file system.

LZX
PowerPacker
LBR
Squeeze
Crunch
Many other old formats, especially Amiga-specific ones, are also supported through libxad, but I have not made a full survey of which ones.
Exotic Formats
XAR

FFS

XAR

Suggested replacement for Tar on Unix. Used in some newer .pkg files on macOS.

RPM

Full

RPM

Linux package format.

Deb

Full

Deb

Linux package format.

Ar
ALZip

No encryption

ALZip

Archive format which is mainly popular in South Korea. Support for all known compression methods, including Bzip2, Deflate and obfuscated Deflate.

WARC

Full

WARC

Internet Archive Web Archive. Request and response headers also included in metadata.

NSA, SAR

Partial

NSA, SAR

Game data file. Can unpack all files I've found. If you have ones that do not unpack, please post an issue.

NDS

Full

NDS

Nintendo DS ROM image, which can contain a file system.

SWF

Images and audio

SWF

Extracts images, sounds and music from Flash files.

PDF

Bitmap images

PDF

Extracts bitmap images from PDF files. Especially useful for scanned PDFs.
Using it couldn't be simpler
1
Install the app. Click an archive file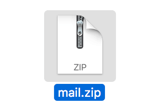 2
Go to File Get info menu.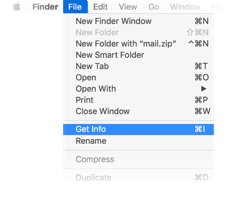 3
Open with... The Unarchiver.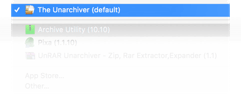 4
Click Change All.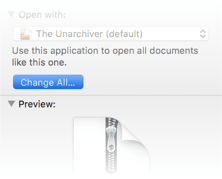 The Unarchiver speaks:
English

Deutsch

Español

Français

Українська

Italiano

Polski

Português do Brasil

Nederlands

简体中文

日本語

العربية

Български

čeština

Magyar

Latviešu

Türkçe

Svenska
Don't take our word for it
The best thing here is that somebody put some thought in how to make unarchiving less of a nuicance... Definite five stars.
If you are looking for an app that literally just unpacks the compressed files and then closes and leaves the files ready to be viewed in Finder, then this is the app for you... This app is really as simple as it should be.
The Unarchiver also allows multiple files with the same password to be opened together while having to only input the password once... You'll save yourself time and frustration if you switch to this app.
Every computer I have (that supports it) has this installed on it. It is literally the easiest way to extract practically any file archive you will ever come across... Huge thanks to the company... Their other programs are great as well.
Industry experts talk about The Unarchiver
macOS has long been able to uncompress zip files and some other archive types, using its built-in Archive Utility, but I've switched to The Unarchiver because it supports more formats and offers easier customization options.
Using it feels like part of the macOS Finder, which is the other thing that makes it so great. Basically, using The Unarchiver is like adding a much broader range of supported compressed file formats to your Mac.
Not only did The Unarchiver extract all the files, it did so with alacrity. The Unarchiver is just as fast as Apple's built-in utility, only more capable.
It's the Swiss Army knife of unarchiving programs and can handle pretty much any file, no matter how ancient, you throw at it... It's definitely worth having as one of your basic Mac utilities.
The Unarchiver
The only unarchiving tool you will ever need
The Unarchiver stays out of your way, but will handle any archive you can imagine including weird and rare archives.
Latest Version: 4.3.6 (20 Oct 2023)
*4.5 - rating for all versions, based on 3266 user reviews.
Subscribe to know first
Our mail pigeon will bring you our best deals and news about MacPaw apps.
Thanks for signing up!
You're almost done. Now, please check your email.