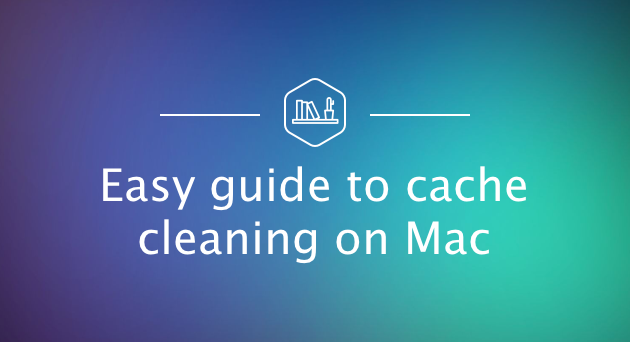 There are roughly three main types of caches you can clean on your Mac: user cache, system cache (including app cache and dns cache), and browser cache. This article will go over cleaning up all three.
Now, when it comes to clearing cache on Mac, there are two ways you can do it. You can clean them up manually, or you can clean them with a Mac utility like CleanMyMac 3. If you want to clear cache on Mac OS X right now, we suggest doing it the easy way:
Select System Junk
Click "Scan"
And then "Clean"
That's it, cache files cleaned! CleanMyMac 3 works on all systems, including the latest macOS Sierra. However, if you'd like to clean them all manually, follow the steps below.
---
How to Clear Cache Files on a Mac Manually
To clear your user cache and system cache, do the following:
Open a Finder window and select "Go to Folder" in the Go menu.
Type in

~/Library/Caches

and hit enter to proceed to this folder.
Optional step: You can highlight and copy everything to a different folder just in case something goes wrong.
Go into each of the folders and clean out everything.
Note: We recommend that you remove the insides of these folders, but not the folders themselves.
Now, repeat the same steps above, but substitute…
~/Library/Caches   with…   /Library/Caches
Make sure that once you have finished clearing out these caches for additional hard drive space, you empty out your Trash. To do this, Control-click on the Trash icon in the dock and select "Empty Trash." Restart your Mac afterward so your Mac can begin to create new, fresh cache files.
---
If you need to clear app cache on your Mac
What is app cache? In short, it's any media downloaded by the apps you use in order to work faster and not load it every time you open the app. Do you need it? It's debatable, but app cache takes up disk space and can be cleaned.
You can delete app cache in the same way as system cache, by going to ~/Library/Caches and removing the insides of the folders with the app name.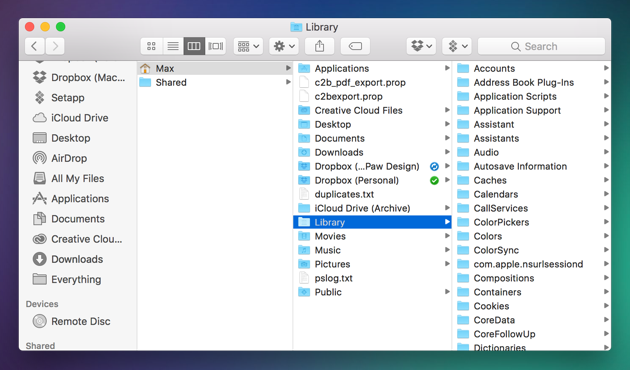 Proceed with caution! Not all app cache can be safely cleared. Some app developers keep important user info on cache folders. To be on the safe side, use CleanMyMac, it works with a Safety Database and knows how to clear app cache safely.
---
How to delete internet cache (or browser cache) manually
Browser cache temporarily stores website data such as images, scripts, and other stuff, in order to make your browsing faster when you revisit the same site. If you're worried about your privacy or want to hide pages you've visited, you can clear your Internet cache (or browser history). Also, resetting your browser cache will potentially help to get rid of 404, 502, and other errors caused by corrupted cache.
Each browser has its own cache location, so the process of clearing is different in each case. For instance, Chrome cache location is in Settings, Safari stores its cache in Privacy, and Firefox cache location is History tab.
Here's a quick introduction into how to delete browser cache on Mac.
Chrome clearing cache tutorial
Here's how to clear browser cache in Chrome manually:
Click the burger icon in the top right corner of Google Chrome browser.
Choose Settings.
In the left menu, choose History.
"Clear browsing data."
Deselect all, but Cached images and files.
Timewise, choose the beginning of time.
Hit "Clear browsing data" button.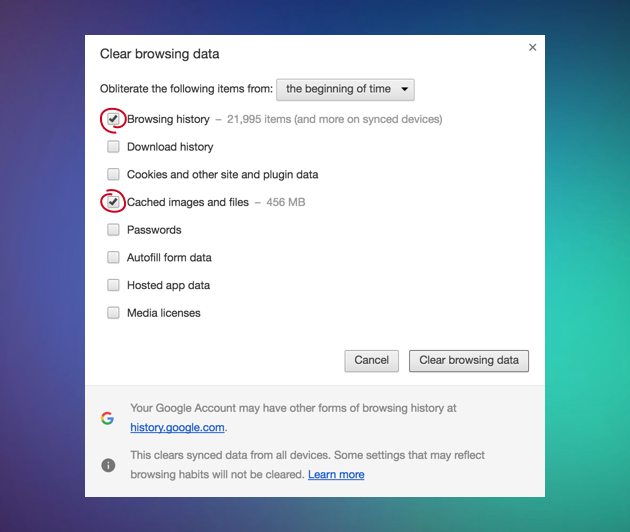 Firefox clearing cache tutorial
Here's how to delete cache in Firefox manually:
In the History menu, select Clear Recent History.
From the drop-down menu with time range, select the desired range; to clear all the cache, select Everything.
Next, click the down arrow next to Details and choose only Cache.
Click Clear Now.
Exit/quit all browser windows and re-open the browser.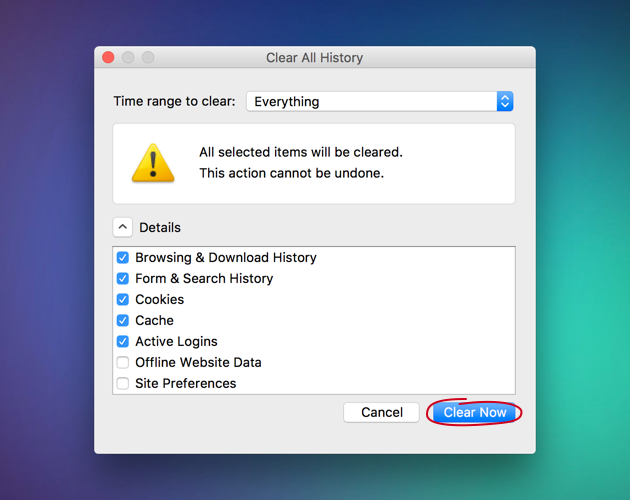 Safari clearing cache tutorial
Safari is a little trickier than the rest of the browsers. You could remove caches together with all the other website history through History — Clear History in menu bar.
But if you need more precision, here's how to empty cache on Safari browser:
In the top menu, choose Safari.
Click Preferences.
Choose the Advanced tab.
Enable Show Develop menu in menu bar.
Now go to Develop in menu bar.
Choose Empty caches.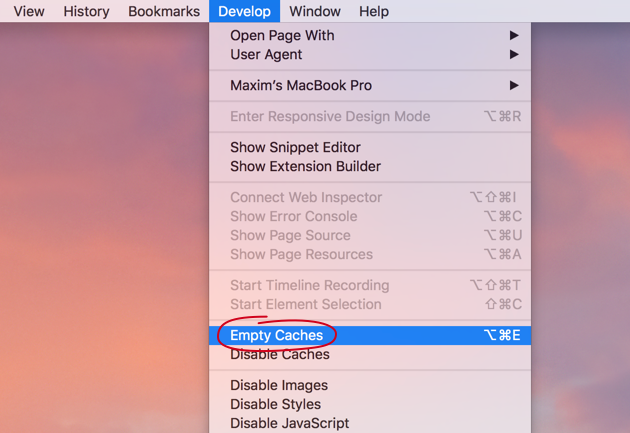 Make sure you close/quit the browser and restart it after clearing cache. Cache clearing can take awhile, so you can try clearing your local DNS cache to speed it up.
---
How to clear DNS cache on OS X
When you flush the DNS cache, what you're doing is removing old cache entries that translate internet domain names (example.com) into IP addresses on your OS X. Clear DNS cache regularly to make sure all websites work correctly.
You're going to need the Terminal for this. To open Terminal, open Spotlight and type in Terminal, or find it by clicking on the Applications folder and then clicking on Utilities.
Once launched, type in:
sudo discoveryutil mdnsflushcache;sudo discoveryutil udnsflushcaches;say flushed
You'll need to enter the admin password to execute the command.
Note: if you have OS X 10.10.4+, use:
sudo dscacheutil -flushcache;sudo killall -HUP mDNSResponder;say cache flushed
---
How to clear cache files on Mac with a single click of a button
Instead of searching all over your Mac to find and remove cache files yourself, you can clear user caches on a Mac using CleanMyMac 3. It makes removing cache files as easy as can be. 
Are you ready to get rid of all cache on your Mac in a second? Check out detailed instructions in our video tutorial:
To get rid of cache files with CleanMyMac 3:
Download CleanMyMac 3 (free) and launch it.
Select System Junk in the left menu.
Hit Scan at the bottom of CleanMyMac 3.
Then click Clean.
And you're done! If you'd like to remove only cache files and nothing else, click on Review Details before clicking Clean. Deselect everything but System Cache Files and User Cache Files, then click Clean.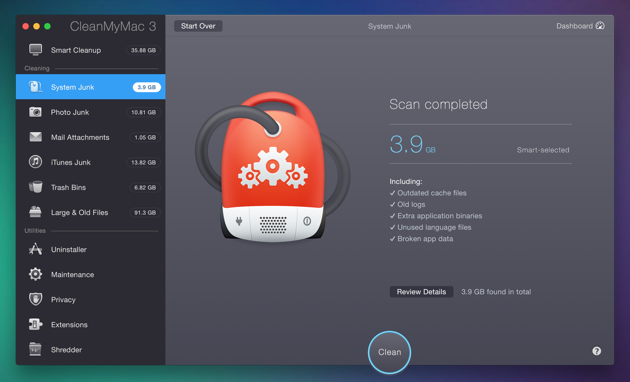 Cleaning your Mac has never been easier. Download CleanMyMac 3 to get yourself a faster, cleaner Mac — without worrying about cleaning the wrong thing.
---