You probably know or guess that you can remove apps by dragging them to the Trash bin, but it is not quite so. Moving the icon to the Trash works fine for deleting movies, documents or pictures, but not quite so with apps. Since trashing seems obvious to many users, we'll have to state as clear as possible:
IMPORTANT: Do not just move apps to the Trash, that doesn't delete them!
If you've been dragging apps to the Trash to delete them, you've been leaving gigabytes of leftover junk files on your hard drive. Removing apps is more than just moving them to the Trash — it's completely uninstalling them. We'll look closer at what's left behind when you do it, but if you just need a quick way to uninstall apps, download CleanMyMac 3 for free and use the Unisntaller tool in it.
How to Completely Uninstall Programs on Mac
If you are trying to delete an old application, reinstall a corrupted software or just free up disk space on your Mac, removing all components of the program is important. These include the app, its preferences and support files, and sometimes other hidden files.
To uninstall a program on Mac you have to choose one of the two: the easy way or the manual way. The easy way to uninstall a program on Mac is to get a Mac uninstaller app. What does it do? Well, it's obviously uninstalling apps on Mac, but it also cleans up all the assosiated files and leftover parts around your drive and system. The safest uninstaller is CleanMyMac 3, as we already mentioned, but if you want to get rid of apps on your own, we'll tell you how.
Whether you're running macOS Sierra or an earlier OS X, like El Capitan or Yosemite, the process of uninstalling remains relatively similar. Even uninstalling apps on macOS Sierra requires getting rid of leftovers, despite the fact that it's the latest and the most sophisticated system for Mac. Apple has done such as good job on macOS 10.12 but left this unfortunate issue unresolved for another year.
Later in this article we'll go over how to uninstall application on Mac by hand, how to uninstall Java and other unnecessary extensions, and what to do if you can't uninstall an app, but really need to. Stay tuned.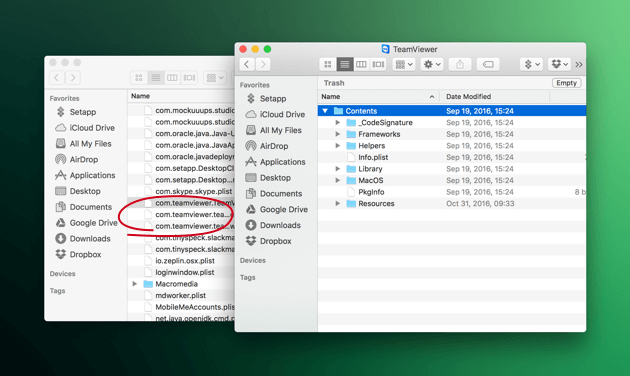 Clean up Apps on Mac OS X Manually
To completely remove programs from Mac manually, you have to find all the associated files that come along with the app. That means not just dragging the app icon to the Trash from your Applications folder, but searching the depths of the system files in your Mac.
For example, when uninstalling any, you have to go over each of these folders one by one and remove the following:
Dock Icon, located in…
 

/Applications/



Binaries, located in…


/Applications/

Application Support Files, located in…


~/Library/Application Support/

 (that is, your user folder > Library > Application Support)

Caches, located in…


~/Library/Caches

(that is, your user folder > Library > Caches). There are also a few in

/Library/Caches

as well.

Plugins, which are located in…
~/Library/Address Book Plug-Ins/ (that is, your user folder > Library > Address Book Plug-Ins)

Library, located in…


~/Library/

 (that is, your user folder > Library)

Preferences, located in…


~/Library/Preferences/

 (that is, your user folder > Library > Preferences)

Crashes, located in…


~/Library/Application Support/CrashReporter/

 (that is, your user folder > Library > Application Support > CrashReporter)

Saved States, located in…


~/Library/Saved Application State/

 (that is, your user folder > Library > Saved Application State)

This isn't even a complete list, because as a user you don't have access to some of the deeply-entranched system directories. As you can see, it's not that easy to remove apps from Mac, even when you know what to do. By the way, be sure to look for the name of the app in the file names of the files you remove. Don't remove anything you don't know! Do your due diligence before removing something from your system.
Remember, please be careful when deleting system files — you never know how it will affect your Mac if you remove the wrong ones (or the right ones for that matter!).
---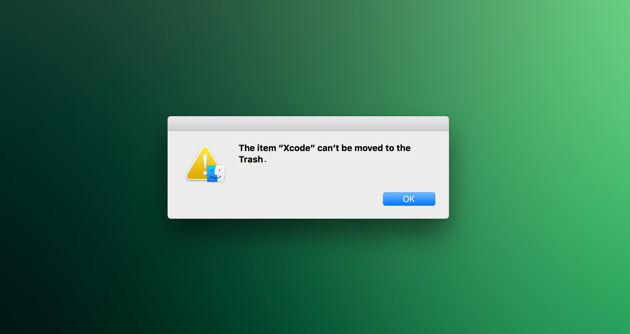 If you Cannot Uninstall Software on Mac
If you're unable to delete apps on Mac manually or if you're worried you won't do it correctly and want a safer alternative, we've got you covered. There's an easier way to uninstall software on Mac without searching all over your Mac, and that's by using CleanMyMac 3. It knows what to clean and what to leave be.
---
How to Remove Programs from Mac OS X or macOS with Uninstaller
CleanMyMac scans your entire system, and compiles all installed applications and the files associated with them. Plus, it can also identify broken and outdated apps to help keep your Mac up to date. It has it's own Uninstaller module which removes all the little leftovers that Trash'ing an app misses.
To uninstall an app with CleanMyMac 3, follow these four steps or simply watch the tutorial below:
Download CleanMyMac 3 for free and install it.
Launch it and click on Uninstaller in the left menu.
Select the app you want to remove from the list in the center. Once you've selected an application, you can either uninstall it or, if it's not acting as it should, you can perform an Application Reset.
Click on Uninstall or choose Application Reset at the top.
Now that the application cleanup is complete, you can view a log of the removed items, or go back to your app list to uninstall more.
And you're done! As you can see, CleanMyMac 3 is intuitive and beautifully designed. It finds all the little parts and pieces you're likely to leave behind on your Mac if you delete the app normally.
Plus, CleanMyMac 3 is Sierra-compatible, so if you were looking for a macOS uninstaller, there you have it. With CleanMyMac you get a cleaner, faster, leftover-free Mac.
---
How to uninstall Java on Mac and other unnecessary extensions
At this point, Java is mostly useless to the majority of users. If you need it uninstalled, the easiest way would be to get CleanMyMac and remove it. It's a free option in the trial version of the app, so you can get rid of Java in a matter of seconds.
Deleting Java with CleanMyMac 3:
Download last version of CleanMyMac and open it.
Go to Extensions — Preferences Panes. 
Choose Java and everything related to it.
Check it and hit Remove.
Congrats, you completely removed Java off your Mac!
---
As we already noted, CleanMyMac is free to download and try. It's a handy and efficient way to deal with unwanted apps on your Mac if you don't feel like spending hours on manual uninstallation. Have a good day and a good-working Mac.
---