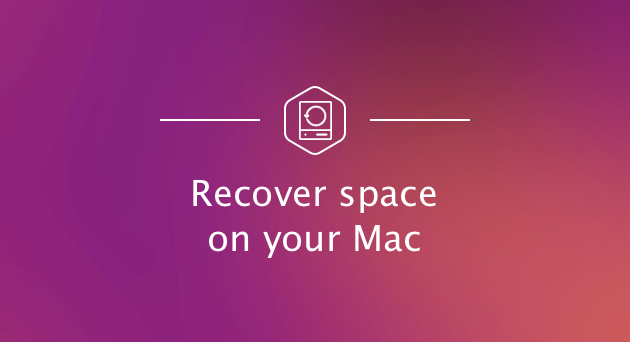 Labels are helpful. They take away the guesswork and make life easier.
When looking at our ever-decreasing storage capacity on our Macs we see: Apps, Movies, Audio, Photos, and Backups.
Everything is clear.
Then we see Mac's storage "Other". And we're confused. And we're annoyed. And we're wondering why it's taking up some much of our precious storage space.
To help you get that disk space back, let's figure out what Other Storage is and how to remove Other from your Mac.
---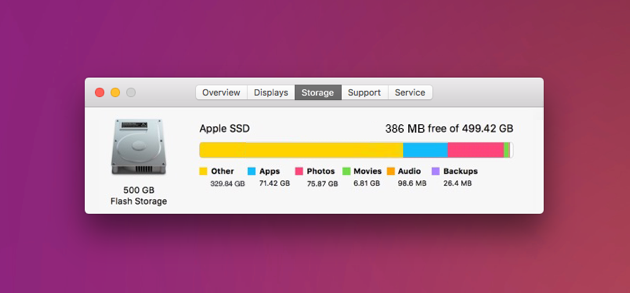 What is Other on Mac Storage?
Simply, Other storage on Mac consists of files that do not easily fall into the clearer category labels like "Audio." The types of "Other" files would include: 
Documents like PDF, .psd, .doc, etc.
Mac OS X system and temporary files.
Cache files like user cache, browser cache, and system cache.
Disk images and archives like .zip and .dmg.
App plugins and extensions.
Everything else that doesn't fit into the main OS X categories.
---
How to delete Other Storage on Mac
You can't entirely get rid of Other on Mac but you can reduce how much storage space it takes up. We're now going to look at each of the six types of Other files and show you how to clean up your Mac. We're going to walk you through deleting useless documents, junk system files, system slowing cache files, old backups, and all sorts of other junk.
1. Remove documents from Other Storage space
You might not think that pure text documents take up a lot of space but you may be surprised at the size of some .pages and .csv files. And that's before you start adding images, downloading ebooks, and creating big presentations. Soon your Other documents can start to get out of hand.
To find and remove large and unneeded documents from Other Storage manually:  
From your desktop press Command + F.
Click This Mac.
Click the first dropdown menu field and select Other.
From the Search Attributes window tick File Size and File Extension.
Now you can input different document file types (.pdf, .pages, etc.) and file sizes to find large documents.
Review the items and then delete as needed.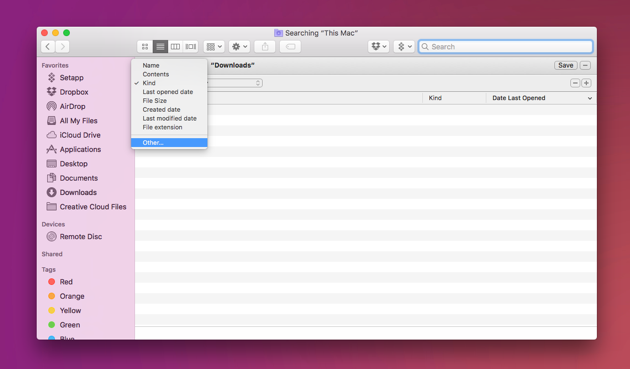 Luckily, there's a much quicker and more thorough way. By using a CleanMyMac 3 you are presented with a clear view of all the Other documents on your system to easily choose what can be removed.

To easily delete documents (and other files) from Other space with CleanMyMac:
Open CleanMyMac 3 and click on Dashboard.
In the Dashboard, you'll see a color-coded storage chart, similar to your Mac's native Storage bar. 
The key difference here is that CleanMyMac lets you jump straight to the files in each category (in our case, it's Other).
Double-click on Other, and you'll get a Finder window with your other files, like documents and PDFs.
Look through your files and delete the ones you no longer need.
Note that this method isn't available for High Sierra but perfectly works for Sierra and previous versions of the operating system.
CleanMyMac also helps to search for Other documents that are large and old as these are the most common storage wasting culprits (e.g. PSDs or presentations). From the interface you can choose to delete the files or move them to an external drive with a single click.

To specifically find large and old files in Other follow these steps:
Go to the Large & Old Files module in CleanMyMac 3.
Hit Scan.
CleanMyMac will find all large files that are piling up on your Mac. Preview them right in the app and tick the ones you want to remove.
Click Remove and then choose your removal option of choice.
These files can be also moved to another folder/separate disk or could be removed securely.

You can download CleanMyMac 3 and try it for free and see how it helps you slim down Other storage on Mac. Deleting your old files alone can recover you tons of space, but there are more space hoggers that fall under the Other data category.
---
2. Clean up Other space of system and temporary files
Every second your Mac is on, the OS X creates and piles up system files — logs, for example. At some point, the system needs these files, but they quickly become outdated and just sit there wasting your disk space. And guess what, they are in the Other Mac storage category, too.

These files are mostly temporary but they never actually go away unless you do something about it. The difficulty is that Apple hasn't made it easy to clear out system files. There's a good reason for this – people often delete things they shouldn't.
So where do you even look for system files?
To manually find where a majority of apps temporary files live navigate to ~/Users/User/Library/Application Support/. In this folder you will find your applications and some searching will reveal a lot of space being taken up. For example, your may have gigabytes worth of old iOS backups in ~/Library/Application Support/MobileSync/Backup.
You could delete these manually but a much safer and faster method is to use a specialist cleaning app like CleanMyMac 3. It has a System Junk module that specifically looks for useless system files and knows what's safe to delete.
Here's how to easily remove system files from Other Storage:
Go to System Junk in CleanMyMac.
Hit Scan.
Hit Clean.
That's pretty much it. Seriously. If this is the first time you ever cleaned your Mac, you'll see that the OS X Other storage tab has shrunk considerably after the system junk cleanup. 
---
3. Delete cache files from Other data section
Cache files are not just another invisible storage hog. They are often one of the worst offenders, often taking up gigabytes of precious space. The three main types cache are – browser, user, and system. Cache files are meant to help your system work faster, but over time they get bigger and bigger, eventually slowing your system down. 
To manually clear cache files on Mac:
Navigate to Go > Go To Folder.
Type in ~/Library/Caches and click Go.
Click-hold Option and drag the Caches folder to your desktop as a backup in case something goes wrong.
Select all the files in the Caches folder.
Drag them to the Trash.
Empty Trash.
Follow the same steps for /Library/Caches (without the "~") and ~/Library/Logs. Cache files sit in numerous folders, and with a little patience, you can clean them out manually (read more detailed instruction on clearing cache). 
For those who don't have the time or are worried about deleting the wrong files, CleanMyMac can quickly and safely do the job.
If you already cleaned out system files from step 2, congratulations, in doing so you also cleared out your cache files. If you didn't, here are the steps again:
Go to System Junk in CleanMyMac.
Hit Scan.
Hit Clean.
This will clear all the cache files on your Mac and considerably reduce Other storage on your Mac.
---
4. Clear Other space of disk images and archives
Normally, archives and images are files you keep for a reason. However, if you think you might have accumulated some useless .zip and .dmg files on your Mac, then you should definitely clear them out as well.  
You can find these files using Spotlight search:
Open Finder.
Type DMG/ZIP in the search field.
Select Search: This Mac.
Sort the results by Size.
Finder will show you all files of the format you've specified, sorted by size. You can clean out those you don't need.
---
5. Remove app plugins and extensions from Other storage
While apps are, unsurprisingly, categorized as Apps on the Storage bar, their add-ons are under the Other storage category.
Compared to some types of files, app plugins and extensions probably won't take up as much of your Mac's Other space. Still, every bit counts. Since extensions can sometimes cause other problems on your Mac, why not remove the ones you don't use to be safe and free up some extra Other storage space at the same time?
Tracking down all your add-ons can be a hassle. Some you've forgotten you had (like that nCage extension for Chrome), others you didn't know of in the first place.
Here's how to manually remove extensions from Chrome, Firefox, and Safari.
To remove extensions from Safari:
Open Safari browser.
Click on Preferences.
Click on the Extensions tab.
Select the extension you want to target and uncheck "Enable" to disable or click "Uninstall" to remove.
To remove extensions from Chrome browser:
Open Chrome.
Click the three dot icon in the top-right corner.
Click More tools > Extensions.
Disable or remove as you choose.
To remove extensions from Firefox:
Open Mozilla Firefox browser.
Click on the burger menu in the top-right corner.
Choose Add-ons.
From the Extensions and Plugins tabs disable and remove whatever you want.
To safely and easily remove all your extensions from one place, CleanMyMac 3 has a whole module for managing add-ons. Everything is categorized so you have a better understanding of what you're removing.
To manage all your extensions in seconds:
Go to Extensions in CleanMyMac 3.
Look through the list of add-ons (they're grouped into Login Items, Launch Agents, Browser Extensions, and so on).
Tick the ones you can go without and hit the Remove button.
Important! If you're not sure what a plugin does, don't rush to remove it. Try disabling it first and see if your apps and your system work as expected. You can always remove that add-on later. Also note that Chrome extensions can't be deleted automatically. But if you'd like to get rid of them, we'll list these extensions for you and tell how to do that manually.
---
6. Get rid of everything else from Other disk space
Even Other storage space has its own "other" files and no, the irony of that statement is not lost on us.
Other storage on Mac can also include:
Files in your user library (screen savers, for example).
Files Spotlight search doesn't recognize.
Typically, they won't be as big of a share of Other data on your Mac as cache files and other items we've cleared out. However, if you're determined to clean out as much Other Mac storage as possible, here's how you can delete screensavers:
Open Finder.
In the Menu bar, select Go > Go to Folder.
Type this: ~/Library/Screen Savers and click Go.
You'll see the screen saver files now — they are lightweight, but for the sake of being thorough, you can trash them as well.
As for files Spotlight doesn't recognize, they are rare. They could include files like Windows Boot Camp partitions or virtual machine hard drives. If you don't recall putting anything like that on your Mac, you probably have nothing to look for.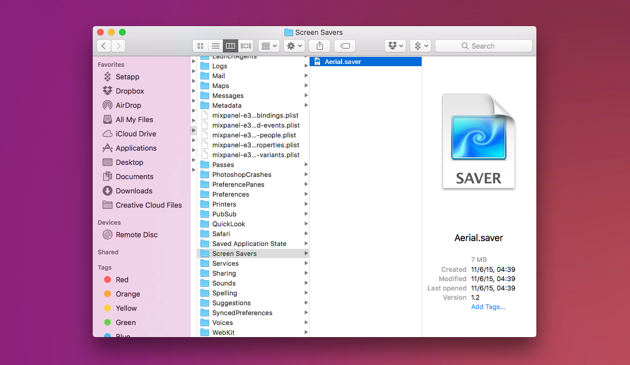 ---
How much can you expect to delete from Other storage on Mac? 
You'll never remove Other data section from Mac entirely, nor should you want to. It's perfectly fine to have space taken up by necessary files, whatever category label they have. What is not okay is valuable storage space being wasted.
Download CleanMyMac and follow the steps in this guide to clean gigabytes off Other storage on your Mac.
Your lighter and faster Mac will love you for it. =)
---
These might also interest you:
---