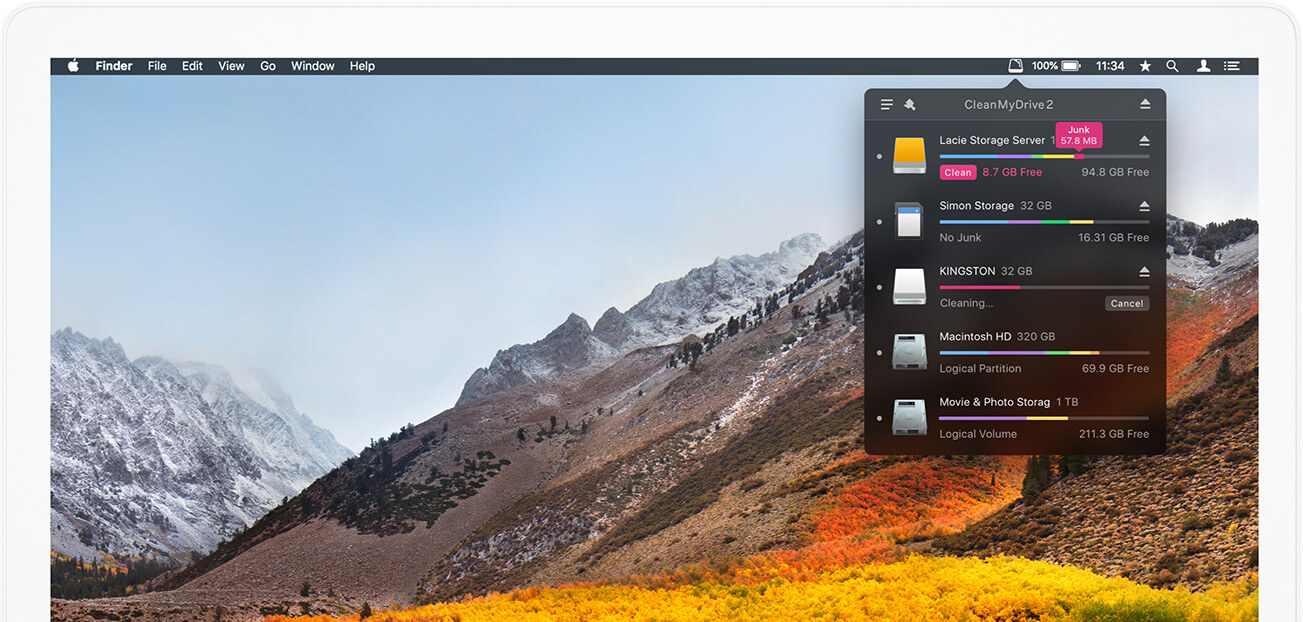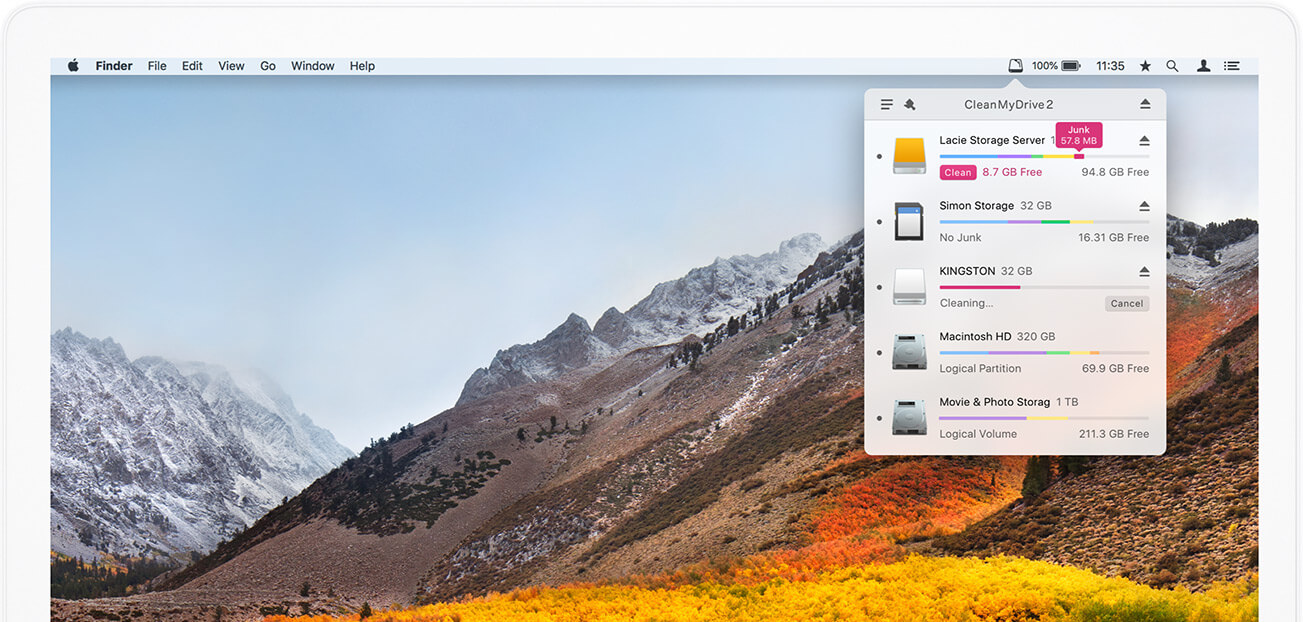 Unnoticed — until you need it
CleanMyDrive 2 is always at hand — just a lightweight interface that takes up little space and practically no system resources. It works for you around the clock so you have easy access to all your drives.
It works for all your drives
Is your camera's SD card not writing as fast as it should? Your USB stick won't connect to some devices? CleanMyDrive 2 works with SSD, external hard drives, SD cards, USB flash drives and pretty much anything that stores files.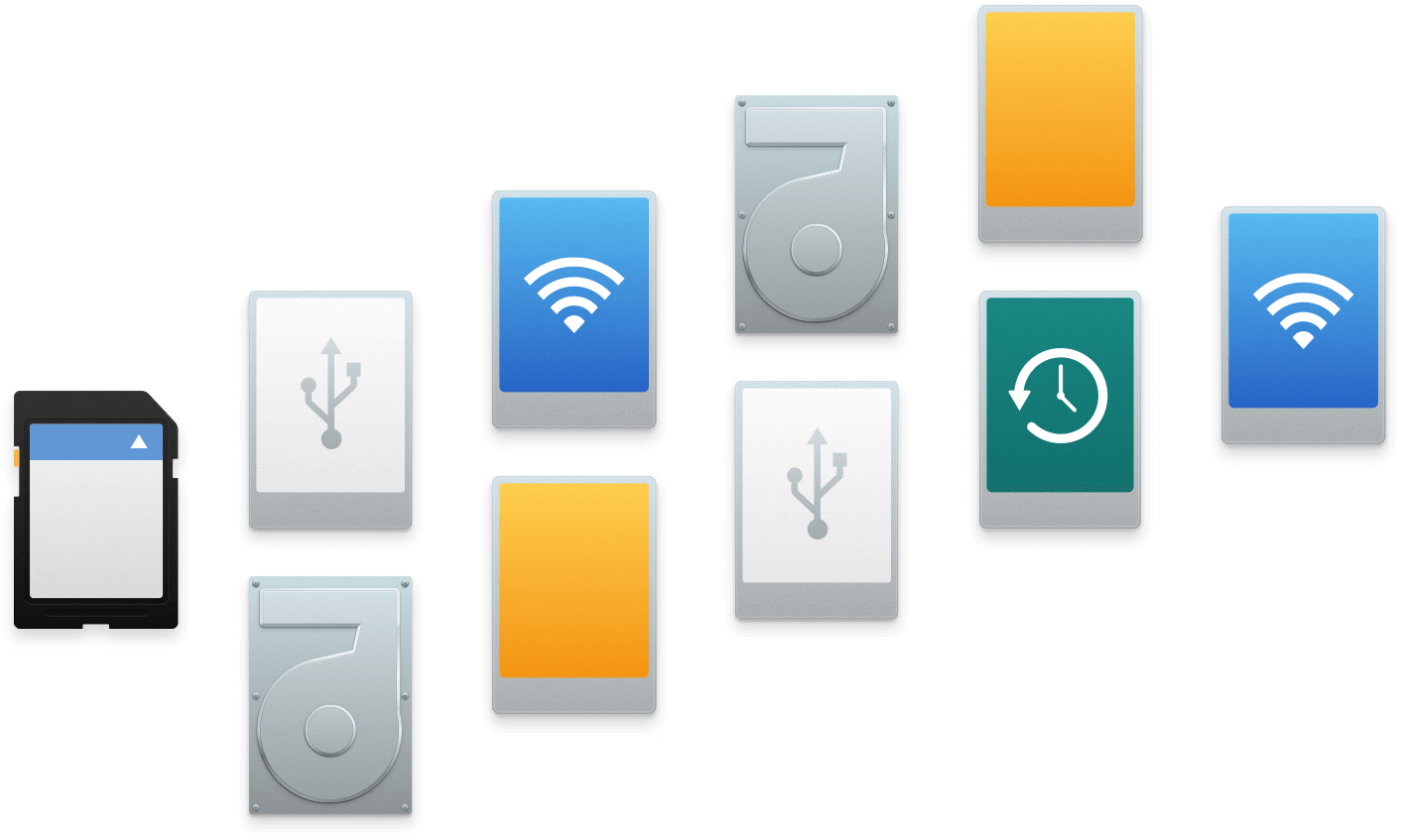 Know what takes up space
Not only do you get to see how much space is taken up on each drive, but also what's on them. CleanMyDrive 2 shows the storage bar for each of your external drives. Just like Mac's native bar for the internal drive, you get to see types of files and how much they hog.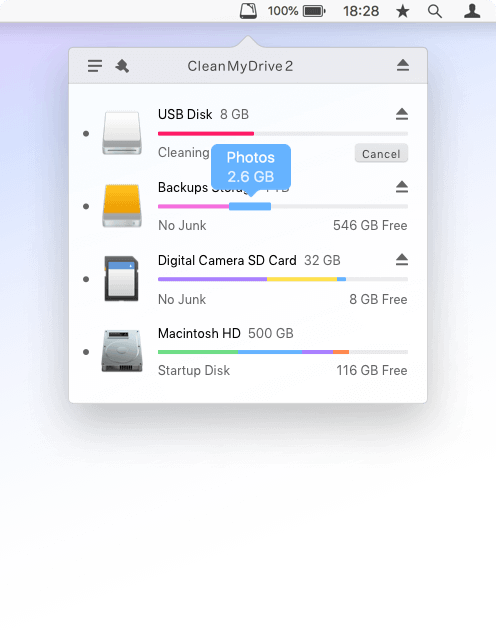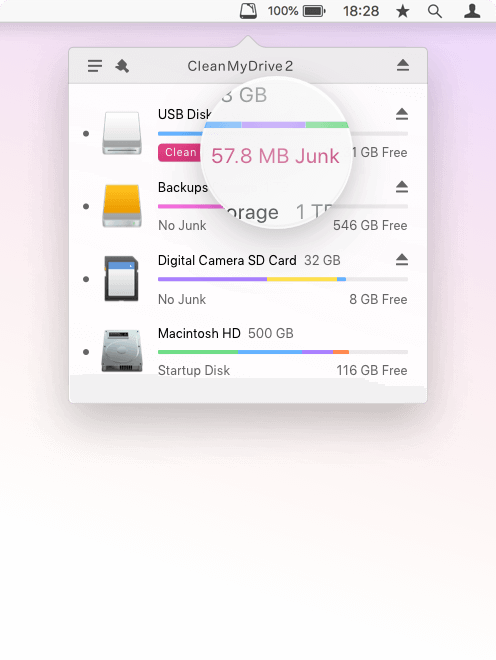 Clean hidden junk
CleanMyDrive 2 cleans up files which are otherwise hard to get rid of. Such as service files created by macOS and Windows that corrupt your external drive's compatibility with other devices. Most of them are hidden. Others are visible, but hard to delete. And all of them mean trouble.
What kind of hidden junk?
Copy files quickly to any drive
With CleanMyDrive 2 you don't have to rummage around in Finder — all of your drives are at hand in the menu bar. Drag and drop any file right into the app to copy it to the drive you want.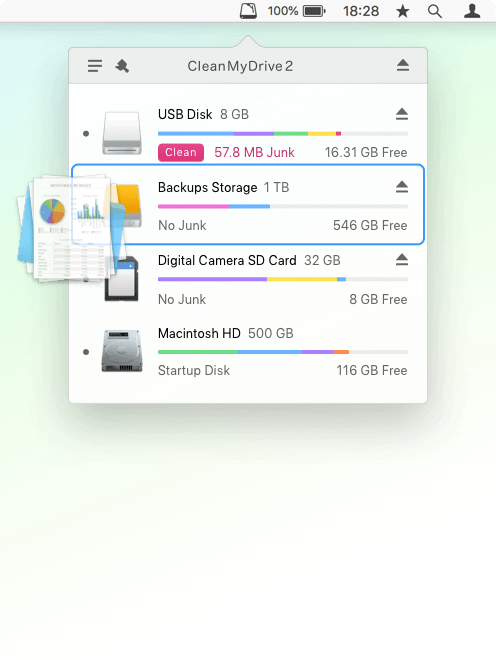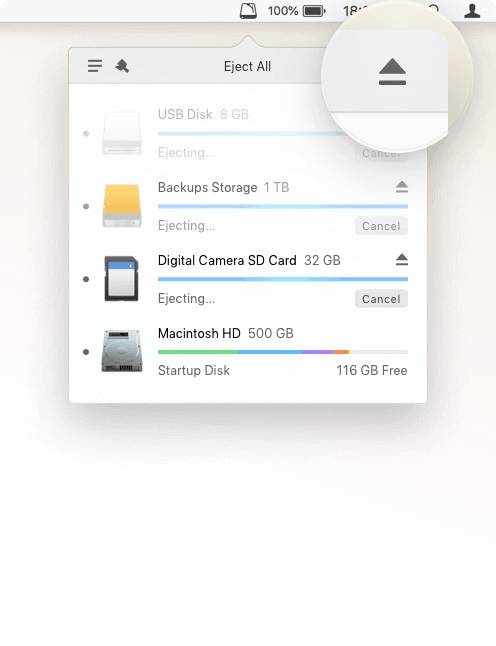 Close, unplug, and go
Why stand around waiting for each drive to eject when you just can hit the Eject All button? Or even faster — a keyboard shortcut. And, if you've accidentally closed your Mac with a USB stick plugged in, CleanMyDrive 2 ejects it automatically, keeping all your data intact.
Make your drive yours
Mac apps are meant to be fun, not just functional. Customize your disk icons in CleanMyDrive 2 to easily recognize every drive. Choose cool icons from our hand-crafted collection and make your drives look awesome.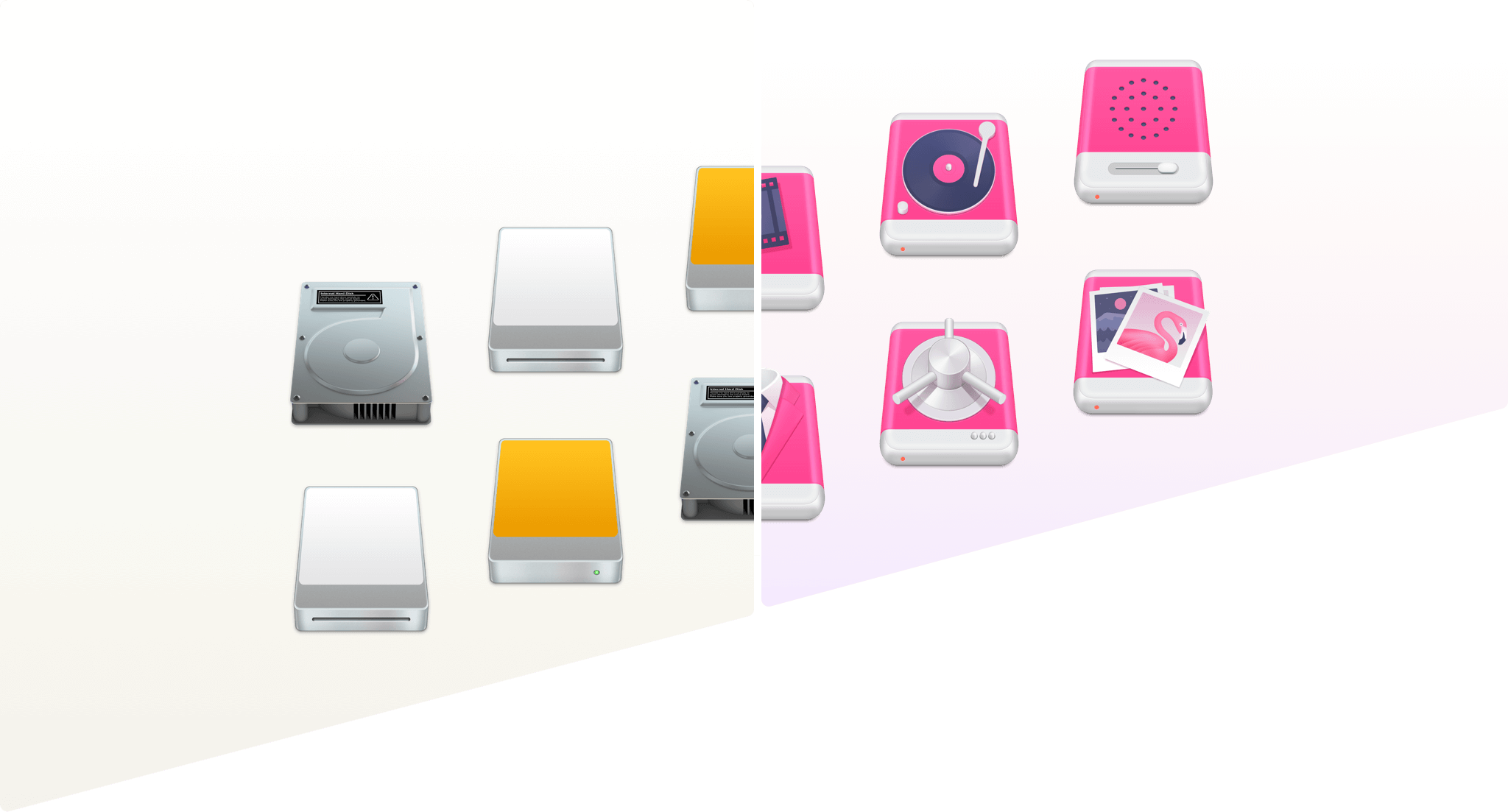 CleanMyDrive 2 speaks:
English

Deutsch

Español

Français

Українська

Italiano

Polski

Português do Brasil

Nederlands

简体中文

日本語
Don't take our word for it






My removable drives are cleaned automatically on unmount with CleanMyDrive, a nice free app from MacPaw.
I love CleanMyDrive app. Finally able to delete cached data from drive.
CleanMyDrive is one of the most useful apps I have on my Mac. Recommendable 100%!
CleanMyMac is a great product. I've used it almost daily for years. There's an add-on called CleanMyDrive that's awesome too.
What an amazing app, this CleanMyDrive from MacPaw. It's totally free!
You have hard drives on your desk and have no space for anything else like I do? Take a look at this cool free app.
Industry experts talk about CleanMyDrive 2
We were fans of CleanMyDrive when it was initially released, because it made managing multiple external drives a lot easier. Now, with a recent update, the app's even better.
CleanMyDrive is a fantastic utility to remove this kind of from your external hard drives, and now developer MacPaw has refined it even more to bring you CleanMyDrive 2, with new tools to help you keep all your connected drives clean and safe.
Featuring a completely redesigned user interface, CleanMyDrive 2 is back and better than ever at ejecting or cleaning hidden junk from external drives in a snap.
CleanMyDrive 2 has a completely redesigned user interface that follows the clean design of the last two editions of macOS, and the app is quite useful if you have a number of external drives attached to a Mac.
The new and much improved CleanMyDrive 2 app boasts a completely redesigned user interface that lets you check disk stats, drag-and-drop files directly to any drive, automatically clean disks after hitting the Eject button and more.
System Requirements:
macOS 10.13 and higher, 8 MB
*4.5 - rating for all versions, based on 5079 user reviews.
Subscribe to know first
Our mail pigeon will bring you our best deals and news about MacPaw apps.
Thanks for signing up!
You're almost done. Now, please check your email.