CleanMyMac 3
Thank you for downloading
Your download will begin automatically. If it doesn't, please click here. 1. Open
Find the DMG file in your Downloads folder, and open it.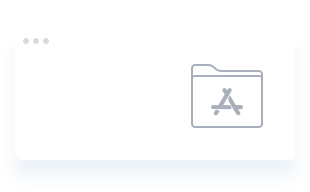 2. Install
Just drag and drop CleanMyMac 3 to Applications.

3. Launch
Awesome! You're good to go. Enjoy using CleanMyMac 3!
Subscribe to know first
Our delivery owl will bring you our best deals and news about MacPaw apps.
Thanks for signing up!
You're almost done. Now, please check your email.
System Requirements:
macOS 10.9 to 10.14, 62 MB
*4.9 - rating for all versions, based on 539 user reviews.
Our users speak volumes about us
It's just what it says: best, simplest Mac clean ever. Well worth the money.
Fantastic app. I had no idea how much space could have been recovered. I've always done my best to keep my drive uncluttered. Forget maintenance, this does it all and super fast. Brilliant.
What else can CleanMyMac 3 do?
CleanMyMac 3 has got all the tools you need to take care of your Mac. Deep-level cleaning, optimization, and health monitoring — all in one place:
Locate and remove large and old files
Uninstall apps and unwanted extensions
Clean browsing history and cookies
Verify startup disk and repair disk permissions