iPhone 8 vs. iPhone 8 Plus: Which one should you get and why?
If you've been thinking about upgrading your iPhone but aren't prepared to give up your home button, then look no further than iPhone 8 and iPhone 8 Plus. These models were the last iPhones to have home buttons before Apple got rid of them entirely, starting with iPhone X. In this article, we'll go over what makes these models so great and what distinguishes them from each other. So keep reading, and hopefully, you'll get some answers before you jump into an upgrade.
---
What's the difference between iPhone 8 and iPhone 8 Plus?
Both iPhone 8 and iPhone 8 Plus share a lot of similarities, such as the improved True Tone displays and faster A11 Bionic processors, but there are still a handful of things that differentiate the models.
iPhone 8 includes:
A single rear camera
Smaller 4.7-inch Retina LCD screen
Improved battery life with over 14 hours of talk time
Overall, smaller and lighter than iPhone 8 Plus
Whereas iPhone 8 Plus features:
A dual rear camera, which has both a wide-angle and telephoto lens
Upgraded camera features like Portrait Mode and Portrait Lighting
A 5.5-inch Retina LCD screen
New charging capabilities, such as fast-charging and wireless Qi-charging
---
iPhone 8 vs. iPhone 8 Plus: Camera
The most notable difference between the two models is the rear camera. Both models feature a 12-megapixel camera, but, as with previous Plus variations, iPhone 8 Plus has a dual-lens camera. That means it comes with both a wide-angle and telephoto lens, whereas iPhone 8 only has a single wide-angle lens.
Because of the dual-lens camera, iPhone 8 Plus also includes the Portrait Mode feature, which keeps the subject of your photo in focus while blurring out the background. But the upgrade to this feature also includes Portrait Lighting to help you achieve studio-quality lighting effects both while you're taking the photo and afterward.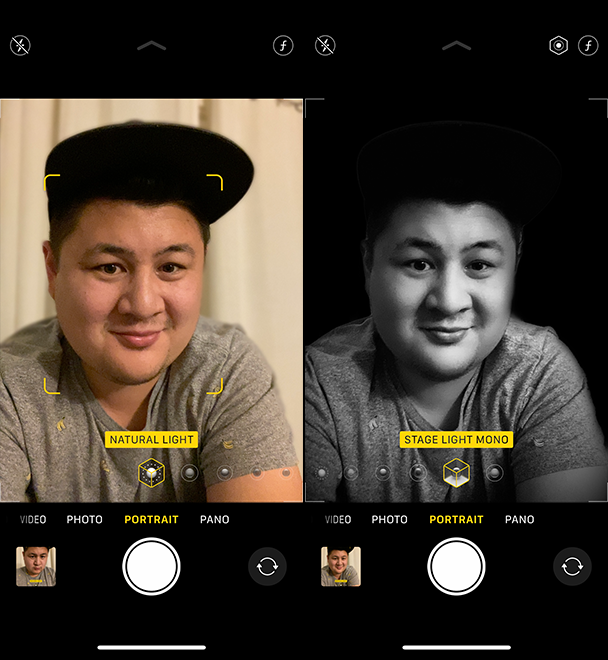 ---
iPhone 8 vs. iPhone 8 Plus: Screen
Both iPhone 8 and iPhone 8 Plus have a retina LED, but what's new with these models is the True Tone Display feature. This feature automatically adjusts the white balance of your screen based on your surroundings, so you always get the most accurate colors.
Where the displays of these phones differ, as in previous models, is their size. iPhone 8 Plus is a larger device, which allows it to house a 5.5-inch screen, while iPhone 8 includes a 4.7-inch display.
---
iPhone 8 vs. iPhone 8 Plus: Battery life
One of the major flaws of iPhone 7 was its poor battery life, and Apple made sure to rectify that with iPhone 8, improving its battery to over 14 hours of talk time. And with the even bigger size of iPhone 8 Plus, Apple was able to put a larger battery in that model. As a result, you should be able to get through almost an entire day without charging your iPhone 8 Plus, while you'll have to plug an iPhone 8 in at least once.
The plus side, though, is that both iPhone 8 and iPhone 8 Plus include two new charging features. Both models are Qi-enabled, meaning you can charge them wirelessly with Qi-chargers. And they are both compatible with Apple's 18w fast charger, which will charge your phone up to 50% in about 30 minutes.
---
Which is better, iPhone 8 or iPhone 8 Plus?
When making an apples-to-apples comparison, iPhone 8 Plus beats out iPhone 8 every time. There aren't any new features on iPhone 8 that its Plus model counterpart didn't also get. But, on the flip side, iPhone 8 Plus did get a handful of features like the dual camera and Portrait Lighting that didn't make it to the smaller phone.
The most substantial reason to consider iPhone 8 over iPhone 8 Plus is if you would prefer its smaller size. iPhone 8 Plus can feel a little too big, making it harder to hold and use with just one hand.
---
With improved performance, longer battery life, and an upgraded camera, the iPhone 8 and iPhone 8 Plus are both significant next steps for the iPhone lineup. Both models are great devices and won't lag behind, even with the most recent iOS installed. But if you're willing to pay a bit more for more up-to-date functionality, check out our iPhone XR vs iPhone XS vs XS Max comparison.