Setapp
Thank you for downloading
Your download will begin automatically. If it doesn't, please click here. 1. Open
Find the installer in your Mac's Downloads folder. 2. Install
Run the installer to install Setapp
3. Launch
Awesome! You're good to go. Enjoy using Setapp!
Subscribe to know first
Our mail pigeon will bring you our best deals and news about MacPaw apps.
Thanks for signing up!
You're almost done. Now, please check your email.
System Requirements:
macOS 10.12 and higher, 300 MB
*4.5 - rating for all versions, based on 915 user reviews.
Our users speak volumes about us
Just half an hour into Setapp and already loving it. You guys just filled up a huge gap in finding good, non-obtrusive app installs 🤘🏼
My first impressions of Setapp are very good, the integration with macOS is incredible, a lot better than Apple Store. Well done, @macpaw!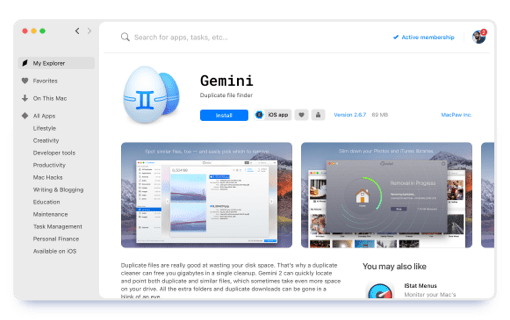 What you get in Setapp
Setapp is a huge collection of top Mac applications in a single suite. You've just downloaded the desktop client and once you install it, you can use all the apps.
More than 230 apps and keep growing
Any app takes a few clicks to install
Find the apps you need by keywords
Discover new software in categories