Everything you need to know and consider before you buy a used iPhone
It wouldn't be an exaggeration to say that iPhones are expensive. Current models start at $699 and only go up from there. iPhones rarely ever go on sale, and when they do, the discounts usually aren't something to write home about. So if you're looking to upgrade your phone but want to be a little more budget-conscious, then buying used is a great place to start.
In this article, we'll take a look at the factors to keep in mind when you're buying a used iPhone, which will help you answer the obligatory question, "How much should I pay for this iPhone?"
---
What's a fair price for a used iPhone?
The issue of determining a fair price to pay for a used iPhone is somewhat subjective. A handful of elements factor into a phone's value. And it probably goes without saying, but the most important factor is which model of iPhone it is.
If you're buying a used iPhone, then it's probably safe to assume you're not buying a current model iPhone (as in, one that's currently available from Apple). Typically, previous-generation iPhones drop about 40–45% in price. For example, if this year's model is selling for $699, then last year's model should be about $400.
Obviously, this isn't a hard and fast rule. Prices will change from year to year depending on what Apple plans to release or what they continue to sell. When it comes to buying used, it's always good to try to find 2–3 other models that are comparable and make sure that the price you're paying is in the same ballpark.
---
Things to keep in mind before you buy a used iPhone
When you buy anything secondhand, there are some factors you'll want to keep in mind. Some of these are things you wouldn't worry about if you were buying new, but that's the trade-off of saving a little extra money.
Before you buy a used iPhone, you'll want to check to make sure it isn't stolen and that it isn't locked to one carrier. While there are other things to look out for when you buy a used iPhone, these are two issues that will prevent you from using the phone entirely.
---
Tip 1: Verify that the iPhone isn't stolen
When Apple released iOS 7, they introduced an Activation Lock. So, if an iPhone was stolen, the user was able to sign in to their iCloud account and report it stolen. When that happens, the only way to unlock the phone is with the original Apple ID and password.
Many times, you won't be able to see if the iPhone has the Activation Lock enabled until after you've purchased it, especially if you buy the phone online. Your best bet to avoid getting stuck at this step is to check the IMEI or MEID number on the CTIA Stolen Phone Checker website.
---
Tip 2: Make sure it isn't carrier-locked
Even though iPhones are available for all major US cell phone carriers, that doesn't mean all iPhones will work with every carrier. Again, once you have the IMEI or MEID number of the device, you'll be able to check. You'll just need to give your carrier a call, and they'll be able to verify that the device works on their network.
---
Tip 3: Know what features you're losing
If you're buying a used iPhone, hopefully you realize that you're not going to be getting all the latest and greatest features available. Do some research on the model you're buying to see what hardware limitations it has. For example, does it still have a physical home button? Or does it only have one rear camera? It's also helpful to consider the latest iOS version the phone can run and what software features will work on that model.
---
Tip 4: Check for damage and battery health
It should go without saying that you should check the physical casing of the iPhone for dents and scratches. The last thing you want is to be surprised when, a couple of weeks into having the phone, the screen or buttons randomly stop working.
In a similar vein, you don't want to get a phone with a bad battery. Thankfully, you can check the battery health in the Settings app.
Open Settings.
Tap Battery > Battery Health.
Check the Maximum Capacity number.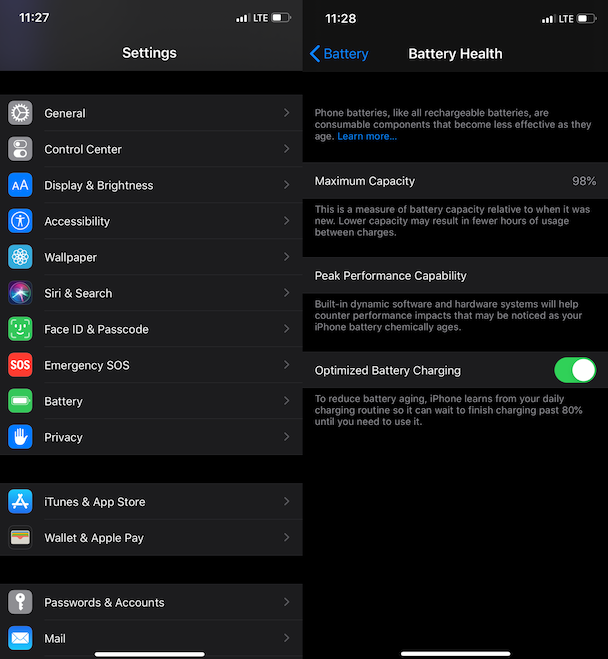 A brand new phone has a Maximum Capacity of 100%, so you want the number to be as close to 100% as is reasonable for the age of the phone.
---
What's the best place to buy a used iPhone?
The used iPhone market is massive, so it's not hard to find a place that sells them. That said, some places are a bit more reputable than others.
Gazelle
The great thing about Gazelle is that all of the phones they sell are certified devices. So when they buy a used iPhone, they rigorously test it and can guarantee it with a 30-day return policy.
Swappa
Swappa doesn't physically take the phone at any point, so they're not able to test the devices like Gazelle. But Swappa does review each listing to verify that the information listed is correct and that the serial number hasn't been reported stolen.
Your Wireless Carrier
Another great place to shop for used iPhones is with your wireless carrier. When a phone is sold by your carrier, it usually means they've tested the device and will include some type of guarantee or, in some cases, even a warranty.
---
Buying a used iPhone is a great way to upgrade while also saving some money, but be sure to do it right. The last thing you want is to buy an iPhone that breaks after a couple of months or, worse, can't be used at all. Hopefully, this article has helped you figure out the best way to buy a used iPhone and what to look out for when you're shopping for one.