What is the latest Mac OS?
The latest Mac OS version, macOS Mojave, was announced at Apple's Worldwide Developers Conference in early June 2018 and now it's available for everyone to download. Here's everything you need to know about the latest Mac operating system.
Will my Mac run macOS Mojave?
Apple has said that Macs released in mid-2012 or later, as well as Mac Pro models from 2010 that have a Metal-compatible graphics card. This means that some Macs, those from 2009-2012, that can that can run the most recent Mac OS, High Sierra, won't be able to run Mojave.
You'll need at least 16GB of free disk space to download and install it. However, you should always keep at least 10% of your startup disk's total capacity free to make sure your Mac runs smoothly. If you scan your Mac with CleanMyMac X, you can free up tens of gigabytes of space by removing junk files and uninstalling applications. Download CleanMyMac X for free and get your Mac cleaned and ready for macOS Mojave.
How to check your macOS version
To see which version of macOS you have on your Mac, follow the steps:
Click the Apple menu icon at the top left corner of your screen.
Choose About this Mac.
Check the version in the Overview tab.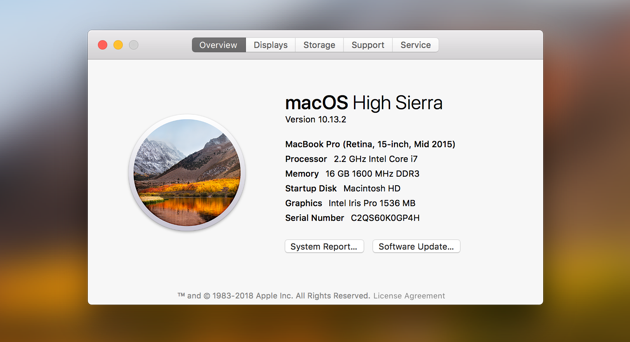 How to update your Mac to the latest version
You can download the latest version of the macOS from the App Store. The process is not difficult but requires some preparation. Here's a comprehensive guide how to upgrade to Mojave, so check it out.

What are the new features in macOS Mojave?
macOS Mojave — named after California's Mojave Desert, in keeping with Apple's recent tradition of naming new versions of macOS after California landmarks — is a 'full' version upgrade. That contrasts with High Sierra, Mountain Lion, and Snow Leopard whose names were deliberate variations on the names of their predecessors to indicate they were relatively minor updates. However, a look at the list of features announced so far indicates that it won't be quite as major and upgrade as some of its predecessors. Nevertheless, there are plenty of cool new features and there may be more announced between now and the fall.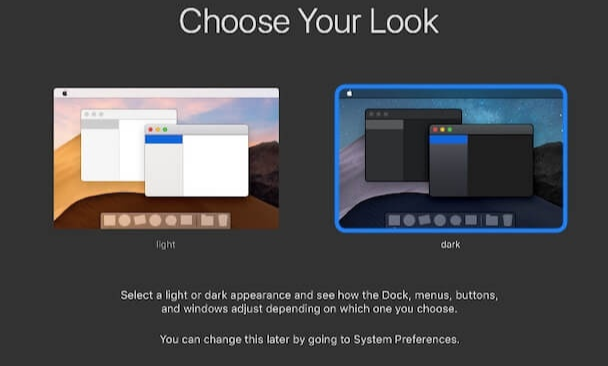 Dark Mode
While in High Sierra you can turn the menu bar and Dock black, in Mojave the Dark Mode will apply to everything from the desktop background to application windows. The demo shown at WWDC made Photos in Dark Mode look amazing, the photos themselves really popped out of the screen.
---
Dynamic desktop
This is one for those who lament that the playfulness has gone from Apple's designs. Dynamic desktop changes the lighting on the desktop image through the day. So if you use the default image of the Mojave Desert, it will start with sunrise in the morning and change through full sun at the height of the day to darkness at night.
---
Safari Favicons
Another slightly frivolous addition, Safari will now be brought into line with other browsers like Chrome and Firefox, and get favicons — those little website icons that appear to the left of the address bar and on tabs. There is a good reason for having favicons — if you have multiple tabs open, they can help you quickly identify the website that's open in any given tab.

Better screenshots
For years, taking screenshots on a Mac has worked the same way: you press the keyboard shortcut to take a shot of the full screen, a window, or a section of the screen, and it saves the image to your Desktop or another folder you specify.
In macOS Mojave, screenshots will work in a similar way to those in iOS 11 and later. You'll take a screenshot as before, but now, instead of saving it immediately, you'll be able to preview it, annotate or crop it, then share it directly.
---
Stacks
This could be the killer feature for anyone who has a desktop cluttered with files and folders. Leaving files scattered on your desktop doesn't just make them difficult to find, it can have big impact on the performance of your Mac.
Apple's solution in Mojave, is Stacks. When selected in the Finder's View menu, it automatically organizes files on the desktop into stacks, according to their type: PDF, movie, music, and screenshots, for example. Whenever you save a new file of that type to the desktop, it's added to the stack. Click on a stack and it expands, showing all the files within it. And you can then drag and drop a file in the stack anywhere you like.
Tip: It's not just your Mac's Desktop that can become cluttered. Whenever you install an application it puts files in lots of different folders on your Mac. Even if you stop using the app, the files remain. In addition, your Mac gathers cache files and other system junk, as do the Photos app and iTunes.
You can remove all of these unnecessary files and uninstall apps you don't need very quickly and easily using CleanMyMac. It has several different cleaning utilities designed to free up gigabytes of disk space for you to use to store things you really need. You can download it free here and start using it now.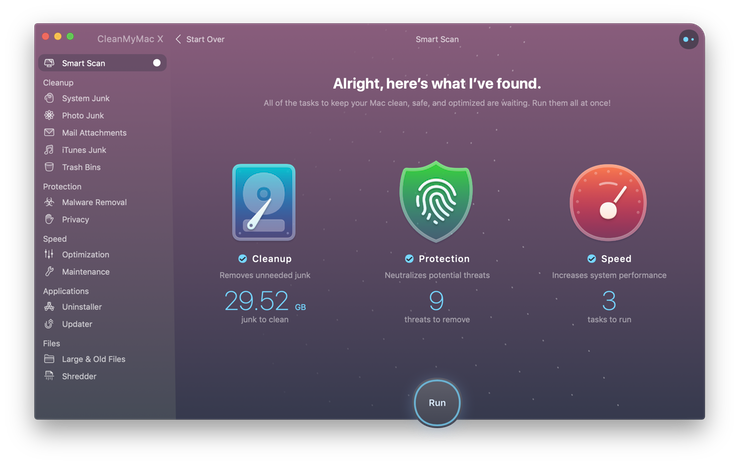 Finder Gallery View

The Finder gets a new view option in Mojave — Gallery. It's designed mainly for images and PDFs and looks particularly good in Dark Mode. Select that view and the currently selected file is shown in preview inside the Finder window, with other files in the same folder shown as thumbnails beneath it. To the right of the preview are metadata from the image and beneath that, tools to allow you to rotate or annotate it.
---
Markup in more places
As we've already highlighted, in the new version of macOS, you'll be able to annotate, or markup, screenshots as soon as you take them, and images in Gallery view. You'll also be able to do it in QuickLook.
---
Continuity Camera
This is one of my favourite new features, and one of the main reasons I'll be upgrading to the latest Mac operating system when it ships in the fall. Similar to other Continuity features, such as Handoff and Universal Clipboard, Continuity camera will allow you to control your iPhone or iPad camera from your Mac. This means that if you want to scan an image into a document on your Mac, you can do it from within the document. Just set the iPhone up and control it's camera from your Mac.
---
Better FaceTime
Apple's video messaging app has lagged behind the likes of Skype and Hangouts for a while. But the ability to hold group chat sessions with up to 32 people moves it a step closers. Whether it's bringing a family that's spread out across the globe together or hosting meetings with remote-working colleagues, you'll now be able to do it in FaceTime. There was no word, however, on whether you'll be able to use animoji in FaceTime on the Mac, as you can on the iPhone X.

New apps

Well, not exactly new, but four apps that were previously only available on iOS will make the transition to the Mac. They are: News, Stocks, Voice Memos, and Home.
The apps work in the same way as their iOS counterparts, and look very similar, too. So, for example, Home displays tiles representing each of the accessories you have connected, inside its window. The apps also feature the latest additions in iOS 12, so you'll be able to see news inside the Stocks app. The apps will also sync automatically with their iOS versions. So, as an example, you'll be able to see Voice Memos you've recorded on your iPhone in the Mac version of the app.
---
New App Store
To go along with the (almost) new apps, Mojave sees the debut of a brand new Mac App Store. The App Store has had several problems since it first launched, such as the difficulty in discovering new apps, resulting in not as many people using it as Apple would like. Many of the improvements in the newly re-designed Store are aimed at making it easier for you to find more apps you'll want to download and use.
There's a new Discovery tab to highlight new apps, as well as new categories: create, work, play, and develop. There will also be video previews of software. And Apple announced that Microsoft Office 365, Adobe Lightroom, and BareBones BBEdit will be available in the new store.

Improved security

All the features described above are things you'll notice when you install and use the latest OSX, or rather macOS. But equally important are the new features in the background that are working to make your Mac more secure and your data safer. Mojave will block the advertising trackers that follow you around the web and then show you adverts based on the sites you visit. It will also make it more difficult for websites to identify your Mac based on its configurations and installed fonts and plug-ins.
In addition, the new version of macOS will require apps to ask your permission to use your Mac's camera and microphone, in the same way as they must do to access location data, contacts, and photos. Apps will also need to ask permission to access your Safari data, Time Machine backups, and more.
---
What were the previous macOS versions called?
Here's a list of the most recent versions of macOS and OS X
| | | |
| --- | --- | --- |
| Name | Year of release | Features |
| macOS High Sierra | 2017 | APFS,Metal 2, support for HEVC video, improvements to VR |
| macOS Sierra | 2016 | Siri on the Mac, iCloud Drive, optimized storage, Universal Clipboard |
| OS X El Capitan | 2015 | San Francisco system font, Metal, split screen mode, improved spotlight |
| OS X Yosemite | 2014 | Re-designed 'flat' interface, Continuity, Handoff, Photos |
| OS X Mavericks | 2013 | Improved battery life, iBooks, Maps, Finder tabs, faster Safari |
The latest version of macOS, Mojave, looks set to be even better than the current macOS, High Sierra. There are lots of good reasons to download and install it when it becomes available in the fall. Before then, however, why not give your Mac a spring clean with CleanMyMac X to get it ready?
---
These might also interest you: