Apple iOS 13: What's new in the latest iOS version?
Every summer we get a sneak peek of what's to come in the new iPhone operating system. Apple recently announced iOS 13, and along with the usual performance upgrades, the new iOS is loaded with exciting features. Keep reading, and we'll go over a handful of those impressive updates and answer some of the questions that come up along the way.
---
What's the iOS 13 release date?
When iOS 13 was announced on June 3, 2019, it was immediately made available to developers so they could start testing their apps on the new system. And the public beta for the latest iOS was made available a couple of weeks later. But the only specifics we have for an official release date is "Coming this fall."
Looking back, September seems to be a pretty safe bet as that's when iOS release dates have been scheduled in past years.
---
How to install the latest iOS 13 update
Before you jump right into installing iOS 13, you should do a complete backup of your iPhone. Anytime you make a major system change like this, there's always a chance of something happening and potentially causing you to lose data. It's always better to err on the side of caution with this stuff.
After you've backed up and are ready to install the new iOS update, follow these steps:
Make sure your iPhone is plugged into power and connected to Wi-Fi.
Go to Settings > General > Software Update.
Tap Download and Install underneath iOS 13.
Confirm the update by typing your passcode or using Touch ID.
Follow the remaining prompts.
You don't want to start this process if you're in a time crunch, because it can take some time to download and update. If you feel like it's taking a little too long to download the update, make sure your Wi-Fi connection is strong.
---
What if I have no space for the iOS 13 update?
Because iOS 13 is still in beta, that means Apple is actively making changes to the operating system. So the actual size of the update is still unknown, but historically they've been about 1.5–2GB. And to run the actual update, it's recommended to have the same amount of free space, meaning you should have 3–4GB before you start the installation.
A quick way to see what's taking up space on your iPhone is to go to Settings > General > iPhone Storage.
After you see what's taking up so much space on your phone, you'll probably notice that your photo library is a major culprit. You could try to sift through and delete all of your photos manually, but a more convenient way would be to use an app like Gemini Photos. Here's how it works:
Download Gemini Photos and open it to start automatically scanning your pictures.
Go to Screenshots. All the screenshots will be pre-selected, allowing you to deselect the ones you still want
Tap Delete.
Repeat for Blurred and Notes. These are blurry photos and photos of text, like train schedules or meeting notes.
Go to Similar. Similar photos will be grouped together and pre-selected, leaving only the best picture in each set remaining.
Review a set and tap Delete to remove selected pics.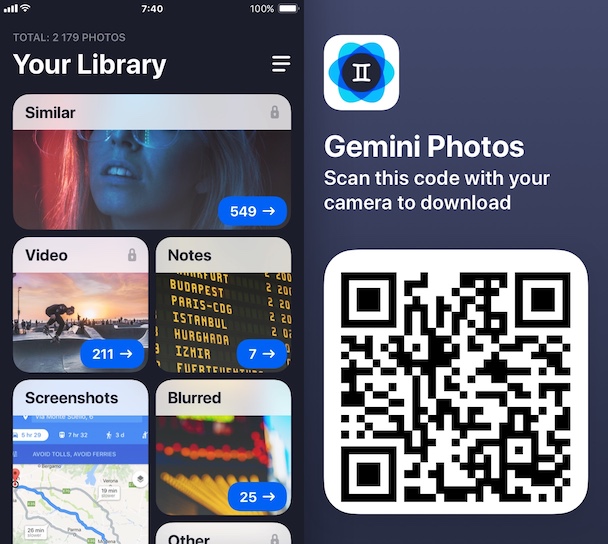 Going through your photos this way can trim a surprising amount of weight off your photo library, making room for the new system with its bells and whistles.
---
New features in Apple's new iOS 13
Now, here are the new features in the latest iOS update we find the most exciting.
Video editing
All you used to be able to do with iPhone videos is trim them, but iOS 13 opens a whole new world for video fiends. In the new iOS update, the Photos app gets video editing features similar to those you've been using for photos. You can apply a filter, play with contrast and brightness, and even use Auto Enhance for your video.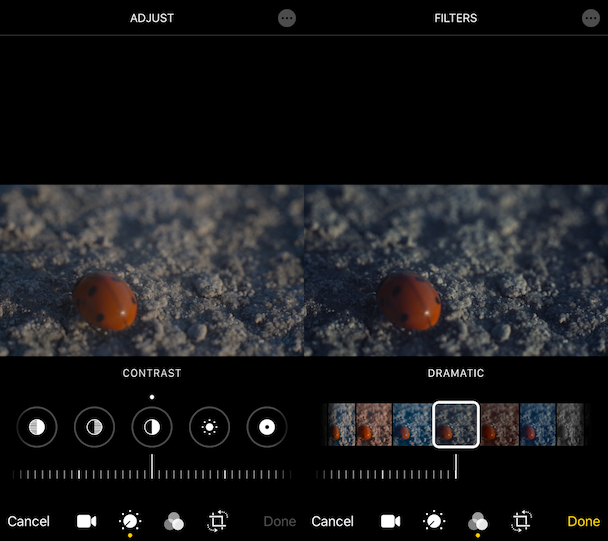 ---
New swiping keyboard
Finally, iOS 13 brings a truly native swiping keyboard to iPhone. While there have been third-party keyboards that have offered this feature in the past, the Quickpath Keyboard as Apple is calling it now is built right into the operating system and will work across all apps. Which means you'll also be able to toggle this feature on and off as you please.
---
Dark Mode
While Apple released Dark Mode for their computers with Mojave, it left iPhone users clamoring for it. But now the highly sought feature is coming with iOS 13. All of the native apps like Mail, Safari, Notes, etc. will support Dark Mode, but individual apps will be dependant on their developers. Here's to hoping that our favorite apps will support it by the time the official iOS releases this fall.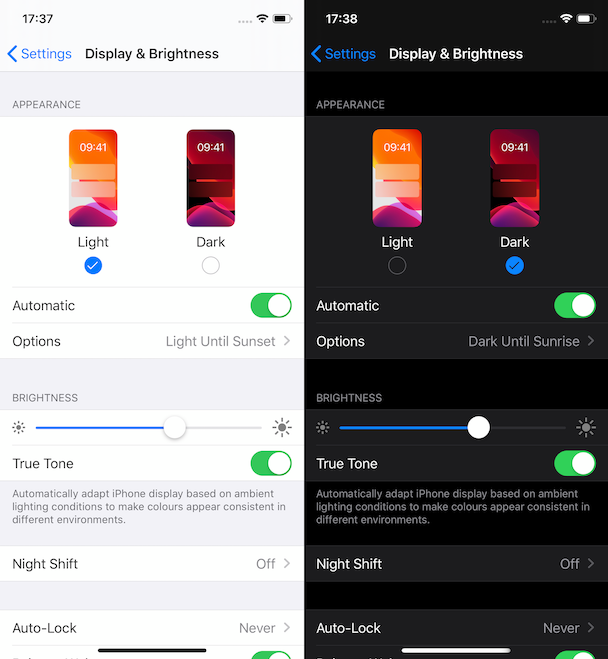 ---
Find My
The release of iOS 13 combines all of the tracking apps into one convenient app called Find My. So now you don't need separate apps to see where your friends and family are at or to see the last place you left your AirPods. The major upgrade with this app is the ability to find devices via Bluetooth rather than just Wi-Fi or cellular connections. So now the Find My app will be able to give you a more accurate location for your AirPods rather than just the last place you had them connected to your iPhone.
---
Sign in with Apple
iOS 13 also boasts a series of bulked up privacy features. The biggest announcement is that you'll now be able to sign into apps and websites with your Apple ID.
Where Apple differs from companies like Google and Facebook, which are already offering a similar service, is Apple is not tracking or profiling users based on where they're signing in. You'll also have the "Hide My Email" option, so you don't have to give your email address to sites when you sign in.
---
Which Apple devices will support iOS 13?
For this release of the iOS operating system, Apple is drawing the line with the iPhones 6s and SE being the oldest phones that can support the new software. Here's a complete list of devices that are capable of running the new iPhone iOS:
iPhone 6s & 6s Plus
iPhone SE
iPhone 7 & 7 Plus
iPhone 8 & 8 Plus
iPhone X
iPhone XR
iPhone XS & XS Max
---
There's a lot to be excited about in this iOS. And these are just a handful of the new features. Once the official iPhone operating system is out of beta and released, we'll definitely be the first to download and install it.