The best photography hashtags on Instagram and how to use them to grow your account
If you've been on Instagram for any length of time, you know that using hashtags is one of the best ways to get noticed and find your tribe, but do you know how to use hashtags strategically to grow your following?
Here are some photography hashtags that will help you rock your Instagram, along with tips on how to use them, get your photos in front of more people, and share your talent with the world.
---
Strategies for using hashtags on Instagram posts
There are two reasons to use hashtags on your Instagram posts. The first is so that your photos will show up when someone searches for that hashtag on Instagram. The second is so your photos can be featured by accounts that are larger than yours.


When posting to Instagram, you can use up to 30 hashtags for every post you add to your feed. Photography hashtags can range from general to specific, and the key is to use a mix of both to describe your photo so that it shows up in relevant searches across Instagram. You should also add a mix of very popular hashtags (tagged in over a million posts) and less popular hashtags (tagged in fewer than 500,000 posts) so that your post has a better chance of being seen.
Below are some more tips to help you use Instagram hashtags strategically.
---
How to show up in hashtag search results on Instagram
When someone searches for a certain hashtag on Instagram, relevant posts will show up in two tabs: top results and most recent results. If you can show up in the top results for a given hashtag, you will have a higher chance of improving your reach and following.
To do this, you should make sure at least half of the hashtags you use are within your reach. A rule of thumb is to take the average number of likes for your Instagram posts and multiply that number by 1,000. So if you average 300 likes per post, you should look for hashtags with around 300,000 posts.
---
How to use hashtags to get featured by large Instagram accounts
You can also use hashtags to get featured by larger accounts. Start by researching popular hashtags and accounts within your niche to find big accounts that make a habit of sharing the posts of others.
Most of these accounts will use hashtags that they've created specifically so they can collect and share the work of others. Make a habit of including these branded hashtags in your posts so that you will be featured by larger accounts. This is a great way to use hashtags to expand your reach.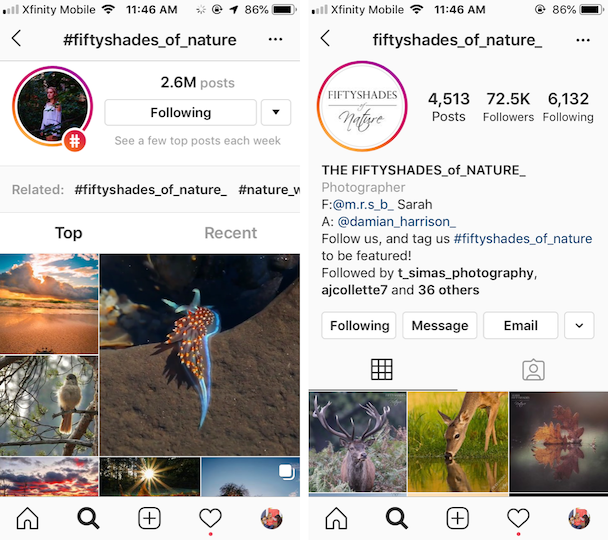 ---
The best Instagram hashtags for photography
Let's start with some general photography hashtags that you can use for all of your favorite photos on Instagram, whether you're posting wedding photos, portraits, landscapes, or anything else you can think of. These are some of the best Instagram hashtags for photography:
#fotocatchers
#nikonphotography (don't have a Nikon? Use your camera brand followed by photography)
#iphoneography
#justgoshoot
#instafocus
#photographyislife
#photooftheday
#instaphoto
#throughthelens
#master_shots
---
Street photography hashtags
If you specialize in street photography, mix up your collection of hashtags to include some general photography tags and a few dedicated specifically to your brand of street shots. Here are some great street photography hashtags to use in your next post:
#fromthestreetwithlove
#lensonthestreet
#streetvision
#street_photo_club
#urban_shutter
#streetphotomag
#street_art
#street_daily
#urban_shots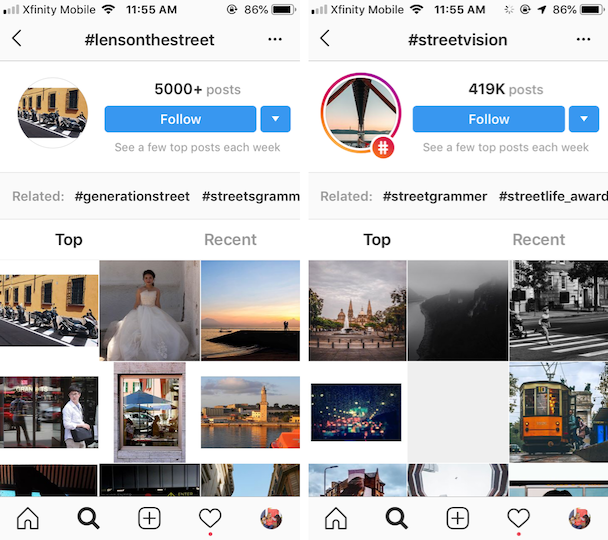 ---
Portrait photography hashtags
Do you specialize in unique portraits and shots of people? Maximize your Instagram real estate by using portrait photography hashtags that will show off your work. Here are some of our favorite hashtags for portraits to get you started:
#instaportrait
#portrait_shots
#pocket_portraits
#portraitoftheday
#portraitsociety
#portraitplanet
#portraits_today
#portraitvision
#postthepeople
#withhumans
---
Landscape photography hashtags
Beautiful landscape photographs are the bread and butter of Instagram, so when posting landscapes, it's important to use hashtags that are relevant to the location where you're shooting.
Spend a few minutes researching hashtags based on the location and then add five or so to your mix. Here are some additional landscape photography hashtags that will help improve the reach of your landscape photo posts:
#awesome_earthpix
#iheartnature
#earthofficial
#landscape_capture
#landscapephotographer
#ipulledoverforthis
#fiftyshades_of_nature
#beautiful_world
#splendid_earth
#nature_sultans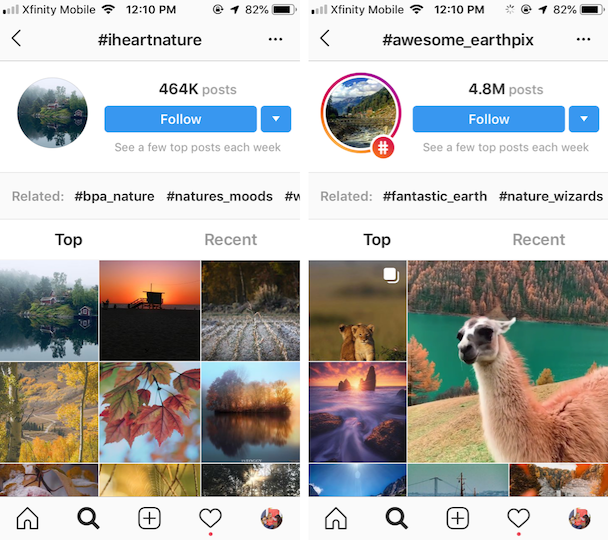 ---
While we've been focusing largely on photography hashtags for Instagram, you'll find that there are hundreds — even thousands — of hashtags for every Instagram niche you can think of. Whether you post photos about house cleaning, Halloween costumes, or wildlife, hashtags will help you reach a bigger and more engaged audience.