10 perfect Instagram themes and how to easily recreate them
Want to take your Instagram feed from mediocre to marvelous? Instagram has quickly become one of the world's favorite social platforms for sharing photos and videos, and with more than a billion users, it can be tricky to stand out from the crowd.
The most successful Instagram users create a cohesive Instagram theme so that their photos are easy to recognize and merge into a story. Here are some unique Instagram theme ideas that will inspire you to do the same.
---
Our favorite Instagram feed ideas, with examples
Creating an Insta theme that stands out may seem like a daunting task, but it's really all about finding a single design element to serve as a common thread that links your photos together.
This could be a photography technique, a color palette, subject matter, a pattern, or a filter — it really depends on the look you're after. Ready to meet your Instagram feed goals? Here are some of our favorite Instagram themes with examples to help you get those creative juices flowing.
1. Modern minimalism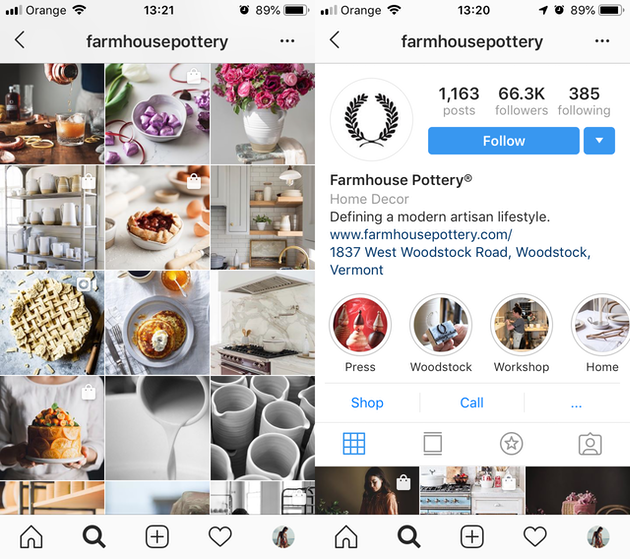 The folks at @farmhousepottery have nailed the minimalist kitchen theme, highlighting their pottery and products with minimalist food shots, flat lays, and seasonal goodies. When you look at their Instagram feed, you can see how they've developed a unique look that has become a signature for their brand.
---
2. Orange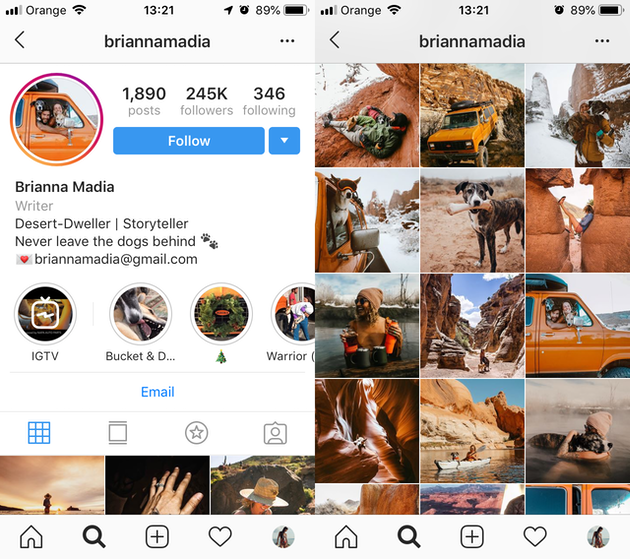 Sticking to a few of your favorite colors is a great way to add some consistency to your photos while still keeping things interesting. A prime example of using color creatively is @briannamadia, whose travel photos are set almost entirely in the desert of the American Southwest. Brianna uses the orange color in so many of her photos that her Instagram account is unmistakable.
---
3. Rainbow pastel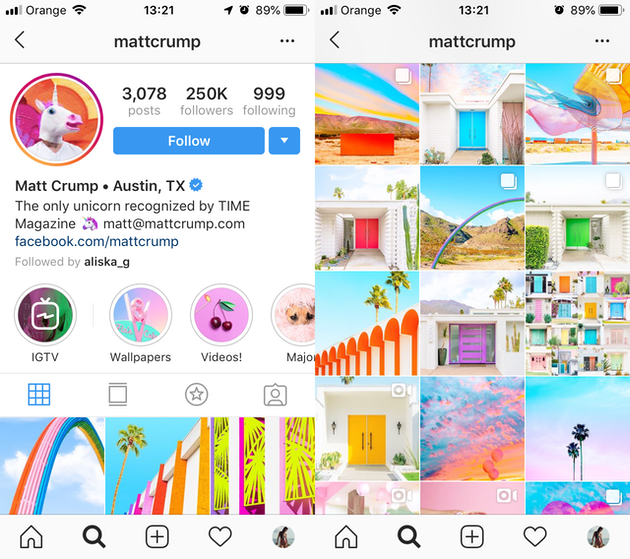 Instagram themes that use color as a design element can make your heart skip a beat. @mattcrump's pastel world is super recognizable, and he has amassed a following of more than 250K people with his eclectic Instagram feed arrangement. Each photo tells a story, and together they make his Instagram feed hard to forget.
---
4. Warmth and light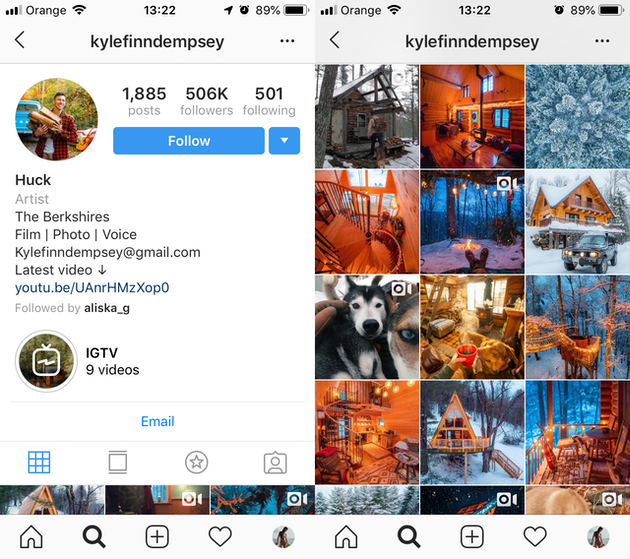 There's no mistaking a photo from cabin connoisseur @kylefinndempsey, who features fireplaces, twinkly lights, and other cozy scenes on his Instagram feed. Even on the darkest winter days, his images provide a whole lot of warmth, both in the colors he chooses and his subject matter. Who wouldn't want to escape to a New England cabin after browsing his Instagram feed?
---
5. Vintage folk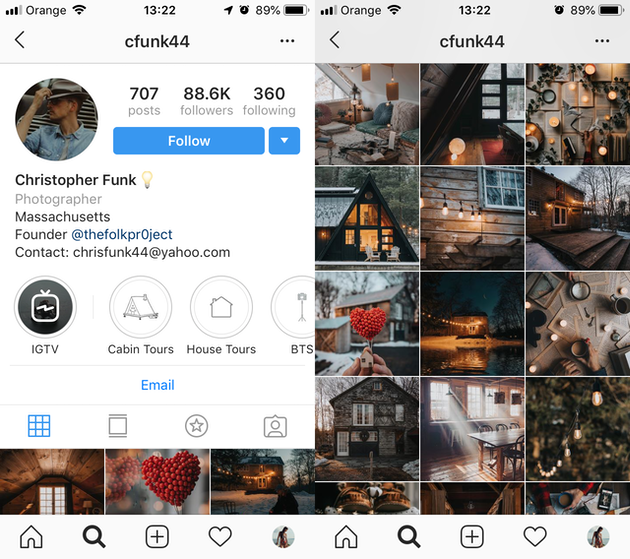 Moody images, dark colors, and simple, old-fashioned designs are the trademark of @cfunk44, who creates dreamy otherworldly images that inspire you to travel, create, or simply open a book. While you can find common threads of color and style throughout Christopher's Instagram feed, the most important element seems to be the bits of warmth that shine through an otherwise dark world.
---
6. Dark and moody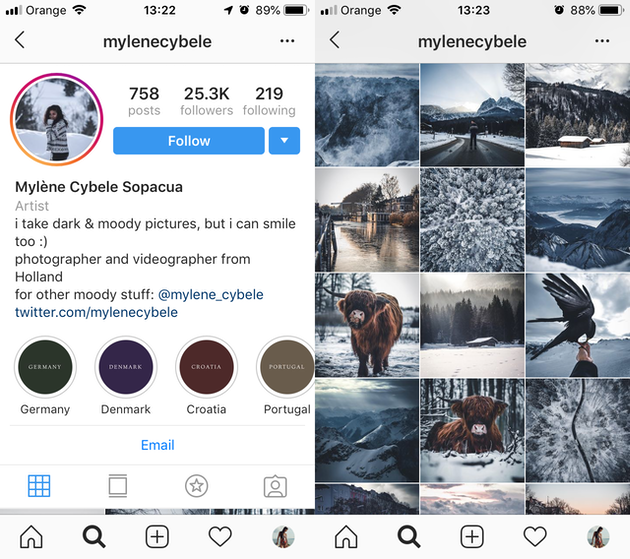 Creating a mood that reflects you or your brand can be harder than it looks. @mylenecybele focuses on images that evoke a dark mood with cool colors and sharp contrast. Her subject matter varies wildly, from wildlife and portraits to architecture and landscapes, but her entire feed captures the feeling of stepping outside on cold, windy day.
---
7. Bohemian colors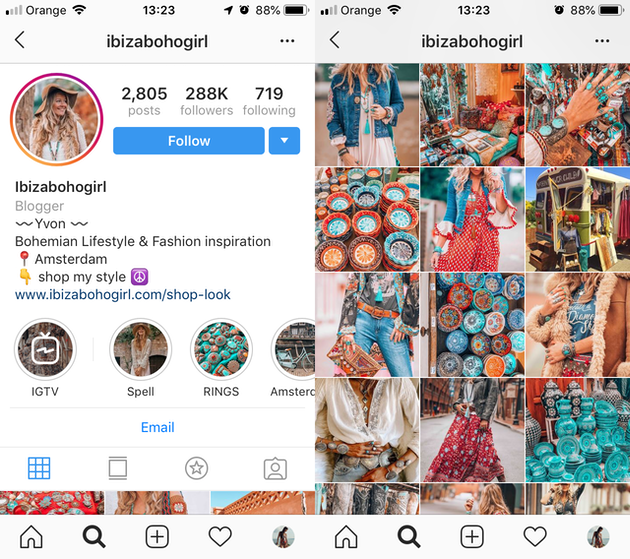 For a whole lot of color and boho chic, you'll want to check out @ibizabohogirl. Her Instagram account is a great example of how you can tie different subject matters together by sticking to a distinct color palette and style (and taking fabulous photos, of course). Many of her photos are repeated throughout her feed, and the overall feel is is warm and colorful, like a day at the beach.
---
8. Black and white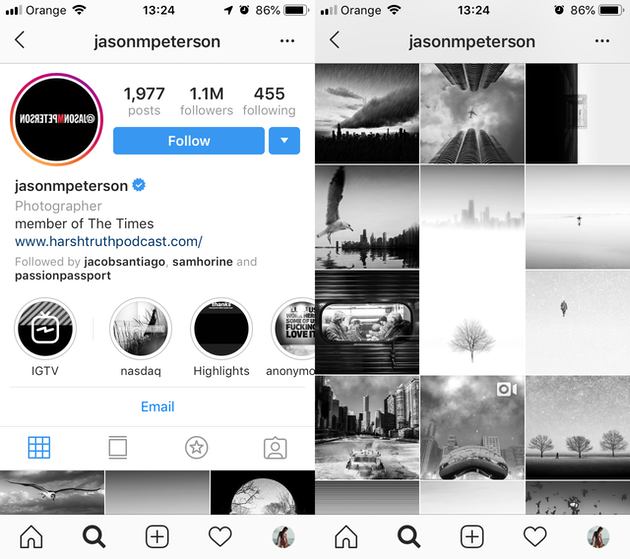 While not for everyone, switching to a totally black and white Instagram feed has its advantages. For one thing, you'll find that most Instagram accounts focus on bright and bold. If you enjoy shooting and editing in black and white your account, that alone will help your feed stand out from the crowd. Take @jasonmpeterson, whose photos are stark and simple, but also striking and unique.
---
9. Weird and Wacky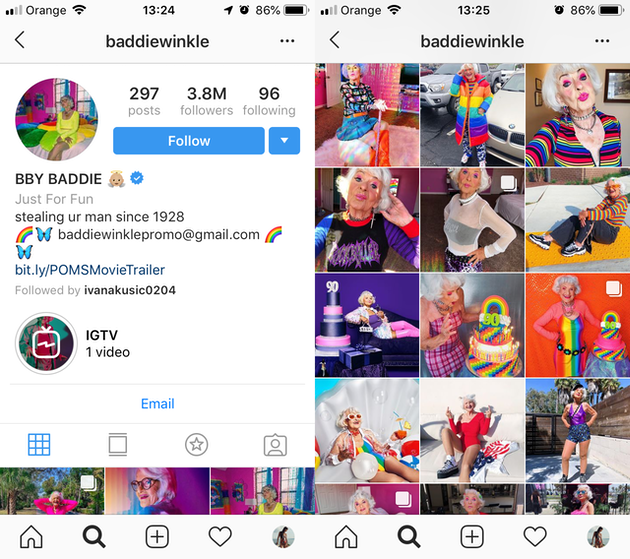 If you have a wild sense of humor or just a wacky idea, take it to Instagram. @baddiewinkle did, and now she's a 90-year-old Instagram superstar. With more than 3.7 million followers, she proves again and again that you're never too old to celebrate adventure and find your unique self. Her style is incredibly bold, a stark juxtaposition to anything you may have ever expected from a boomer.
---
10. Funny and trendy at the same time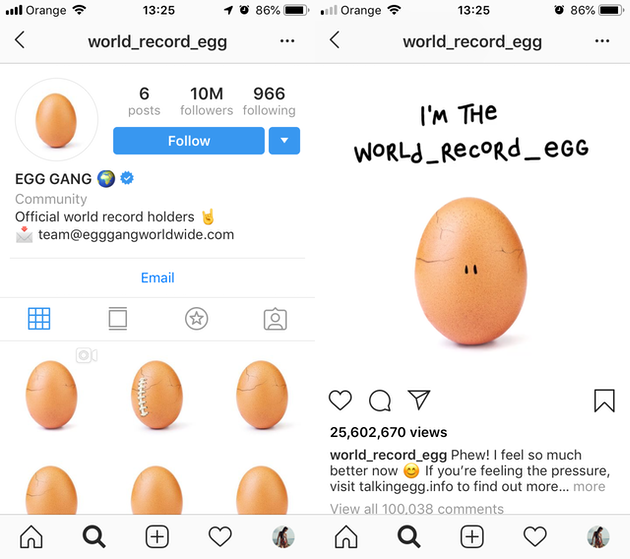 It's hard to know exactly what will take off on Instagram at any given moment, so if you've got a stellar idea, just go for it and see where it takes you. @world_record_egg's only goal was to break a world record on Instagram with a single photo of a brown egg. Did it work? The account has 10 million followers, and each egg photo receives millions of likes and thousands of comments.
How do I arrange my Instagram feed?
Once you post a photo to Instagram, you can't change the order of how it appears in your feed, so it's important to think your grid layout through before adding photos. Of course, you can delete Instagram photos from your Instagram feed, but then you'll lose your likes and comments on that particular photo, and you'll have to start from scratch.
Before you post a photo, think about how it fits into your overall Instagram theme. Visualize your Instagram grid and decide which photos work well together before you upload a picture. If visualizing your Instagram feed in your head is making it spin, try one of the apps for Instagram, which will allow you to organize your feed before uploading photos.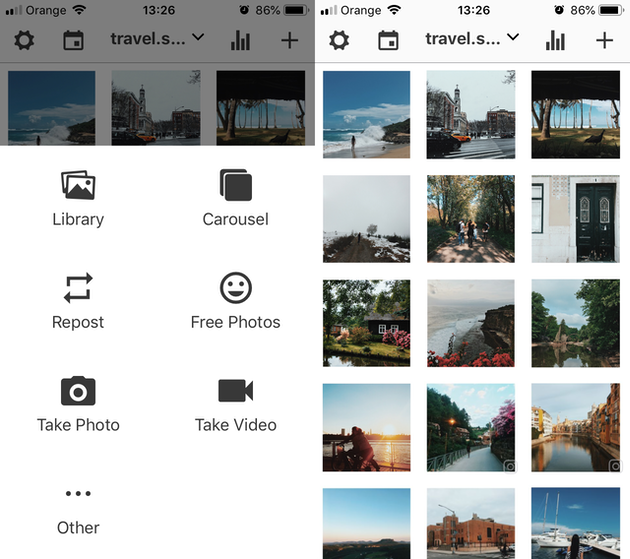 Try these Instagram theme apps:
Preview allows you to plan and design your Instagram feed in a grid layout using a drag-and-drop system. The free version includes unlimited posts, two free filter packs, and basic Instagram analytics. The paid version comes in two tiers and includes more than 70 filter packs, hashtag analytics, and the ability to repost the work of others.
Plann is a great app for people who want to build up a solid library of content with strong branding. Like Preview, it uses a drag-and-drop feature so you can visualize your Instagram feed in advance, and you can also save hashtags and take advantage of filters. The free Plann plan is limited to 30 Instagram uploads a month, and you must still post your photos manually.
Later includes a visual content calendar, a post scheduler, and a grid planner in an easy-to-use app. The free plan is very basic and allows you to schedule up to 30 posts per month. Premium plans start at $9 per month and enable you to schedule videos, manage hashtags, and create multiple profiles.
---
Ready to create an Instagram theme that is uniquely you? The themes mentioned here are just a jumping-off point. When it comes to creating your own engaging feed, the sky is absolutely the limit.