The best data recovery software for Mac
Losing data, whether it's photos with precious memories, years of spreadsheets with budgets and accounts, or the draft of that novel you've been working on, is horrible. It's one thing we all dread when we use computers whether it happens because a hard drive fails unexpectedly, your Mac crashes catastrophically, a rogue piece of software decides to wipe a hard drive, or you just accidentally delete files. No matter how it happens, that sinking feeling is the same.
Happily, even if your data looks like it's gone for good, that's not necessarily the end of the story. There are several tools available for the Mac that can recover, or at least attempt to recover your data. It would be remiss of us, however, not to mention at this point that you can avoid this heartache and worry altogether if you backup your Mac regularly using Time Machine or another backup tool. It's quick and easy to do, and if you use a cloud backup service as well, your data will be protected even if something catastrophic happens to your house or office.

The best data recovery software for Mac
Before we list the top 5 data recovery tools for Mac, it's important to understand how they work and what you should do to give yourself the best chance of successful recovery. All recovery tools work in more or less the same way: they scan your hard drive and try to piece together damaged directories and file structures, checking blocks that have recently been flagged as available for use and working out what data is stored there.
It looks for patterns in the bits of data to determine file types and file names. That means you should stop using your Mac as soon as you realize data has been destroyed. If a file has been overwritten, the chances of recovery are minimal. Also, if the hard drive you need to recover data from is external, unplug it until you are ready to start the recovery process. Your goal is to leave as much of the lost data intact, to give the recovery software the best chance of piecing together what remains.
1. EaseUS Data Recovery Wizard for Mac
EaseUS Data Recovery Wizard can recover data from your Mac's boot drive, or from external drives, USB sticks, memory cards, and digital cameras. It also has a tool that allows you to create bootable USB media so you can restart from that and run a recovery session straight away.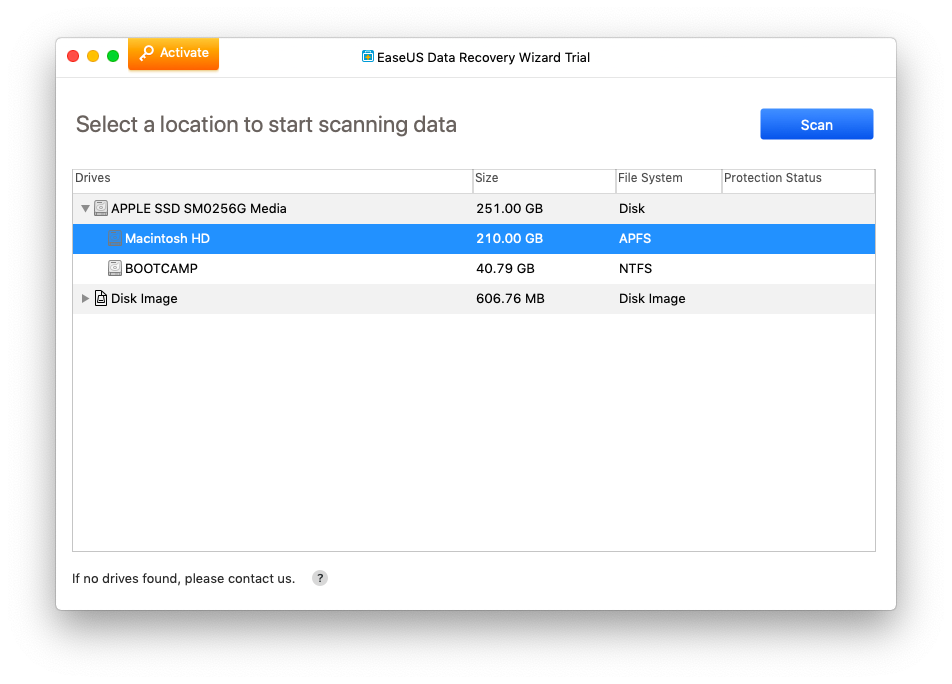 Once it has scanned the drive where data was lost, it lists the files it has found, organized by file type. Where possible, it displays the name of each file and displays a thumbnail preview. So, once you've run a scan, you can click on a file type and see all the files it's found of that type. To recover data, just mark the files you want to recover and press "Recover Now".

Scanning and recovery takes quite a while for any tool, so EaseUS Data Recovery Wizard for Mac allows you to save a session and return to it later.
And it includes a couple of other useful tools: a hard drive monitor that warns you if your drive is likely to fail, and data protection software that allows you to specify folders to protect and then keeps a backup of those so you can guarantee recovery if the worst happens.
EaseUS Data Recovery Wizard for Mac works with drives formatted as APFS, HFS+, HFS X, FAT (FAT16, FAT32), and exFAT, and a free trial version allows you to recover up to 2GB of data.
2. Disk Drill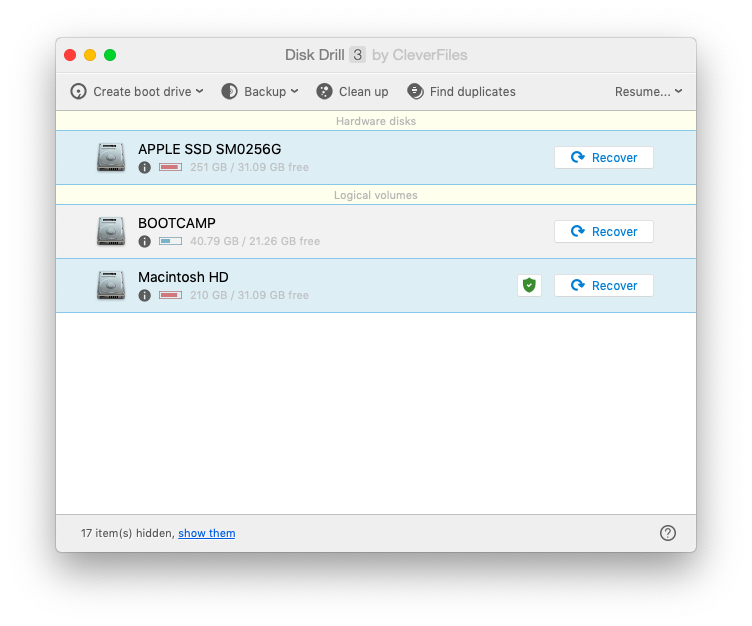 Like EaseUS, Disk Drill can recover files from several different sources, including your Mac's boot drive, external drives, USB sticks, memory cards, and digital cameras. It also lists files by type, but Disk Drill's case, you can specify the type of file you're looking for at the start so it only scans for those files and lists them when it finds them. You can then preview them and decide whether to try and recover them. Of course, this relies on Disk Drill being able to identify a file type, though if it can't do that, the chances of recovery are pretty much non-existent anyway.
Like EaseUS, Disk Drill also allows you to save sessions and return to them later and it has a couple of different protection systems. Recovery Vault saves the metadata of all the files on a drive or partition, making it easier to scan for them and recover them later, if you need to. Guaranteed Recovery saves a backup of your Trash folder and any other folder you specify, so that if you delete files accidentally, you have a second copy you can recover from. As with EaseUS's protection system, you shouldn't rely on it and it's no substitute for having a backup on a separate drive or location.
Disk Drill also has tools to monitor the health of your hard drive, free up space, and identify duplicate files.
3. Data Rescue 5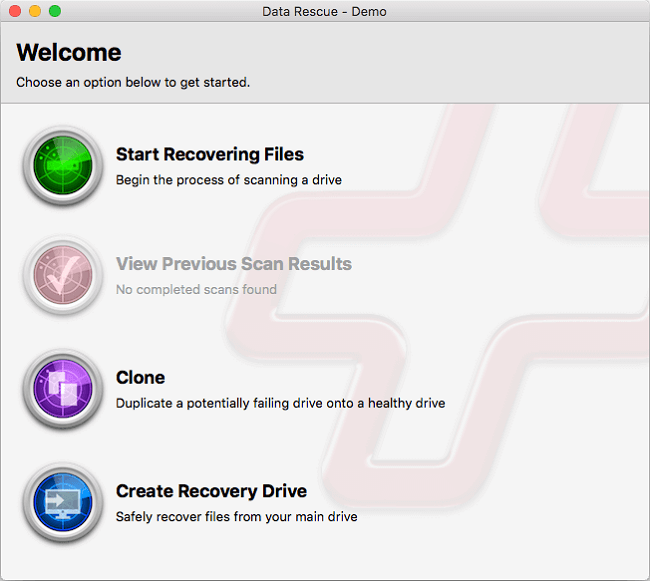 Data Rescue 5 is one of a number of data protection and recovery tools from Prosoft. It's a companion to the free Deleted File Finder app that allows you to scan your Mac and preview deleted files to find out whether they can be identified and recovered.
As with the other tools listed here, Data Recovery isn't limited to recovering data from your boot drive. It can also work on external drives, USB sticks, memory cards and digital cameras. Data Rescue will also work with virtual machines and Boot Camp partitions.
One thing to be aware of is that use of Data Rescue is limited to five devices , so if you think you're likely to need to scan more drives or devices than that, you may want to look elsewhere. However, Data Rescue can also flag up a failing drive and allows you to clone it to a healthy drive before it fails completely.
4. MiniTool Mac Data Recovery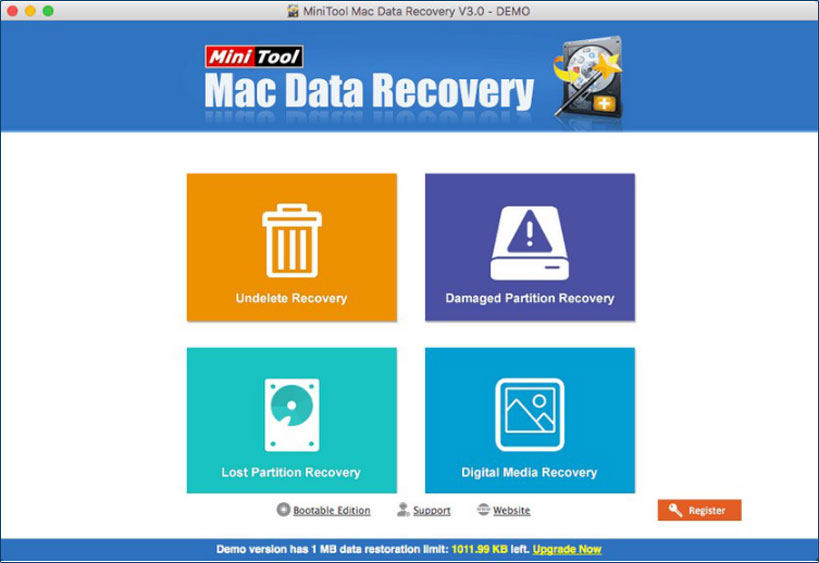 MiniTool's best selling point is that it's free for personal use, but the free version will only allow you to recover 1MB of data. It will last least show you if MiniTool can find the data you want to recover. And the paid-for version has a 30-day money back guarantee. So you may be able to get your money back if you can't get your data back. Maybe.
MiniTool's interface is split into four sections: Undelete is for recovering files you've accidentally trashed; Damaged Partition Recovery tries to recover data from a current partition that has been damaged; Lost Partition Recovery does the same job but for partitions that have been removed; and Digital Media Recovery specializes in recovering photos, music, and movies.
Mini Tools can recover files from external media such as hard drives, SD cards, and USB sticks, as well as your startup drive. You can save scanning or recovery sessions, there's support for Windows file types, and there's also a separate utility that allows you to create an external boot volume.
5. Stellar Phoenix Mac Data Recovery Professional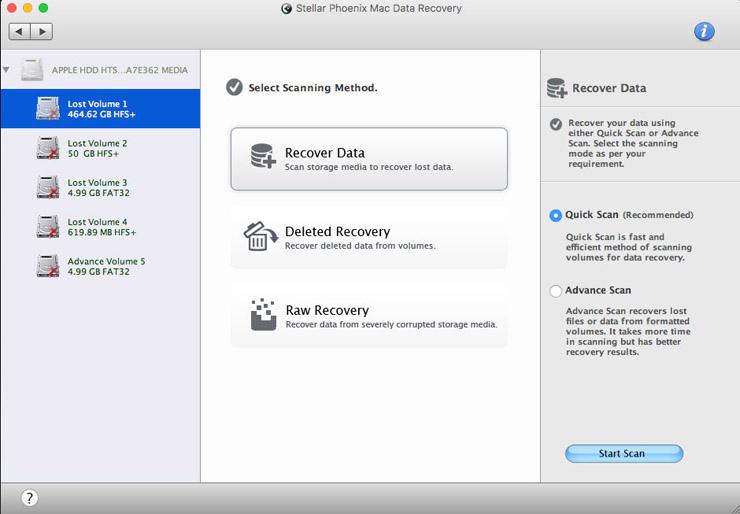 One of the Stellar Phoenix Mac Data Recovery Professional is its user interface. It's simple and very straightforward to use, allowing you to choose whether to scan for every possible type of file, or list the search to any combination of documents, emails, videos, photos, and audio files. The big green buttons are easy to choose and make for a very friendly interface.
You can also download a free version of Stellar Phoenix that allows you to scan your Mac for lost files so you can see whether the application can find what you're looking for before you pay to recover it. It will have a go at recovering files on your main hard drive, Time Machine backup, Bootcamp partition, external drives and flash media, as well as corrupt or unmounted volumes.
You can customize a scan if you know they type of file you're looking for, so that it only scans for, say movies, photos, or emails. And you can create an image of the disk on which the data was lost, to make scanning quicker. There's also a disk monitoring tool that warns you if a disk is about to fail and allows you to clone it before it does.

As you can see, there are lots of different options for data recovery software for Mac. You should check each one out carefully and decide which best meets your needs. Remember that while some offer free versions, these are wither limited in the amount of data they can recover or only allow you to scan for free and charge you when you need to recover any data. Most importantly of all, backup your data regularly and you'll minimize the likelihood that you'll need to recover data at all.

---