How to remove palikan.com from browser
Has the homepage on your browser changed recently? Or maybe when you try to search for something on the internet, instead of taking you to Google or Bing, your browser now takes you to Palikan.com. That is a textbook case of the Palikan.com browser hijacker.
It's obviously fairly irritating. In fact, it annoyed you enough to search for this article. Well, keep reading to learn how to remove the Palikan.com redirect manually or scan for it with the app CleanMyMac X.
| | |
| --- | --- |
| Name | Palikan.com browser hijacker |
| Category | macOS redirect browser hijacker |
| Symptoms | Resets your browser's homepage and search engine without permission, redirects shortcuts |
| Infection method | Fake pop-ups, bundled with free software |
| System damage | Redirects to malicious websites, tracks browsing history, frequent pop-ups |
| Removal | CleanMyMac X Malware Removal module, manual cleanup |

Palikan.com website address isn't run on HTTPS — this is an instant red flag.
What is Palikan.com redirect?
The Palikan.com redirect is similar to other browser hijackers like qualious.com, cassiopesa.com, exlee.com, or taplika.com. After being installed on your Mac, it changes your browser's homepage and default search engine to Palikan.com. This, in effect, causes you to use the suspicious website for all of your internet browsing.
How did the Palikan virus get on my Mac?
As simple as installing a free browser extension. The Palikan hijack is a type of malware. And unfortunately, malware is commonly bundled with free software and is often installed by the user without them ever knowing. This is why it's always important to only install apps from trusted sources and developers.
How to get rid of Palikan virus
Just because you have the Palikan redirect on your Mac doesn't mean all hope is lost. There are a couple of ways you can go about getting rid of it. Whether you want to do it manually or use the app named CleanMyMac X — it has a free version you can download. Both methods are effective. It just depends on how thorough you want to be and whether you want to protect yourself from future hijackers trying to install themselves on your computer.
Removing Palikan virus manually
It was mentioned earlier that the Palikan redirect is a type of browser hijacker. So, if you're up for the task of getting rid of it manually, the way to do it will vary based on each browser. This article will cover the three most popular browsers: Chrome, Safari, and Firefox.
How to remove palikan from Chrome
If Chrome is your browser of choice, you'll have to reset your settings to default. This means that you'll have to set it back up the way you like to use it later on. Here's how you do that:
In the top-right of Chrome, click the three vertical dots > Settings.
Go to Reset settings and click Restore settings to their original defaults.
Then, click the Reset Settings button to confirm.
Restart Chrome.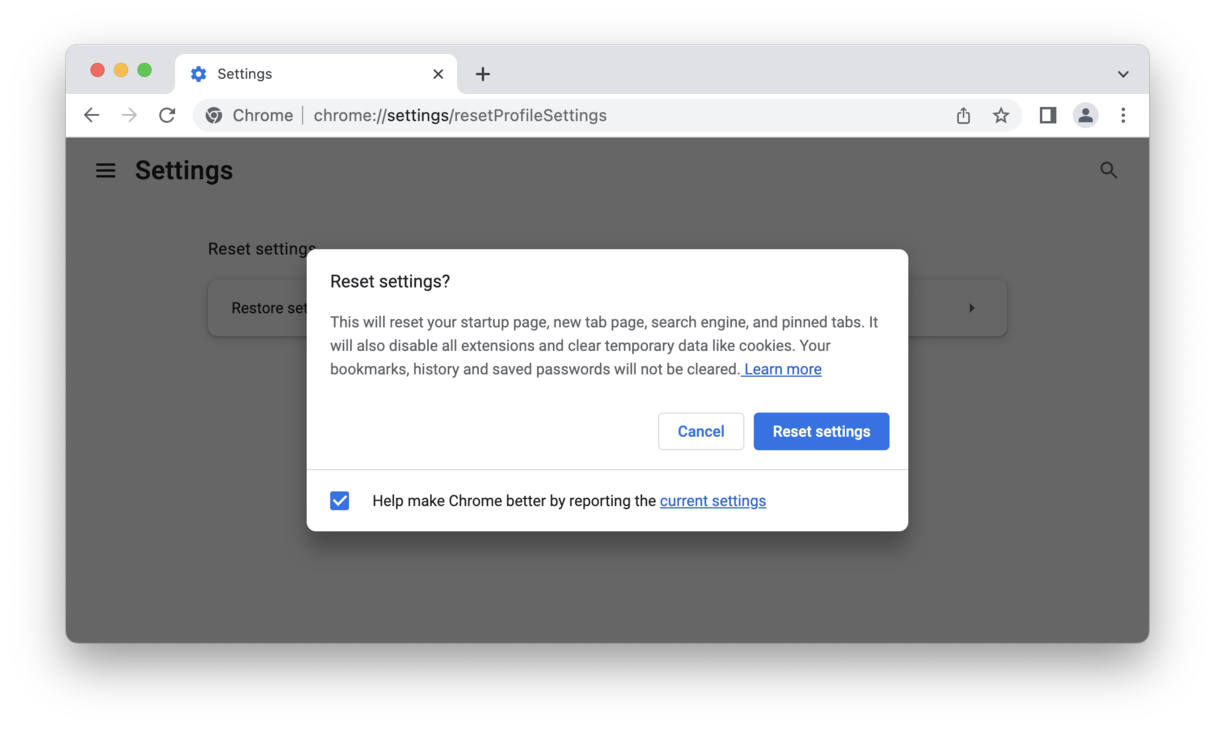 How to delete Palikan search in Safari
There are actually two places you need to check if the Palikan.com redirect is happening in Safari. You'll need to change the homepage to what you want it to be, and then you'll have to look for any malicious extensions that are installed.
Don't worry; if you follow these steps, you'll hit everything you need to get rid of the hijack:

In Safari, click Safari > Settings.
Check the Homepage field and change it if needed.
Then, click the Extensions tab.
If Palikan is listed, click the Uninstall button.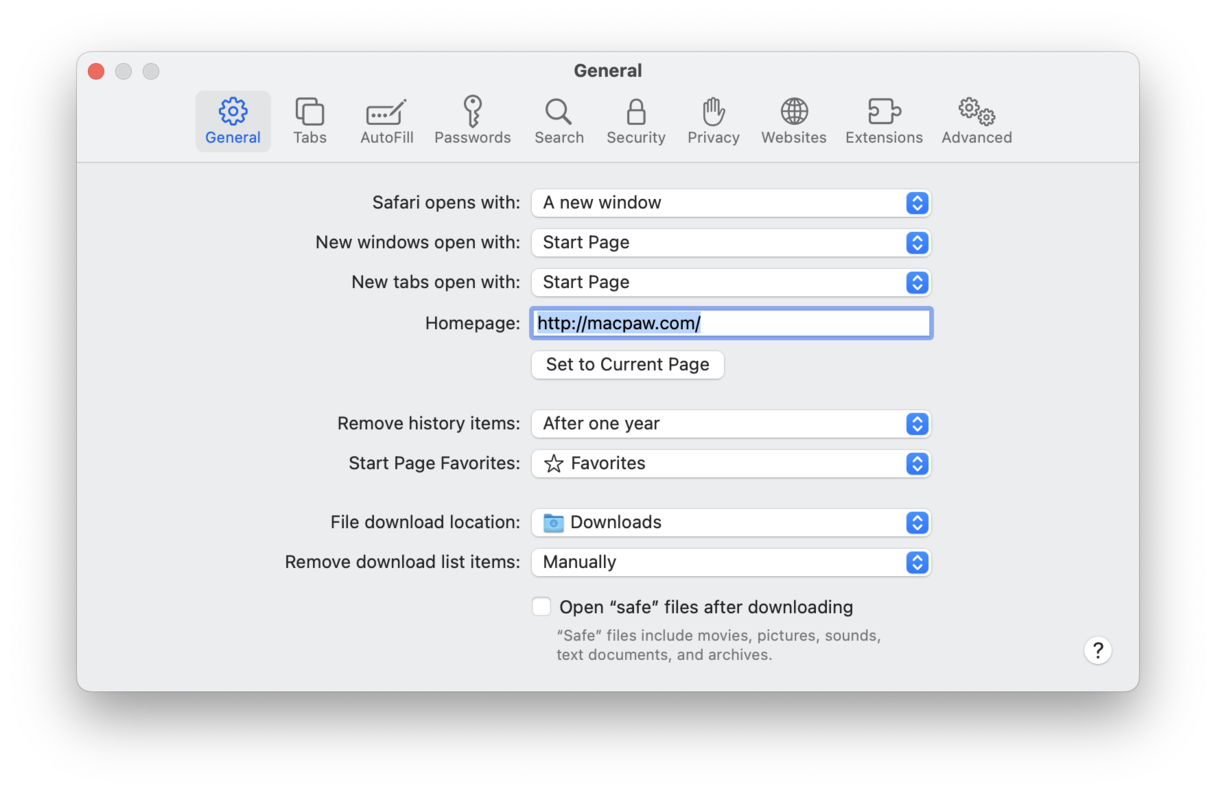 Sometimes, when you try to change the homepage in Safari, the change will not save. If that happens, when you get to step 2, do NOT hit the return key on your keyboard. After you type in your desired homepage, instead click on one of the other tabs. You should be prompted to save your changes. Do it, and then it should save your new homepage. Quit Safari and restart the browser to verify it worked.
How to remove Palikan from Firefox
Like Chrome, if Firefox is the browser that's suffering from the hijack, you'll need to reset it back to default settings. You can follow these steps to do that:

In Firefox, click the three horizontal lines in the top-right corner.
Then, click Help > More troubleshooting information > Refresh Firefox.
Firefox will then quit and restart when it's finished refreshing.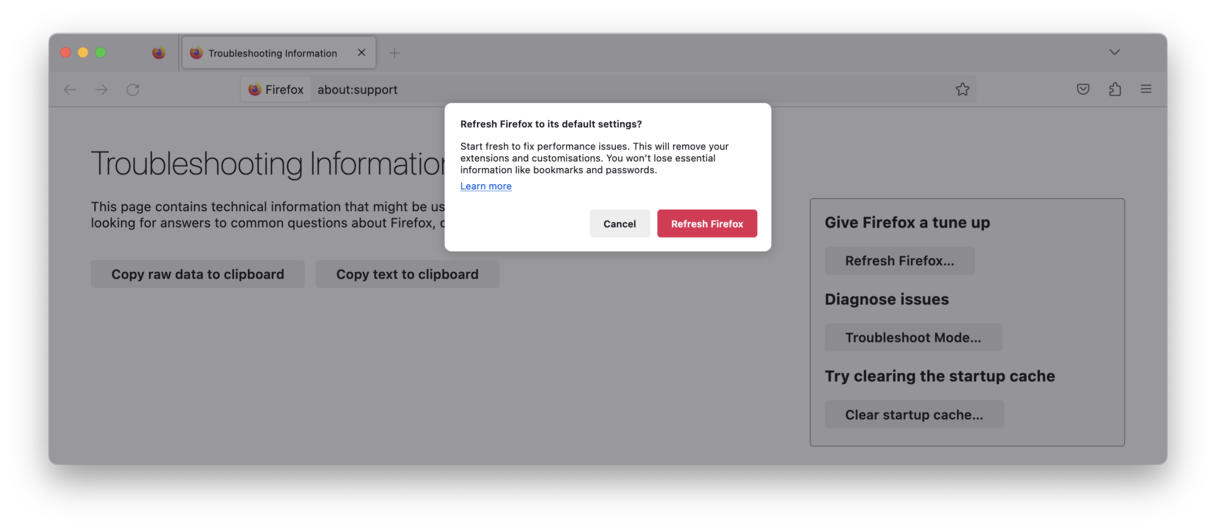 Get rid of Palikan with CleanMyMac X
No one would blame you if you decided you didn't want to try and clean this up manually. In fact, using CleanMyMac X is better just because you can turn on the real-time malware monitoring once you're finished with your scan. And it will help prevent other hijackers or malware from installing on your Mac.
Download it from here and try it out free! Here's how to get rid of the palikan.com redirect using CleanMyMac X:

Open the CleanMyMac X app.
Click Malware Removal in the sidebar.
Then, click Scan.
Even though the Palikan.com redirect might seem more annoying than harmless, there's no telling the extent of information it's tracking on your Mac. The sooner you can clean it up, the safer your computer will ultimately be. And if you want to ensure that it stays safe, look no further than CleanMyMac X. Malware removal is just one module in the app. It's a full suite of features that really will keep your Mac running faster, safer, and, well, cleaner.
Please note that the article is provided "as is" for informational purposes only. We do not make any warranties regarding the manual removal of the virus. You have to understand that as a user, you are fully responsible for changing your Mac's configuration.