CleanMyMac X 4.1.0. "Alex Zambrano"
Here comes the new CleanMyMac X 4.1.0. With this update we've decided to change our approach to our releases a little bit. From now on, every regular update will bear a human name and it will be named after you — our users and fans. Those of you who provided the most feedback now have good chances to see their name mentioned in the next update. Pretty cool, right? Our user Alex Zambrano sent us valuable feedback about managing Extensions and we are naming this update after him. This is our way to say thanks.

Download the latest CleanMyMac X

So what's new in this release?

The Extensions module is back
Our user Celso Kuwajima wrote:

I am surprised that I cannot remove any extensions (Contacts, Internet Plugins, Launch Agents, Login Items, Preference Panes, Quick Look Plugins, Safari Extensions, Services, Siri and Spotlight Plugins), a very useful feature available up to CleanMyMac 3. How am I supposed to accomplish these in CleanMyMac X?
The feature you're asking about is back. By "Extensions" we mean all the small supporting applications, internet plugins, and add-ons that are installed on top the main app or your browser. Some of them stay unseen most of the time, suck memory or just do nothing. This update gives users full control over them.
The Updater becomes omnipotent
Almost. At least now you can refresh all your software with minimum effort. To update all apps at once you need to click "Select All" in the top panel and then click the big "Update" button.
The Uninstaller now deletes your Steam games
Our user Casper Herse wrote:

"Steam apps no longer show up as apps when uninstalling."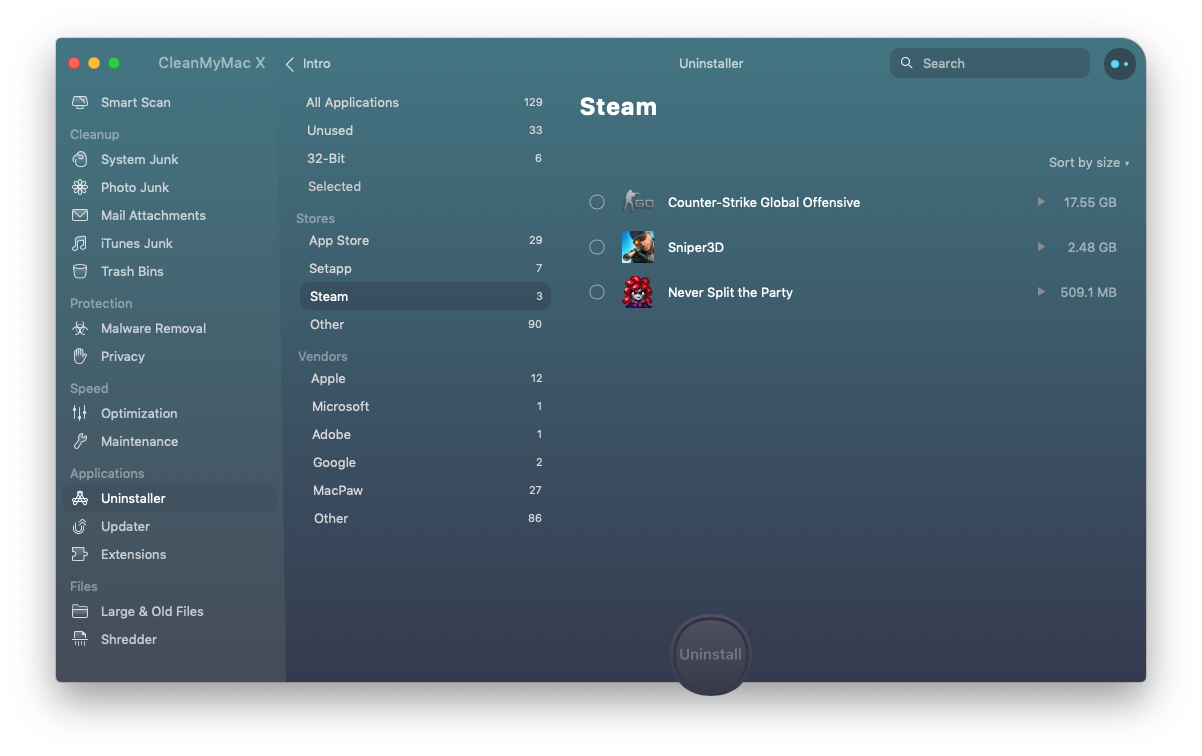 This was a special request from our fans and we are proud to make it happen. Until now, Steam games didn't show up as apps in Uninstaller. That left you with many Steam games' leftovers on your drive after the deletion of a game itself. Okay, one more type of junk is defeated!

Goodbye, app leftovers
Uninstalling an app leaves behind small parts and library pieces. Now you can remove such leftovers in the Uninstaller module. There's an option to review these files before the final deletion. With this feature added, you'll be always removing apps correctly.
Easy app resets
Resetting apps to their default state has always been one of the least-known perks of CleanMyMac. And unjustly so, because it effectively tames the apps that misbehave. When your apps are conflicting or out of sync, the Reset button might be your last straw before you reinstall the whole app. Until this update the Reset option wasn't prominently displayed but know it's in plain sight. You need to select an app in the Uninstaller module and click the button next to the app's icon. It allows you to choose either to uninstall or reset the app. See the video.

No more malware DMGs
With this update, CleanMyMac X's anti-malware scan expands to DMGs that could be potentially harmful. As it happens, malware often masks itself as legit software but when you get to unwrap these files it may already be too late. So it seems logical to nip the problem in the bud and eliminate the DMG threat before it takes root on your computer.

Interestingly, CleanMyMac X scans the inside of a DMG (not just its shell) and if the threat is found, it straight away marks the file as harmful.
Bug fixed: Empty Menu App
The sorrowful bug with Empty Meny App bug is now fixed. Hurray. The emptiness is gone.

What's new page
From now on you can follow the CleanMyMac X's evolution on a special page. There you'll find features that are now currently in development upon your request. That makes CleanMyMac X almost a living entity: it gets smarter, grows new tools and skills. And you are a part of it, so stay tuned.

PS. Request new features from us here.