10 best camera apps for your iPhone to use in 2021
The best camera you can possibly use is the one that's always with you, right in your pocket. And if the phone in your pocket is an iPhone, you're lucky to have one of the best mobile cameras around. That being said, your iPhone's Camera app doesn't give you that much creative control. And the better you get at iPhone photography, the more prevalent Camera app's shortcomings become.
Thankfully there's an app for that. Ten apps, actually.
We've put together a roundup of ten best camera apps for iPhone that are available on the App Store. Whatever your rationale behind using a more advanced camera app, all of them are great tools to have in your arsenal and will help take your photography to the next level.
Here's our roundup of the best iPhone camera apps:
Halide for a full suite of manual controls
Obscura 2 for a more user-friendly experience
VSCO for both capturing and editing photos
ProCamera for more control over both photos and videos
Camera+ 2 for more advanced manual controls
ProCam 5 for shooting every mode with the camera
Moment for better control and using third-party hardware
MuseCam for an easy-to-use app that does it all
Filmborn for unique filters designed to replicate shooting on film
Manual for a more straightforward, better iOS camera app
With a lot of similar features in each of these, choosing the best camera app for your iPhone will depend on where your starting point is and what you're looking to get out of your camera.
---
1. Halide: DSLR camera controls on your iPhone
While somewhat intimidating at first glance, Halide is designed to put the controls back in your hands, letting you set everything from exposure to focus to ISO to shutter speed. The interface includes views for histograms and depth peaking, so you can monitor how the phone is registering and processing the depth of field settings.
Halide is first on our list because it's definitely not for the faint of heart. It's designed for photographers who are looking to capture images the way they want to, rather than leave everything to automatic settings and chance. It's one of the best pro camera apps for iPhone out today.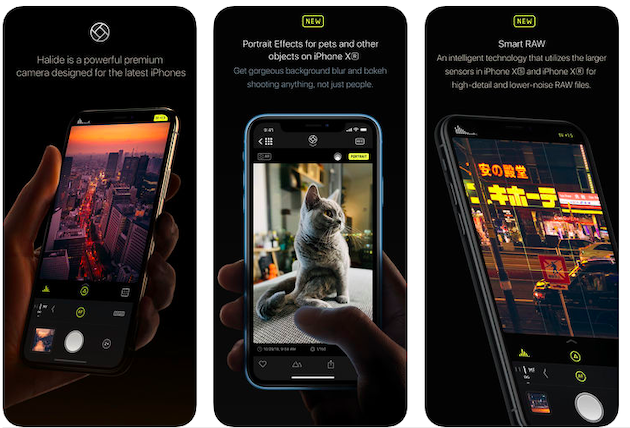 ---
2. Obscura 2: A minimalist camera app for iOS
Boasting a simple and clean interface, Obscura 2 takes a minimalist approach to help you take better pictures. It gives you a handful of manual controls to choose from, all of which work via dials on your screen. And with over 19 filters included, you can choose from one of the presets and then proceed to edit your pictures further.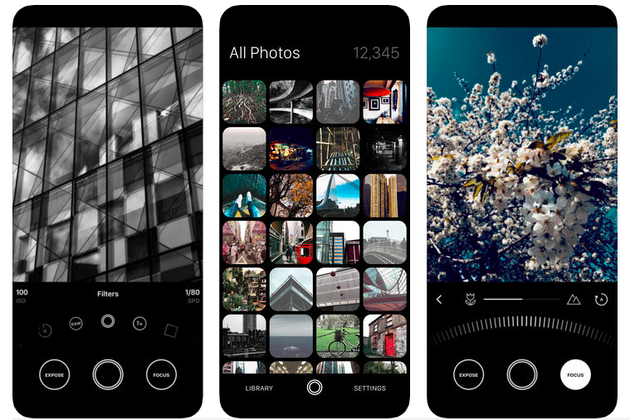 ---
3. VSCO: Camera app meets photo editor
Highly praised as one of the best photo editing apps, VSCO also serves a powerful camera. It's pretty user-friendly, and if you've used VSCO to edit your photos, the transition to capturing them with the app will be even easier.
Once you're in the camera mode, you'll see a row of icons at the bottom of the screen that give you manual controls over your photos. To unlock some of the more advanced features, you'll have to sign up for a pro level subscription. That being said, even the free version of VSCO is incredible, pairing sufficient control when taking photos with the ability to edit them within the same app.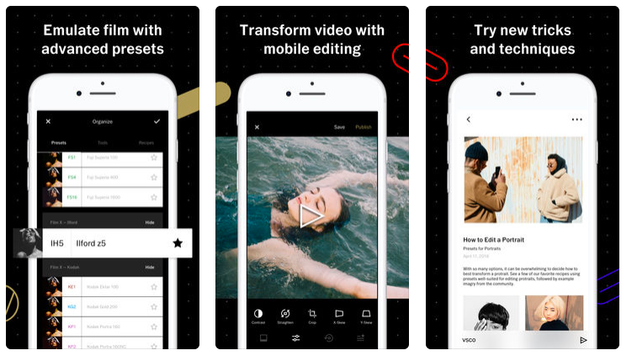 ---
4. ProCamera: A camera app that's perfect for video
If you shoot a fair amount of video, ProCamera is definitely the app for you. While touting bells and whistles very similar to the other apps on this list, it also provides in-depth control over your videos.
From preset camera modes for things like HDR and Lowlight shooting to giving you control over the resolution and frame rate of the videos you create, ProCamera is surprisingly well-equipped for an iPhone camera app. And with its advanced settings, you're able to control everything from focus to stabilization to file formats to geotagging.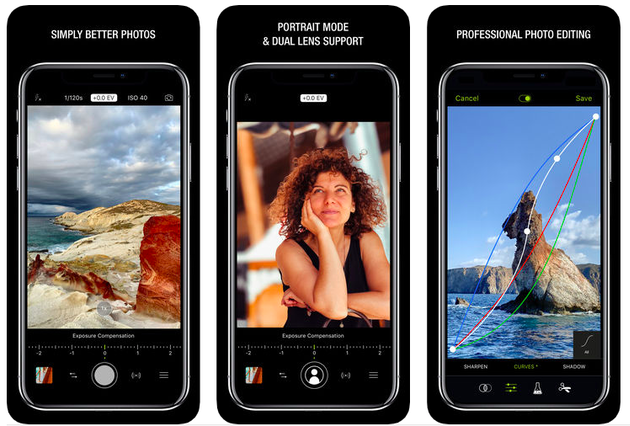 ---
5. Camera+ 2: A geared up iOS Camera app
Leaning from its predecessor, Camera+ 2 aims to make iPhone photography fun for everyone, regardless of skill level. When you first launch the app, it has a familiar feeling to the native Camera app you've probably used. It just has a few more buttons and controls that can all be triggered with a single tap. This makes the app way less intimidating — and with a $2.99 price tag, it also has a lower barrier to entry.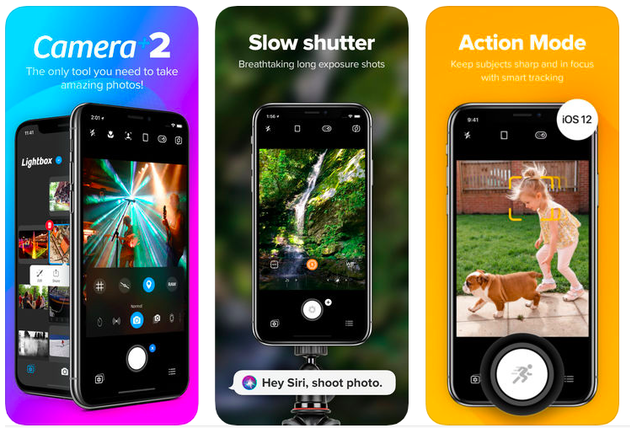 ---
6. ProCam 6: A camera app for the savvy photographer
ProCam 6 is another app that's made for the photographer who wants to dive in head first and take control of every detail in the image. The interface may look confusing for an average iPhone user, and at $5.99 it's probably not going to be your first choice when you're just transitioning from the native iPhone Camera.
However, if you have some experience under your belt, ProCam 6 will give you complete control over white balancing, ISO, focus, exposure, and shutter speed. Plus, it combines the best of iPhone's own Camera app — video, portrait mode, bursts, and timelapse — with built-in lens effects like fisheye and ripple. The learning curve may be steep, but the result is surely worth it.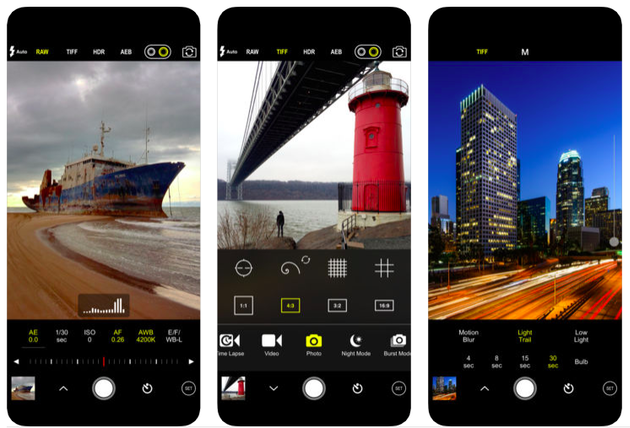 ---
7. Moment: A powerful camera, even without the gear
While Moment is known for their hardware accessories like lenses and cases, the iOS camera app they've created to accompany those works great even without them. Moment gives you a lot of manual control, lets you capture photos in RAW, and is a lot more inventive with iPhone gestures. Overall, Moment app is a relatively simple and definitely worth trying out while you're experimenting with new camera apps.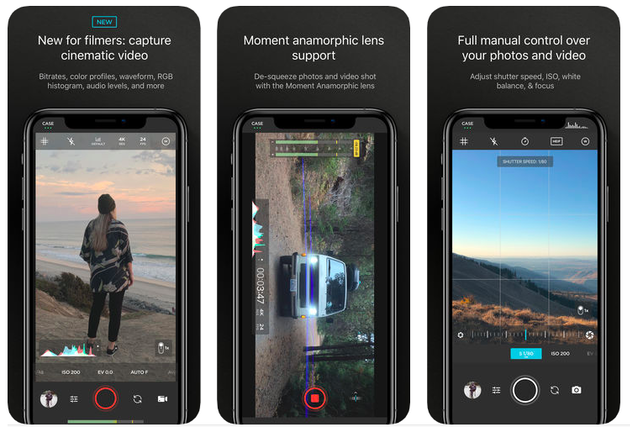 ---
8. MuseCam: The best free camera app for iPhone
MuseCam is perfect for those just starting out with iPhone photography. Its easy-to-use interface makes the manual controls of the camera seem a little less daunting. Coupled with an image editor, it's a powerful app to elevate your pictures. And the best part? It's free, so you can download it with no strings attached and start taking better photos.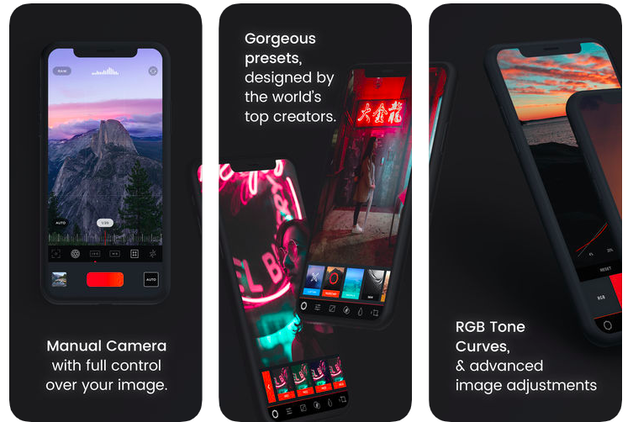 ---
9. Filmborn: A camera app that emulates film
Filmnorm's main claim to fame is its live filters that make your pictures feel like they were shot using an old school film camera. There's a ton of controls it emulates, from lens sizes to film stock. This is an app you want to sit down and take the time to learn. And once you master it, the proof will be in the pictures.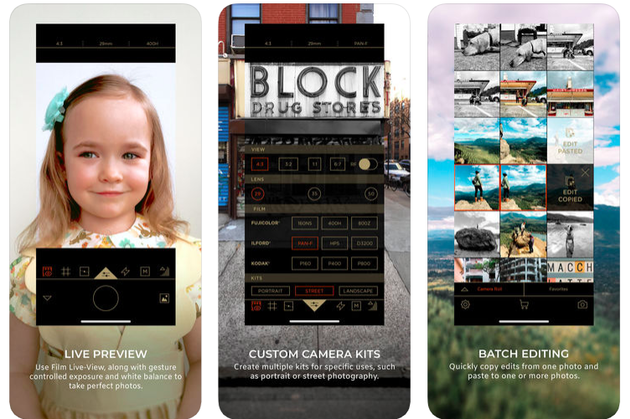 ---
10. Manual: A RAW camera app for iPhone
Manual is the most straightforward and stripped down camera app on our list. It excels at giving you a very clean experience, while not skimping on the level of control you have over the image. The only downside with this app is that the features feel hidden and are not as readily presented as they are in some of the other apps we've talked about. But if you're hoping to find an app that lets you shoot in RAW with full control over exposure, Manual is the app you've been looking for.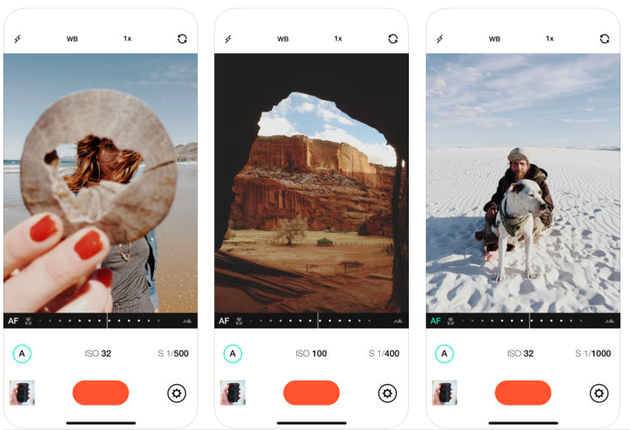 ---
With so many great apps to choose from, the only question is where do you start? Like we said earlier in the article, experiment with them all. The iPhone camera apps on this list all do different versions of the same thing, but each has features that make it unique. Take some time to learn every app before you move onto the next one, but most importantly, have fun snapping thousands of photos!