How to watch Disney + from Anywhere
Disney+ is an excellent streaming service from Disney. It offers lots of original content as well as a myriad of old-time classics. Although the service isn't like HBO Max, which operates only in the USA, the number of countries Disney+ supports isn't the largest. If you happen to live in one of those regions that don't have Disney+ yet, you can easily unlock the service with the help of a Disney Plus VPN. Here's our step-by-step guide to accessing Disney Plus with VPN from any country.

What's Good About Disney+
Although the streaming service only has "Disney" in its name, it features more content than you can think of. Of course, it has all the Disney content, like the classic animated films like The Lion King and The Jungle Book. The most recent Moana, Coco, and other computer-animated movies and cartoons are there too.
Disney+ also has movies from Pixar, like the newest Soul, rated 95% on Rotten Tomatoes and other critically-acclaimed titles, like WALL-E, Toy Story, and Finding Nemo. The service is also a blessing for devoted Marvel fans. Avengers: Endgame, Guardians of the Galaxy Part 1&2, Spider-Man: Far From Home, and all the other Marvel blockbusters are available to stream on Disney+.
If you're a Star Wars universe fan, there's good news for you too. All the Star Wars Universe movies are on Disney+ to watch. The service features content from National Geographic, like the Oscar-winning Free Solo documentary. Disney+ also makes its own movies and shows. The Mandalorian and WandaVision are two great examples of the service's quality original content.

How To Access Disney+ From Anywhere
Chances are your country may not have Disney+ yet. If that's your case and you try to go to the service's website, it'll stop you with the "Sorry, Disney+ is not available in your region." How does Disney know where you live? Like all the other sites on the Internet, it can see your IP address, which points to your location. If your IP comes from a country not supported by Disney, you get the error message. But if your IP address is from the USA, where the service is available, you'll have access to it with no problems.
Luckily, it's not that tough to change your IP. That's when Disney+ VPN comes in handy. A Virtual Private Network (or simply VPN) is a technology that allows you to change your IP address to a needed country. Here's how it works. A VPN creates a safe tunnel between your device and a server somewhere else in the world. A server can be in your country, or on the other side of the Earth. In your case, you'll need a Disney Plus VPN server in the USA to access the streaming service. After the connection between you and the American server settles, your visible IP will be the same as the server's one, and you'll have full access to the streaming service. Also, all your online interactions will be secure with VPN's end-to-end encryption.
Here's how to unlock Disney+ with ClearVPN:
1. Install ClearVPN for your device (we'll look at ClearVPN on Windows as an example).
2. Open the app.
3. Click on the Unlock Streaming & Entertainment shortcut
4. Activate the shortcut
5. Mission Passed! Go to Disney+ now and enjoy!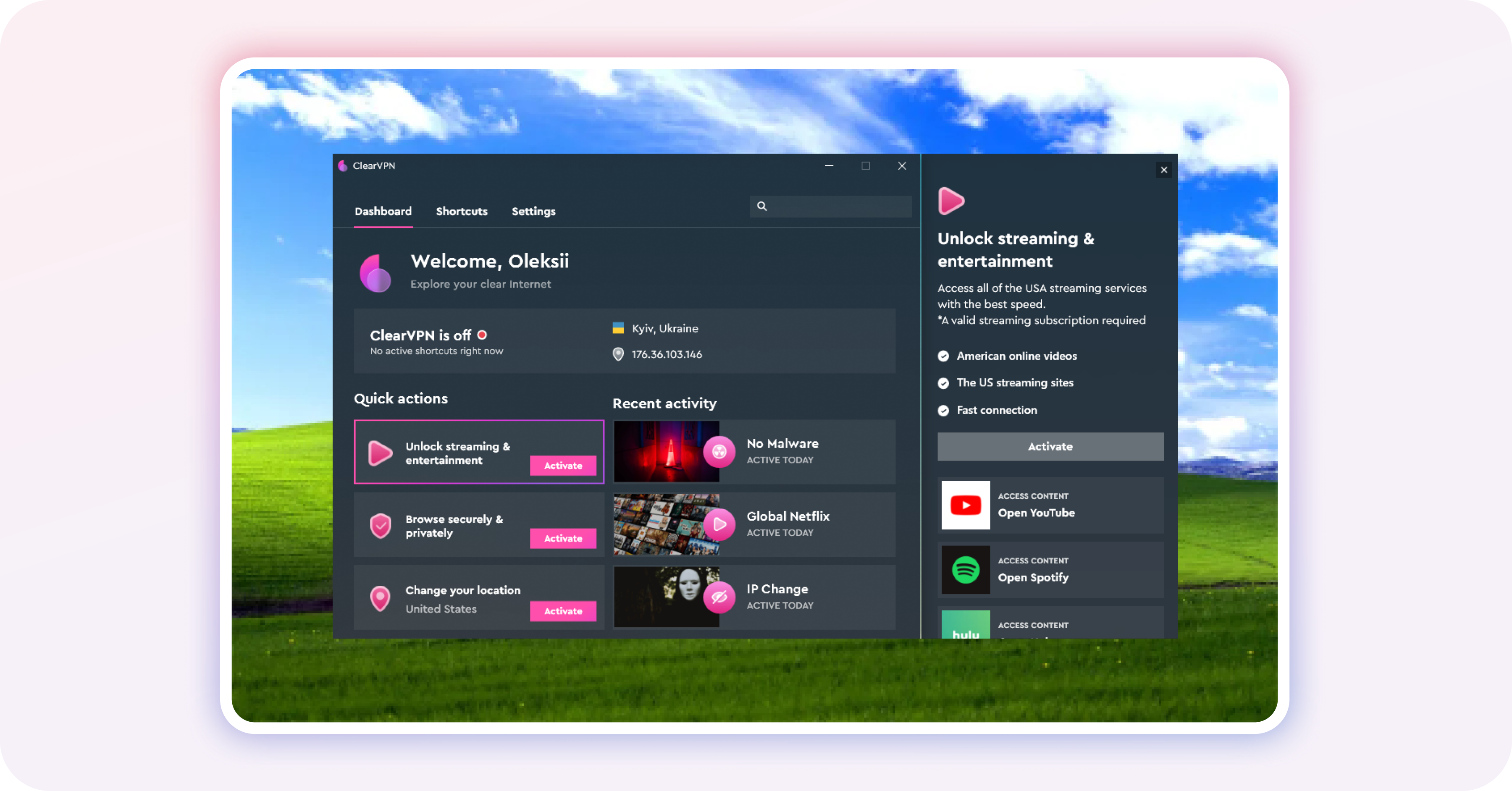 How to Sign up for Disney+ With ClearVPN
Here's something that other Disney Plus VPN providers may not tell you about. If you don't have a Disney+ active subscription, you may face difficulties signing up for the service. As Disney thinks that you're in the USA, they'll expect you to pay with an American credit card or a US-based Paypal account. The easiest way to bypass this restriction is to ask a friend or family member in the States to pay for you. But if you don't have any folks in America to help you out? Luckily, there's a way to subscribe to the American Disney+ from anywhere. The service accepts US virtual pre-paid cards, which can be purchased from other countries. With one of these cards, you'll be able to pay for a Disney+ subscription no matter where you live.
How to sign up for Disney+ with ClearVPN:
1. Sign up for one of the services (e.g., US Unlocked) to get a US pre-paid virtual card.
2. Open ClearVPN and activate the Unlock Streaming & Entertainment shortcut.
3. Go to Disney+ and pay for a subscription with your virtual pre-paid card. Also, use an actual US ZIP code! Find one here.
4. Watch excellent Disney+ content with ClearVPN!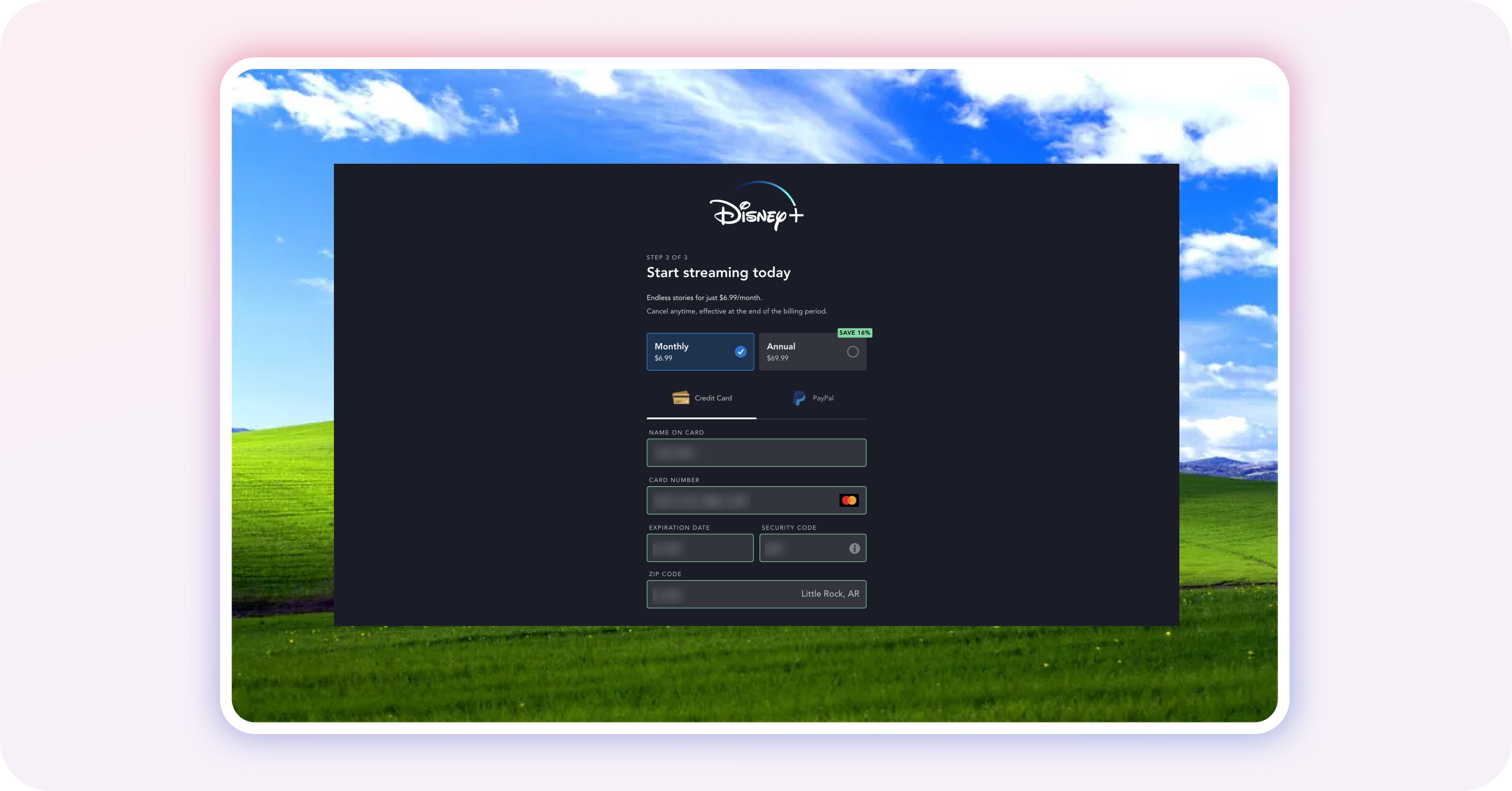 Let's Sum It Up
Disney+ is an outstanding streaming service for people of all ages and interests. You can stream everybody's favorite classic Disney animated films, as well as Pixar, Marvel, and Star Wars movies. There are highly-acclaimed National Geographic documentaries too. Disney+ isn't available globally, but you can access the streaming service with a Disney Plus VPN if you're not based in a country from the lucky list.
How does Disney plus work with VPN? A VPN will change your IP address to the USA, and you'll be able to watch the service regardless of your actual location. Unfortunately, if you don't have a Disney+ account and try to subscribe for it with your credit card from a country other than the USA, you'll get an error message from the service. The American Disney+ doesn't allow sign-ups with a credit card issued elsewhere but accepts US prepaid virtual cards. Ask an American friend for help or get a prepaid US card on services like US Unlocked and use ClearVPN to access the service. Now you subscribe and enjoy the service's quality content from anywhere!