How to enable and disable location services on your Mac
Location Services in macOS are used by a whole host of apps and websites to provide a number of different services.
They allow calendar apps to tell you how long it will take you to get to an appointment, for example. And, of course, they allow Apple's Find My services to locate you, your friends, or your devices. However, they also allow search engines to show you adverts relevant to your location. And location data is personal, so you might not want every possible app or website having access to it. Fortunately, you can control who can see your location data and when. Here's how.
How to disable Location Services on Mac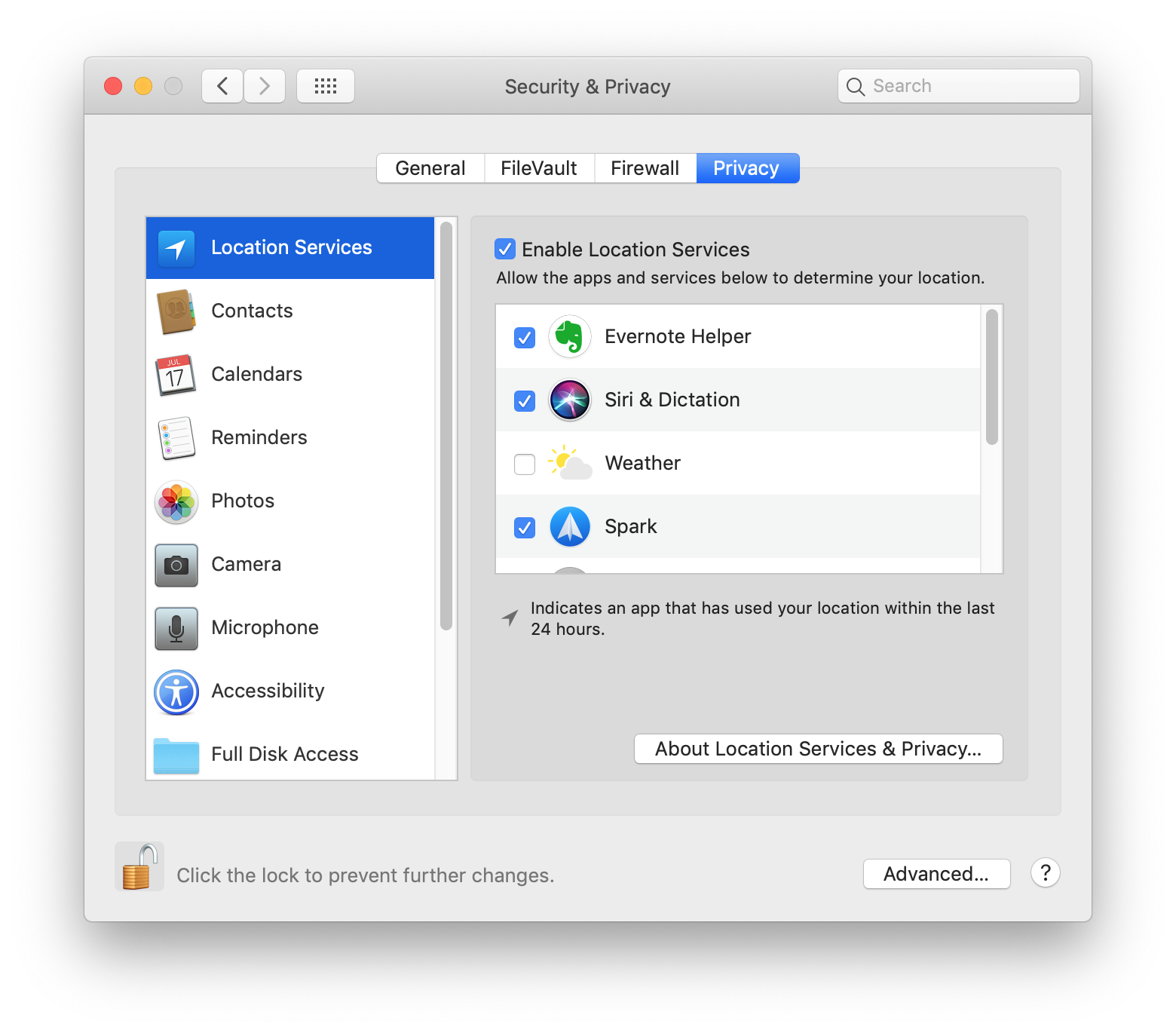 Go to the Apple menu and choose System Preferences.
Select Security & Privacy.
Choose the Privacy tab.
Select Location Services on the left hand side.
Click on the padlock and type in your admin name and password.
Uncheck the box next to Enable Location Services.
Press Turn-off in the dialog box that opens.
Quit System Preferences.
With Location Services switched off, no app or web service will be able to access location data on your Mac. Obviously, that will affect how some apps and services work and prevent others from working at all. Google Maps, for example may not able to provide directions from your current location. However, it won't prevent websites and apps from gaining any information at all about your location. Some, for example, will detect your IP address and try and use that to determine your location. That's why, if you use Twitter, for example, you may still see the name of the city or region you're in on tweets you post. Other sites may use cookies stored in your browser when you did allow access to location data – those are not deleted when you turn off Location Services. In fact, location data, such as metadata in images, is retained in files when you switch off Location Services.
If you'd rather exercise more nuanced control over which apps can access location data, here's how to do it.
Follows steps 1-5 above.
Leave the Enable Location Services box checks, but go through the list of apps and uncheck the ones you don't want to access your location. Those that have used location data recently are flagged with the Location Services icon.
Quit System Preferences.
If you take this approach to controlling your location data, it's worth turning on the location indicator in the menu bar, so you can see when an app or service is using it.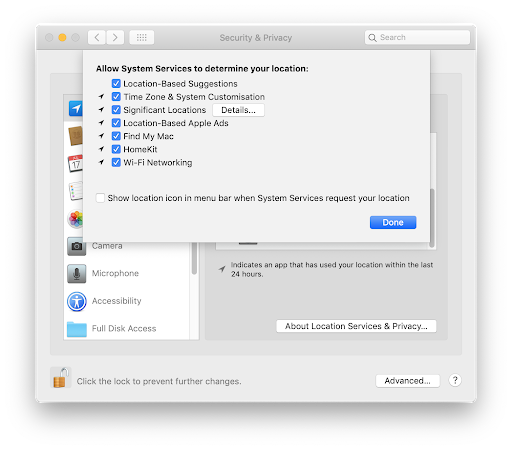 Follow steps 1-5 in How to Disable Location Services.
Scroll down to System Services and click Details.
Check the box next to Show location icon in the menu bar when System Services request your location
Press Done and quit System Preferences.
How to turn on Location Services on Mac
Click on the Apple menu and choose System Preferences.
Select the Security & Privacy pane.
Click on the Privacy tab.
Choose Location Services.
Select the padlock and type in your admin username and password.
Check the box next to Enable Location Services.
You will see apps that want access to Location Services listed in the main window. Those that have access have a checkmark next to their name.
Uncheck any apps you don't want to have access to your location data.
Quit System Preferences.
If your main concern about allowing apps and services access to your location data is privacy. And particularly if you are worried about being tracked in a web browser, there's a great deal more you can do to protect yourself. The first step is to take control of the data websites store on your computer in the form of cookies and cache files. I've found that the easiest and quickest way to do that is to use CleanMyMac X. It cleans up cookies, your browsing and download history, the list of wifi networks you've connected to and more, all with just a couple of clicks. Here's how to use it to delete cookies.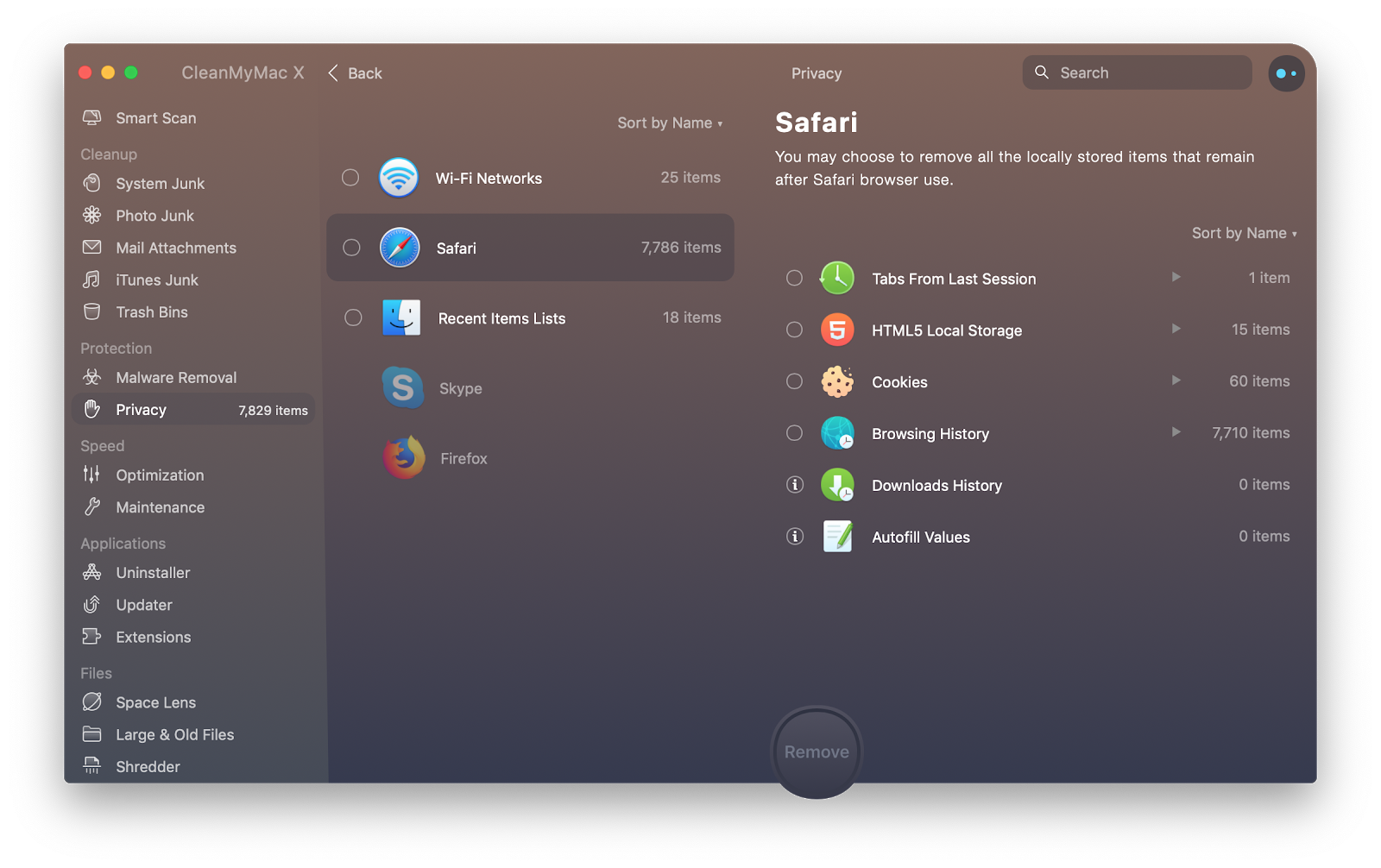 Install and launch CleanMyMac X — a link to download free editon
Choose Privacy in the sidebar.
Click on the browser whose cookies you want to remove.
Check the box next to Cookies.
Press Remove.
There are a few other things you can do to prevent websites tracking you. The first is to swap Google for DuckDuckGo. Whereas Google grabs as much data as it can about you to feed to advertisers so they can display relevant adverts, DuckDuckGo doesn't track you and doesn't display adverts.
You could also consider using a virtual private network (VPN). By signing up for a VPN service, you ensure that all the data transmitted to and from your Mac is encrypted. You can also choose which country it looks like you're connecting from. So you can be as anonymous as you like. Your ISP won't know what sites you're visiting, and the websites you visit won't know where you've come from.
There are also a number of extensions that can help secure your privacy while you surf the web. Ghostery Lite blocks ads and trackers, and you can customize it so that you can choose to allow some adverts. Traffic Light helps protect you from phishing attacks, by finding hidden trackers and warning you about malicious websites.
By the way, did you know that CleanMyMac X can manage your browser extensions and scan your Mac for malware?
Location Services in macOS can be very useful, particularly when it comes to getting directions, locating people or devices, or just finding the nearest branch of your favorite store. However, there are times when you might not want to hand over location data. Fortunately, by following the steps above, it's very easy to control who can access or turn it off altogether.