How much free space do you need for OS X Yosemite?
OS X Yosemite was released years ago; in fact, it is no longer supported. Nevertheless, it is still a great option for older Mac models — those no longer compatible with newer macOS versions.
To install OS X Yosemite, the requirements are the same as they were for Apple's OS X Mavericks. We'll cover all the system requirements in this article, but let's first start with disk space. Now, in terms of space, you'll need at least 8 GB of free disk space. To check how much disk space you have, head to the section below.
---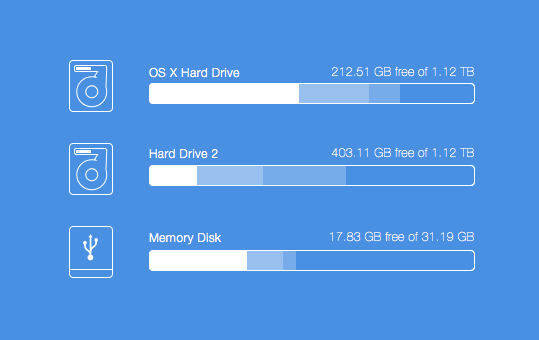 How to check free disk space on your Mac
Click the Apple icon at the top left of your screen.
Select "About This Mac."
Underneath "Memory," click on "More info…"
In the new window, select "Storage."
Above the multi-colored bar, you will find the phrase "XX.XX GB free out of XX.XX GB."
Again, if you have more than 8 GB of free space on your Mac, you can upgrade to OS X Yosemite. If you're running a little low, check out this helpful guide — it'll help you clean up gigabytes of disk space.
---
Get more space on your Mac with CleanMyMac
For newer macOS versions, check out CleanMyMac X and download it for free here. It has different tools to make your Mac as good as new.
CleanMyMac cleans out gigabytes of free space back on your Mac quickly and safely. It cleans out:
User caches & logs
System caches & logs
Language packs
Universal binaries
Broken login items
Old iOS updates
iOS photo caches

Development junk
Application junk
Broken preferences
Modified image copies
Large & old files
Externally trashed data
And so much more!
Plus, it cleans up all this junk in just one click. It's the fastest and safest way to clean up your entire Mac.