The ultimate guide to using Instagram search
Even if you consider yourself an Instagram expert, chances are you're not utilizing one of its key features: the search tool. Not only is the search tool a useful feature when it comes to finding new content, but when used correctly, it can significantly expand your account's reach and visibility.


---
How Instagram search works
Instagram's Search & Explore page is where you see the app's collection of photos and videos it thinks you might like based on people you already follow, as well as a place to search for specific content or people within the app.
On Instagram, you can search for the following things:
People, by their name or their username
Hashtags
Places
The search results for those above inquiries are arranged based on factors like the accounts you follow, the accounts you've connected to, and what kind of content you've previously liked.
Here's how to search for something (or someone) on Instagram:
Open the app.
Press on the magnifying glass icon at the bottom-left corner of the page.
Type your search into the search field.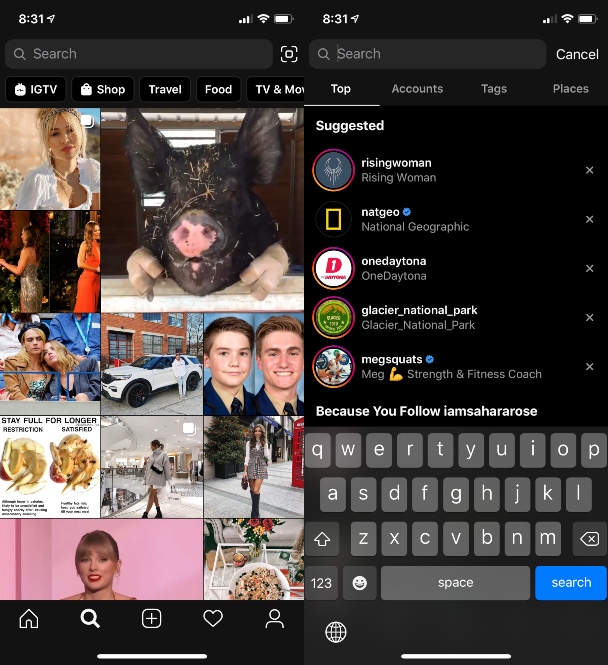 ---
How is Instagram web search different from the app?
While most people tend to use Instagram's mobile app, some people also like to use it on their desktop browser. Instagram's website does feature a search bar that looks similar to the one on the app, but there's one major difference.
On the Instagram website, you can't search specifically for people or tags. For example, if you type "Brad" into the search bar on the website, you'll not only get the top accounts under the name Brad, but you'll also get the hashtag Brad in your results as well.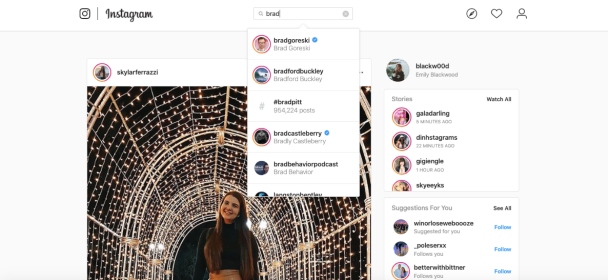 However, there is an easy workaround to this issue. If you're searching for an account, add an @ symbol to display profiles only. If you're looking for a specific hashtag, add a # before our search.
---
Can you tell if someone searched for you on Instagram?
Before you start scouring Instagram for old friends and flames, you're probably wondering how private your searches really are. If you search for someone on Instagram — or vice versa — can they see it? Are they notified in any way?
As nice as it would be to see who's stalking you online, there's no way to tell if someone searched for your name on Instagram. So you can rest easy knowing your inquiries are totally private.
---
Instagram search tricks and hacks
While the primary purpose of the search feature is to look up specific accounts and content on Instagram, there are some other tricks you can use. If you're looking to increase the likelihood of getting discovered on the Search & Results page, here are a few tips:
Include important keywords relevant to your page in your name field and bio.
Add location tags to all of your posts, including Stories.
Use relevant hashtags on all of your posts.
If you're interested in other search hacks, check out these tricks below.
---
How to search on Instagram without an account
Don't get discouraged if you want to search for an account but don't have an account yourself. It's actually pretty simple to use Instagram's search feature without an account. In fact, there are two ways to do so.
The first method is done by using a simple Google search. Here's how to do it:
Get on your desktop.
Go to google.com.
Type in "site:instagram.com."
Add the keyword or name you're searching after that.
Press Search.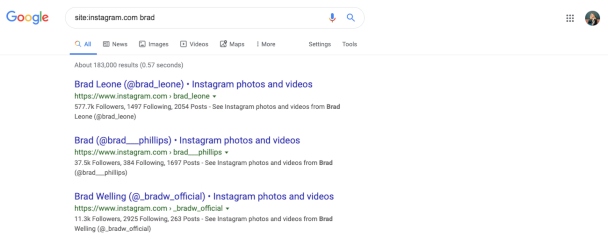 You can also use the search feature by going on Instagram's website to find a specific person. But for this hack, you need more information about the account you're searching for, such as their username. Instead of using Google, you would type in "instagram.com/brad" and search from there.
---
Can you do a reverse image search on Instagram?
Reverse image searching is a great way to debunk fake images and trace a photo back to its original source. While that could be a very helpful tool to use on Instagram, the app currently does not offer that feature. However, there are a few workarounds you can use.
The first is by using Google Images. This hack only works on your desktop, and you have to download the photo from Instagram and upload it to the search engine. TinEye is another good reverse image search engine that's similar to Google Images.
---
How to clear your Instagram search history
While your searches may be for your eyes only, a record of your inquiries is kept within the app. Instagram search histories are private, but sometimes, it feels necessary to wipe the slate clean. Luckily, the social media giant makes that very simple to do.
Here's how to clear your search history on Instagram:
Go to your profile.
Press the three lines button at the top-right corner of the page.
Go to Settings > Security > Clear Search History.
Tap the Clear All button at the top-right corner of the page.
Press Clear All again.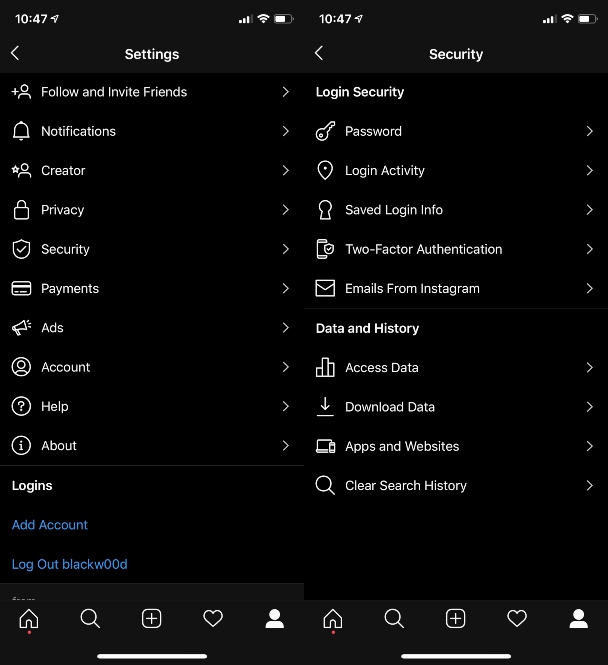 Doing this will clear all of your search history, and you won't be able to undo it. However, you might still see some of the accounts you've searched for pop up as suggested accounts to follow. You can also go through your list of searches and delete them individually.
Your recent searches also pop up on the Search page before you type anything in. They can be cleared individually by pressing the X button to the right, or you can press See All to be taken to the Clear Search History page.
---
How to search by multiple hashtags on Instagram
Searching for specific hashtags is a great way to find new content and accounts to follow. But sometimes, one hashtag isn't enough, and you need multiple hashtags to find the niche topic you're looking for.
At the time of this writing, Instagram doesn't allow you to search by using multiple hashtags. Even if they are separated, it will still search for it as one hashtag. The only way to use multiple hashtags is by doing multiple searches for each tag.
However, there are multiple third-party apps that let you search for multiple hashtags at a time like SocialRank. By searching for "All words" instead of the default "Any words," you can search for multiple hashtags at a time.
Unfortunately, SocialRank is not a free tool.
---
Instagram has grown to include many unique and fun features on its platform, and the search tool is no exception. Whether you're looking for new accounts to follow or hoping to land a coveted spot on the Explore page, we hope these tips and tricks will help!