How to Secure Erase Files on Mac OS X
What is secure erasing a file on Mac?
Secure erasing a file is removing the file completely from your Mac. What this means is, is that a file that is secure erased cannot be recovered by you or any third party applications; it's the ultimate way to completely get rid of files.
See, when you typically empty the Trash, youre just deleting the access point to the file. Think of it like… a file is written on paper (your Mac) in pencil, and you erase the file with an eraser — You can still see the marks that were made on the paper! But, when you secure erase, you rewrite gibberish over the original pencil marks, and then erase it: there's no way to read it (it can't be recovered)!
So, there are two ways we can securely erase a file: one is via a Mac utility with a secure eraser and the other is with the Trash.
---
How to secure erase files on Mac quickly and easily
CleanMyMac X has a secure eraser called the Shredder. It makes it incredibly easy to securely erase files. With CleanMyMac, all you have to do is:
Download CleanMyMac X and launch it.
Click on Shredder.
Select your file with "Select Files…"
And click "Shred."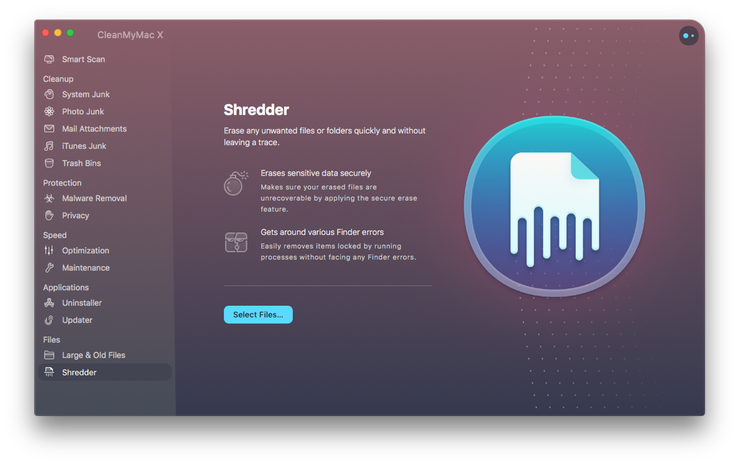 And that's how you securely erase files with a secure eraser like CleanMyMac X. Plus, CleanMyMac X has a bunch of other features that help you keep your Mac clean and up to speed. Download CleanMyMac X and see what a difference it makes on your Mac right now!
---
How to manually secure erase files on macOS
It's not difficult, but it does take some time. Just remember that when you securely erase a file, it will take a bit longer than if you were to normally empty your Trash. To secure erase files in the Trash, just:
Control-click on the Trash icon in your Dock, at the bottom of your screen.
Press the Cmd button.
Click "Secure Empty Trash."
And again, select "Secure Empty Trash."
These instructions work with OS X Yosemite. If you are running an older version, instead of pressing the Cmd button in step 2, you might have to press Ctrl or Alt/Option.
But again, secure erasing files is even easier with CleanMyMac X. There's no holding buttons or deleting one file (or all the files) at a time. Just select or drag your file(s) to the Shredder and click "Shred." Voila — That's it! Plus, CleanMyMac X does so much more than just securely erase files. It helps you clean your entire Mac, run basic Mac maintenance, monitor its hardware health, and even completely uninstalls apps. Download for free now and see what a difference it makes on your Mac.
---
These might also interest you: