How does IGTV work in Instagram: A few starting tips
For most of the modern era, videos have only existed within the confines of our televisions. But as our digital knowledge has progressed, video has become more and more commonly watched on our phones. In fact, 78% of consumers digitally streamed content on their phones instead of on their computers or televisions in 2018.
It's that ever-growing number that led Instagram to develop and release its latest feature: IGTV.


---
What is IGTV?
IGTV is a feature that allows users to watch long-form, vertical videos from popular creators. IGTV has its own app, but you can also watch it from within your Instagram app.
In addition to being full-screen, IGTV videos can be up to an hour long. Also, you don't have to be following an account to watch its IGTV video. Here's how to find IGTV within the Instagram app:
Open the app.
Navigate to the search tab by pressing the magnifying glass at the bottom-left of your screen.
Press the IGTV button at the top-left of your screen.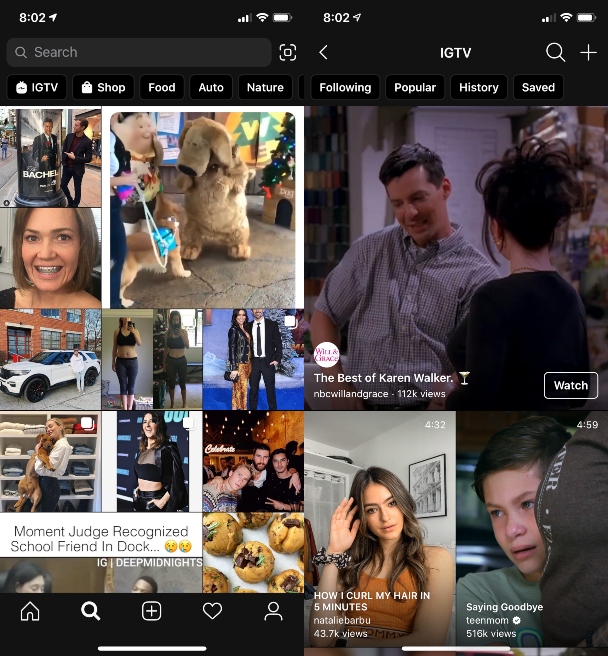 You can also access IGTV through the Instagram app by pressing the TV screen button at the top-right of your home screen page.
---
What's the difference between Instagram TV and Stories?
With tons of new features on the app, it's easy to get a few of them confused, especially IGTV and Stories. While they might seem very similar, there are a few key differences to note.
First, Stories have a life cycle of only 24 hours (unless you add them to the Highlights section on your profile). IGTV videos, on the other hand, will stay on your personal channel forever unless you delete them yourself.
Another difference between the two features is the length of time. As mentioned previously, IGTV videos can last up to an hour. Videos posted in your Stories can only last up to 15 seconds. There is also no separate app for Instagram Stories, while there is one for IGTV, which you can download here.
---
Is IGTV only for business accounts?
IGTV is not just for business accounts. Anyone can be a creator on IGTV.
---
Is IGTV public?
Just like every feature within the Instagram app — Stories, posts, etc. — the visibility of IGTV videos depends on your privacy settings. If your account on Instagram is set to private, then only your approved list of followers will see your videos. If you're set to public, however, anyone can see your videos.
Because your account on IGTV is the same as your account on Instagram, you only have to change the privacy settings within the Instagram app.
---
How to use IGTV
Now that we've covered the basics of what Instagram TV is, it's time to learn the mechanics of using it. Whether you're creating videos for fun or for your business, you can benefit from knowing how to create a quality IGTV video.
How to make an IGTV video
When it comes to making an IGTV video, the sky is really the limit. There is no camera within the IGTV app, and you can't use the Instagram app camera to shoot an IGTV video. So you have to first shoot the video by using your iPhone camera.
Because IGTV is in a vertical, full-screen format, it's better to shoot your videos vertically, as well. However, horizontal videos can be uploaded to the platform.
It's also a requirement that videos uploaded are at least between 1 and 15 minutes long. As previously stated, they can be as long as 60 minutes.
---
How to start an IGTV
Creating and starting an IGTV account is very easy — especially if you already have an Instagram account. Here's how to do it by using the IGTV app.
Make sure you're signed in to your Instagram account under the username you'd like to start an IGTV channel with.
Download the IGTV app from the App Store.
Open the App.
Press "Continue as" and your username.
After completing those steps, you'll be taken to the IGTV home page, where you can view other IGTV videos, as well as upload your own.
Below are instructions for uploading an IGTV video:
Press the + button at the top-right corner of your screen.
Select the video you want to upload.
Press Next at the top-right corner of your screen.
Select a cover image, which can be a still from the video or a separate image you upload from your Camera Roll.
Press Next at the top-right corner of your screen.
Add a Title and Description.
Press Post at the top-right corner of the screen.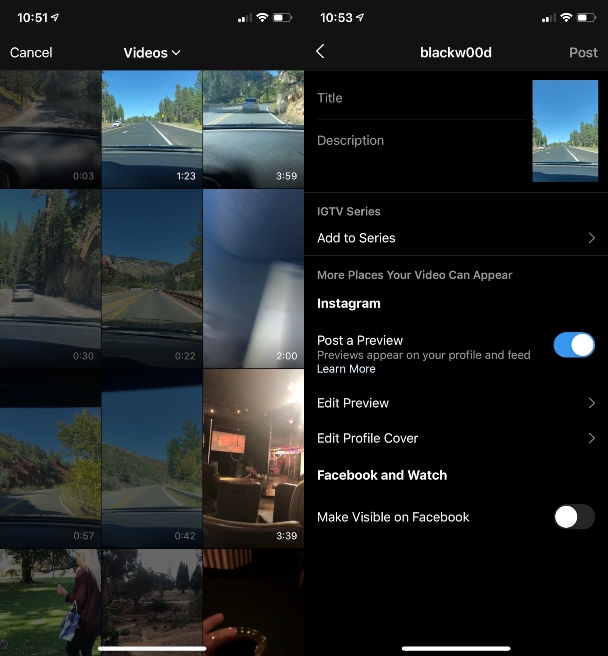 Before you post the video, you have the option to add it to a series — or create a series if you haven't already — to post a preview of the video to your Instagram profile and make it visible on your Facebook page.
However, you don't have to download or use the IGTV app to create a channel. You can also upload IGTV through the Instagram app. Here's how to do that:
Press the TV button at the top-right corner of the page.
Press the + button at the top-right corner of the page.
Find and select the video you want to upload.
Press Next.
Select the video's cover image.
Fill in the Title and Description.
Post.
---
Can you see who views your IGTV?
Unlike your Instagram Stories, you can't see who has watched your IGTV videos. The only thing you'll be able to see is how many people have viewed your video, and that number can be found at the bottom-right corner of the IGTV video.
If someone likes the video, their username will appear below the number of views. You can see that by clicking the "views" button, which will also show you the total number of likes the video has received. You can also see who comments on your videos by clicking on the speech bubble button at the bottom of the screen.
---
Do hashtags work for IGTV?
While IGTV videos are only displayed on the IGTV section of Instagram and not your regular feed, they do appear on a hashtag page with normal posts. If you add a hashtag in the description of your IGTV video, it will appear on that hashtag's page.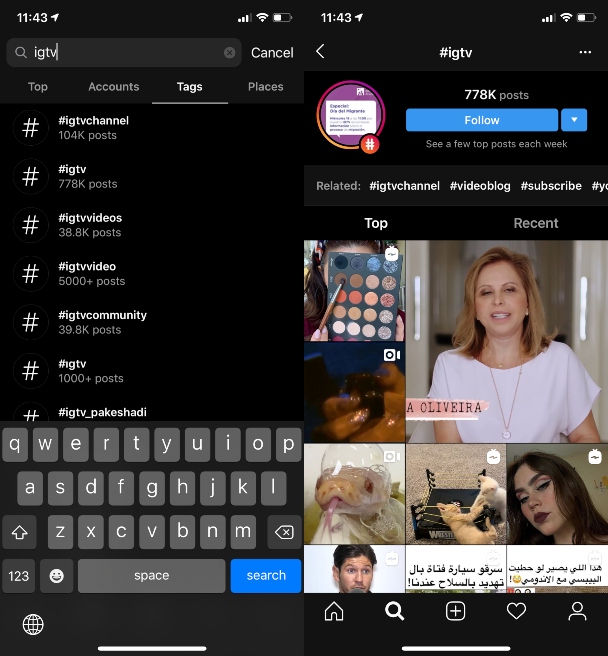 So if you're looking to get more exposure for your IGTV videos, adding hashtags is a simple way to expand its reach.
---
How to save and repost an IGTV video
Instagram recently announced that you can now share IGTV videos directly to your story within the app. Here's how to do that:
Locate the IGTV video you want to share.
Press the share button at the bottom of the video.
Select "Add video to your story."
Post it.
There may come a time when you want to repost an IGTV video to your own account. If the IGTV video in question is your own, you won't need to save it first. It should already be saved in your Camera Roll because you uploaded it to IGTV from your phone. If the video is someone else's, you can't save the video directly to the phone without the help of a third-party app such as Regrammer.
Here's how to repost an IGTV video using Regrammer:
Down the free app from the App Store.
Open Instagram and locate the IGTV video you'd like to repost.
Press the "…" button at the bottom of the screen.
Select Copy Link.
Open Regrammer.
Paste the copied link into the text box.
Press Preview Photo or Video.
Press the blue arrow button > Repost on Instagram.
From there, you can repost the IGTV video on your feed or on your Stories. When you follow these instructions, the video is automatically saved to your Camera Roll. However, when you're reposting a video that isn't yours, make sure you give credit to the person or account who created it to avoid copyright infringement.
---
While Instagram TV might look intimidating at first, like most of the social media app's features, it's pretty simple to use once you get the hang of it. No matter what kind of account you run or how many followers you have, IGTV is an incredible tool that anyone can master.