ClearVPN's Ultimate Streaming Guide (June 2021 Update)
Staying home is essential today. And with all the lockdowns and quarantines, we're spending more time at our homes than ever before. Luckily, we can still take advantage of the situation and produce positive emotions from staying at home. For example, we can enjoy watching some of the best movies and shows with our darling ones.
But first, did you know that Netflix has different libraries for different countries, with the US library being the largest? Or that Hulu is available only for US users? But no worries, we've got you covered. Netflix blocks users from outside the US from accessing its American server by tracing the IP address. In the same way, you can't watch Hulu, HBO Max, or Amazon Prime, unless it's available in your country. Therefore, to access these streaming services fully, you need to trick the server into believing you're an American user. Technically, this involves changing your device's apparent location. You can do it with a tap using ClearVPN — MacPaw's own VPN-based solution. Here's how it works: ClearVPN tunnels all your web traffic through a server located in the US and changes your IP to the server's one. So without further ado, here's our guide on what to watch on streaming services in June 2021.

What to Watch on Netflix in June 2021
Netflix isn't just a streaming service that hosts movies and shows from other companies. It also makes its own shows, which are famous for being released full-season in one day. What a holiday for all the binge-watchers! Here's what to watch on Netflix in June 2021:
Sweet Tooth

Sweet Tooth is set in the future, where a pandemic wiped out most of the population and weird half-children half-animals started appearing. Our main hero is a hybrid deer-boy Gus, who befriends a loner, Jepperd. Together, they'll have to find out about the origins of Gus and travel the new dangerous world.
Coming out June 4

Kitty Love: An Homage to Cats
As at MacPaw, we are all big cat lovers, we can't fail to mention this one. Kitty Love: An Homage to Cats is an upcoming Netflix documentary about our feline friends. What else is needed for a good watch?
Coming out June 5

AWAKE
A global catastrophe takes down all the electronics and makes it so no one can sleep, which causes the world to go insane. Jill, a soldier in the past, has to protect her daughter, the only human who retained the ability to sleep.
Coming out June 9

Lupin: Season 2
Assane Diop, a gentleman thief, returns to Netflix this June. With his son being captured and his new status of "the most wanted man in France," Assane has to think of a new plan to carry out revenge on his enemies and bring back his son.
Coming out June 11

Fatherhood
Dedicated to this Father's Day weekend, Fatherhood is a heartwarming, funny, and emotional film about a father, played by Kevin Hart, who has lost his wife and now has to raise a child all by himself.
Coming out June 18

The Ice Road
A group of miners in Canada got trapped in a mine when it collapsed. Mike (Liam Neeson) and Goldenrod (Laurence Fishburne) set out on an impossible mission of driving through the iced ocean to rescue them.
Coming out June 25

Black Summer: Season 2
The greatest threat to humanity is humanity itself. Set in a post-zombie apocalypse world, the show follows Rose and her daughter on their cold and dangerous journey through Northern America.
What to Watch On HBO Max in June 2021
Netflix isn't the only streaming service anymore. HBO Max also makes its own movies and lets you stream all the Warner Bros. premiers the day they arrive at the theaters. Unfortunately, the service is only available in the USA, but we know a simple way around it. Here's how to stream HBO Max from anywhere. Back to the shows, here's what to watch on HBO Max in June 2021:
In The Heights
From the creator of Hamilton, In The Heights is an upcoming musical film set in the New York borough of Washington Heights. Our hero is Usnavi, an owner of a small bodega who dreams of moving to the Dominican Republic.
Coming out June 11

The Conjuring: The Devil Made Me Do It
Based on the files of Ed and Lorraine Warren, authors and investigators of paranormal phenomenon, The Devil Made Me Do It tells the story of a young man, who killed his landlord, but insisted the devil possessed him.
Coming out June 4

Here's how to watch The Devil Made Me Do It with ClearVPN:
1. Install ClearVPN on your device (here's how it looks on macOS below)
2. Open the app and tap on Unlock streaming & entertainment shortcut
3. Activate it and choose Open HBO Max quick action.

5. Log in to your HBO Max account and enjoy the movie 😉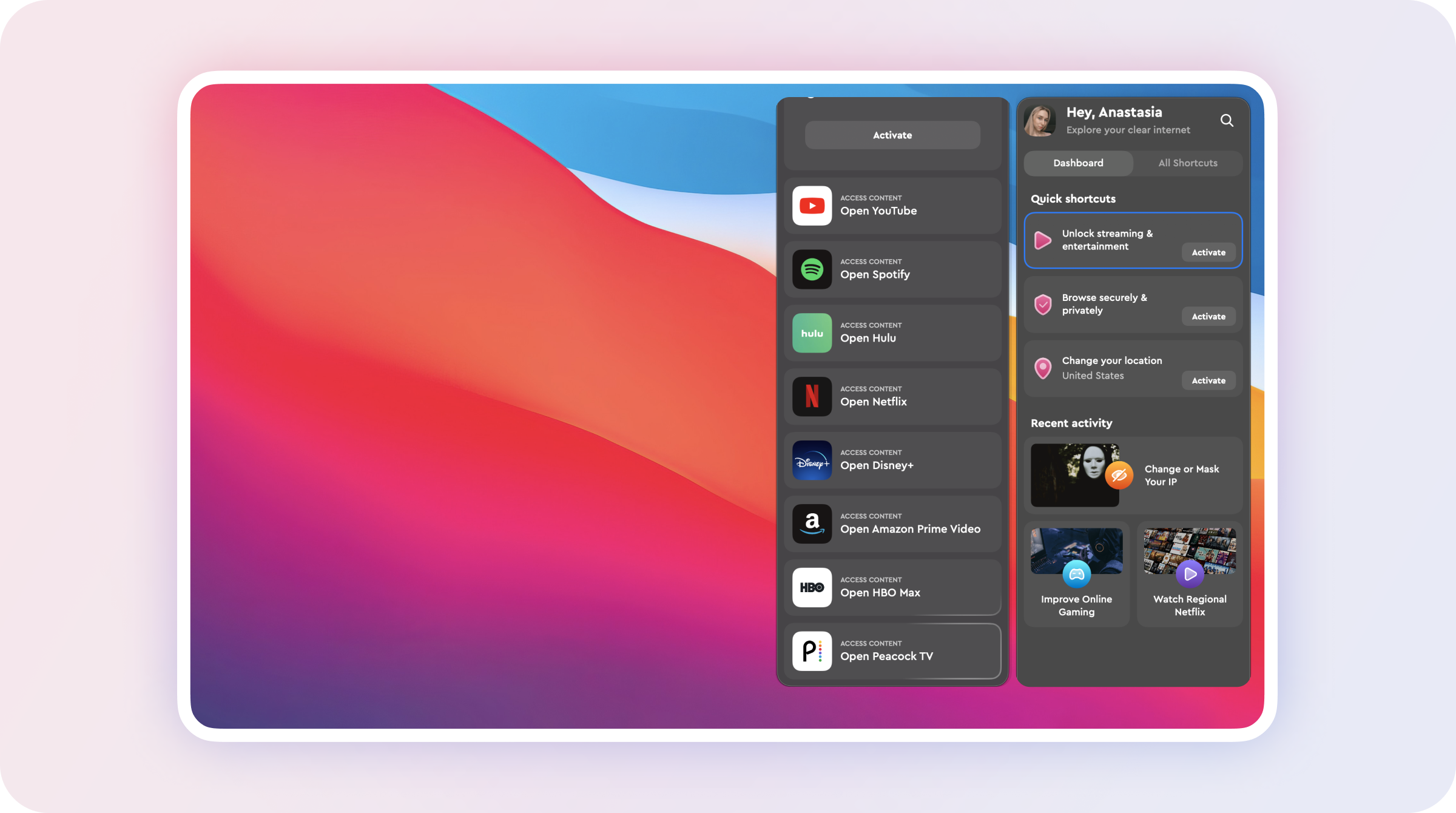 What to Watch on Hulu in June 2021
Hulu is another excellent streaming service that's available only in the USA. But you can access it with ClearVPN, learn how to do it here. Back to the movies, here's what to watch on Hulu in June 2021:
False Positive
After a long time of trying to bear a child, Lucy and her husband Adrian finally find a successful fertility doctor, Dr. Hindle. After becoming pregnant, Lucy notices that something isn't right about him and starts to find out about the doctor's sinister side.
Coming out June 25

Dave: Season 2
The second season of the comedy TV show follows Dave, a man in his late 20s who believes he's destined to become a world-class hip-hop artist.
Coming out June 17

What to Watch on Peacock in June 2021
Peacock is a relatively new streaming service. It's famous for hosting The Office as well as many hot premieres. Here's what to watch on Peacock in June 2021:
Intelligence: Season 2
Imagine The Office, but with employees of an intelligence agency. In the new season of a British comedy show Intelligence, Jerry Bernstein (David Schwimmer), an American agent from the NSA, will continue to work with a team from UK's Government Communications Headquarters to fight cybercrime.
Coming out June 17
What to Watch on Disney+ in June 2021
Disney+ is another excellent streaming service, which becomes increasingly popular with Marvel fans. Did you like the latest WandaVision series? Here's what to watch on Disney+ in June 2021:
Loki
Set in the Marvel universe after the events of Avengers: Endgame, the original series tells about an alternative version of Loki, the god of mischief, who survived the Infinity War. He finds himself at TVA — an organization which purpose is fixing broken timelines.
Coming out June 9

Luca
Luca is a coming-of-age computer-animated film from Pixar and Disney about two teenage sea monsters exploring the human world.
Coming out June 18

Mysterious Benedict Society
They are 4 orphans, each of whom possesses an extraordinary skill. After they are all brought to a mysterious boarding school run by Mr. Benedict, he asks them to go on a secret mission to, as it often happens, save the world.
Coming out June 25

Conclusion
Staying at home doesn't have to be dull and grumpy. Why not take advantage of the situation and watch some movies and shows? With ClearVPN, you can access all streaming services no matter where you are. So even if HBO Max and Hulu aren't working in your country, you can easily unblock them and watch Biggie: I Got a Story to Tell, Zack Snyder's Justice League, The Falcon and The Winter Soldier, and many other great titles.