CleanMyMac X 4.2.0. "Bradley Spence"
We are beyond excited to have you try the new update to CleanMyMac X. Guided by your feedback, we have spent the last few weeks building the most requested features and tools. And today we introduce the release aimed at un-junking your Mac and saving extra space.

We also continue a great tradition of naming updates after you, our best advisers and friends. So, this update is dedicated to Bradley Spence who sent us great hints on Spark cleanup. This is our way to say thanks.
Now let's see what's new in this release.
External drives cleaning
Our user Mario Peralta López wrote:
"How can scan an extern disk? don't show the options!"
The feature Mario is asking for becomes available with the new update! Now you can clean up your external drives from large and unneeded files quickly and easily. We improved our Large & Old Files module so it can display all the space-hoggers on your external hard drive or USB flash drive. You just need to review the files and decide what's worth keeping and what should be removed for good. All it takes is a few clicks. Just have a look.
New junk locations
Now CleanMyMac X can fight even more types of system junk on your Mac, like development leftovers, caches, and logs:
iOS simulators in Xcode

Apple system logs in private/var/log

~/.gradle/caches/

/System/Library/Caches/com.apple.coresymbolicationd
Overtime these files become outdated and useless, and just pile up on your Mac. Removing them without a second thought would save you gigabytes of space.
Outlook and Spark cleanup
This was a request from many users. Until now, CleanMyMac X could remove just Mail attachments and downloads. However, many people use other email clients, like Spark and Outlook, and need to clean up accumulated stuff.
Here's a message from our user Bradley Spence:
"It's great that you clean up Mail Attachments but I wish it accessed third-party Mail apps like Readdle's Spark. I have thousands of megabytes worth of saved mail attachments I wish I could erase with one click. Sometimes I'm attaching the same file over and over again. Not even your Gemini app finds these files as duplicates."
We heard you, Bradley, and started developing a new feature that allows to wipe attachments not only from the Apple Mail app, but also from third-party email applications, like Outlook and Spark. You're welcome:)
Time Machine slim down
Also, we put the Time Machine on a diet. Not literally, of course.
With this update, you can thin your local Time Machine snapshots. Why would you do that? To reclaim space, of course!
Time Machine stores some of its backups on your Mac. They are called local snapshots. A quick way to reclaim space would be deleting snapshots from your Mac immediately. However, some backups may store important information, so the thinning process is safer. You'll keep all your backups but reduce the storage they take.
See how you can do that easily with the help of a new feature in CleanMyMac X.
iOS device monitoring via Menu app
Want to know your iPhone or iPad free space amount? A new feature allows you to easily check that in the Menu App. When your iOS device is connected to your Mac, the information about the available storage will be displayed on the new monitor. Pretty cool, right?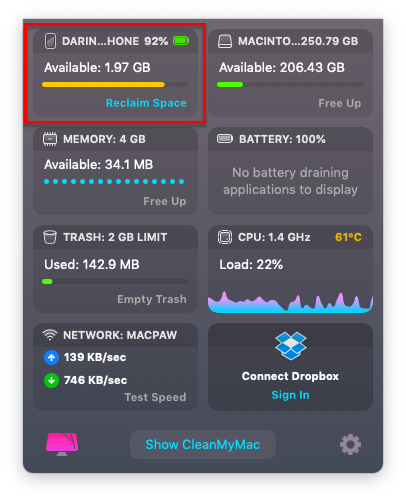 macOS updates in the Updater module
One more cool feature you've asked for. Now you can see the latest available version of the macOS in the Updater module. After clicking the "Update" button, you'll see the Software Update window where you should click "Update now" to finish the process.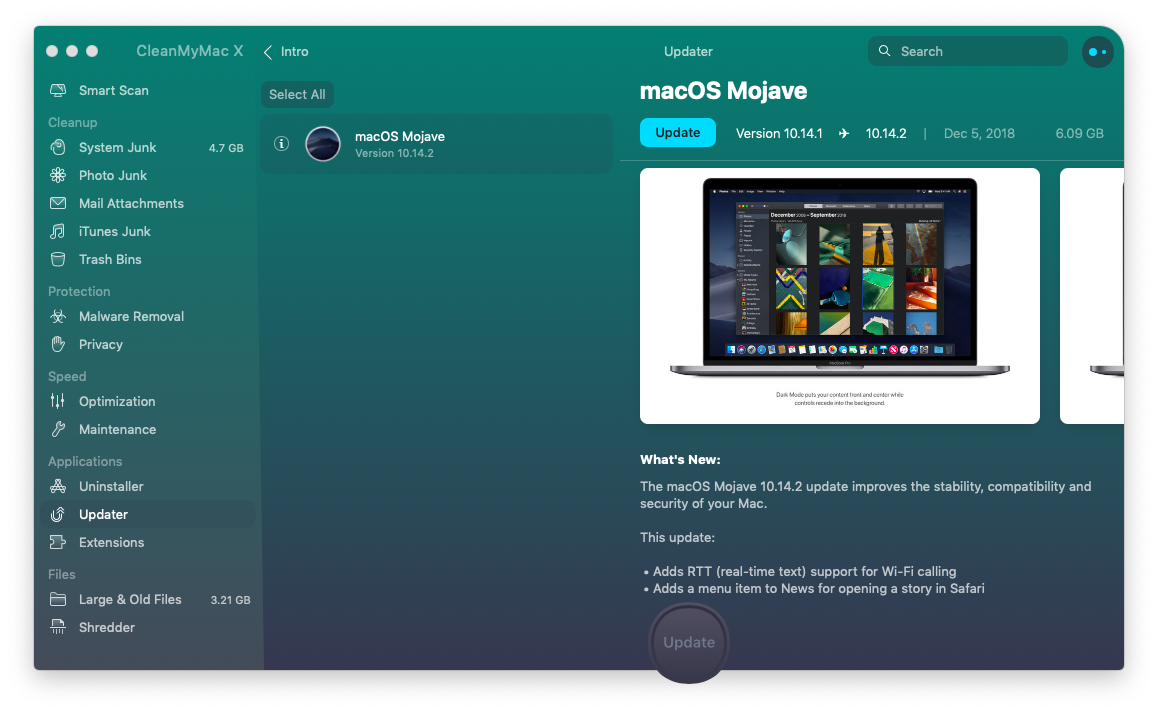 CleanMyMac X became notarized by Apple
As you might have heard, Apple is working really hard to improve users' privacy. This year, they launched the Notary Service which is responsible for verifying software running on Macs. And we're really excited to announce that CleanMyMac X passed the notarization process and was approved by Apple!
PS. Follow the latest additions to CleanMyMac X and check what's coming next on our What's New page. And if you want to suggest a feature, drop us a message here.
Stay tuned!