What is CCleaner, and is it safe for your Mac?
CCleaner has been on the cleaning tools market for a while. Still, many users hesitate whether it's the right choice when it comes to decluttering their Macs. CCleaner does have a pretty decent feature set, which helps users solve many problems with their Macs. But the question whether CCleaner is safe is still open. So, we decided to install the CCleaner software and test it to provide you with detailed answers about its functionality and safety. Keep reading to find out whether CCleaner is the right tool for you!
What is CCleaner?
CCleaner is the cleaning software developed by Piriform, the company which is now acquired by Avast. Initially, the software was available for PCs removing the potentially unwanted data and invalid Windows Registry entries. But, in 2011, the creators decided to reach a wider audience and launch their product for Mac computers.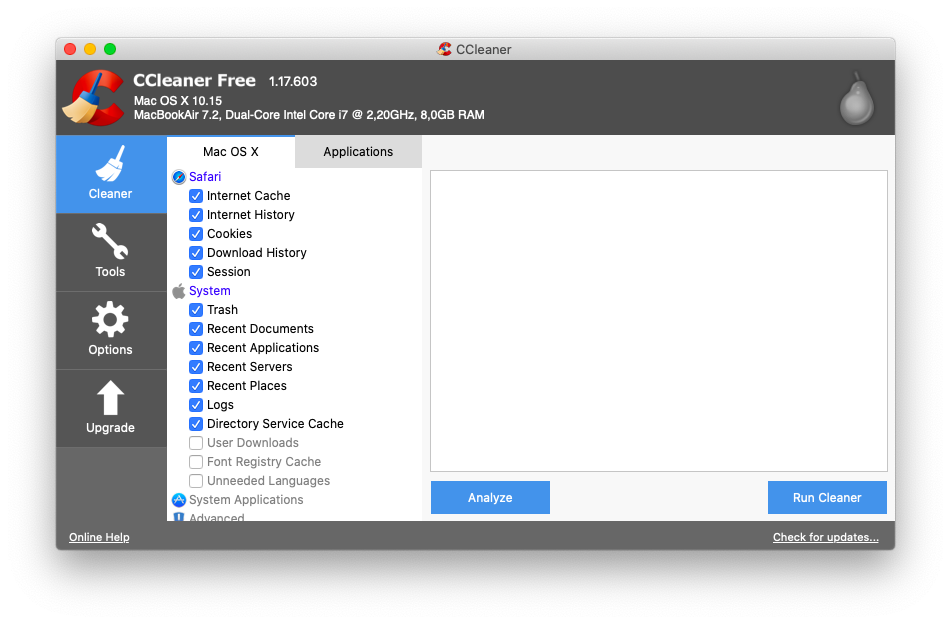 Getting started with CCleaner
To start using the tool, you need to install it on your Mac. The installation is so easy and only takes 2 minutes of your time. The app is ready to scan your Mac as soon as you launch it. It's worth noting that the interface of CCleaner is self-explanatory and user-friendly. All the main features are located on the left of the main screen, and you will see the scan progress here too.
CCleaner features
If you decided to use CCleaner on your Mac, you probably have some issues with the performance of the macOS. We can assure you: CCleaner is able to deal with these issues and make your Mac run faster.
When you open the application, you will be able to analyze the unwanted files, including cache and system junk stored on your Mac, or run cleaner to let the CCleaner automatically remove some extra data that affect your Mac's smooth performance.
If you do decide to run cleaner, CCleaner will start removing the junk files on your Mac. If you want to give a little check to know what files it deletes, better choose to analyze after the launch.
After CCleaner analyzes the files that clutter your Mac, it will show you the list of all checked items that are ready to be cleaned of your machine. If you want to keep some data, you need to uncheck the boxes next to the files that are necessary for you.
What can you do with Tools?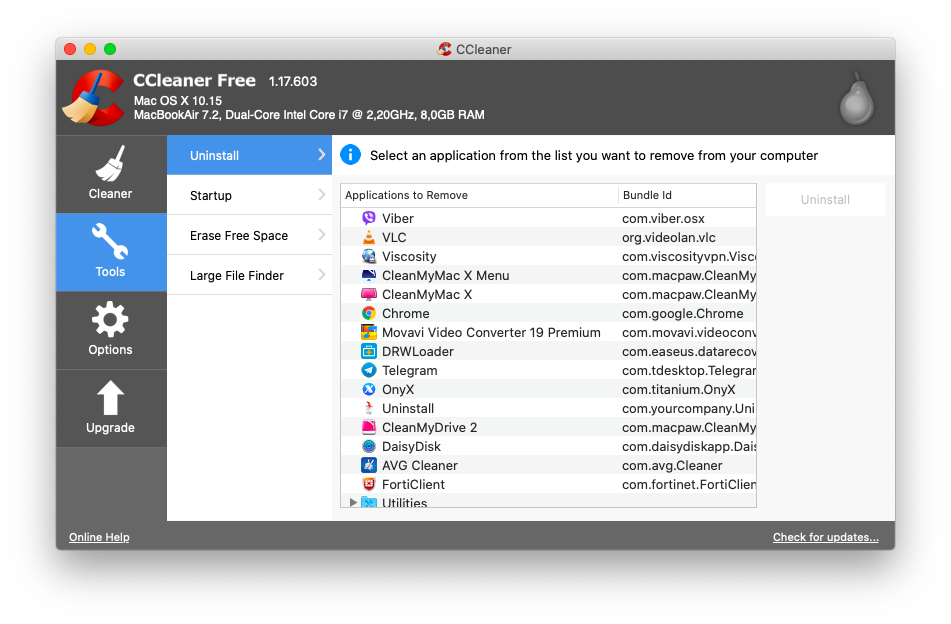 As for other CCleaner features, the next one on the list is Tools. The Tools feature has three options, which are: Uninstall, Startup, and Erase Free Space. The first option simply helps you manage the apps you have on your Mac by showing you the programs with their install date and uninstalling the ones you don't use anymore. CleanMyMac X has a similar feature, which, though, categorizes your apps providing you a detailed list of programs you use. It also shows leftovers from the apps you deleted before. Read more about it here.
The next option - Startup - shows you the list of apps that automatically run when your Mac starts. Some users don't like it when their Mac gets super busy after start and prefer to turn off the startup of the apps. CCleaner allows you to modify the list and remove apps that can launch at your Mac's start. Using Tools, you can also wipe free space on your Mac. But, this process may take hours, so be prepared before you confirm erasing.
What about some Professional features?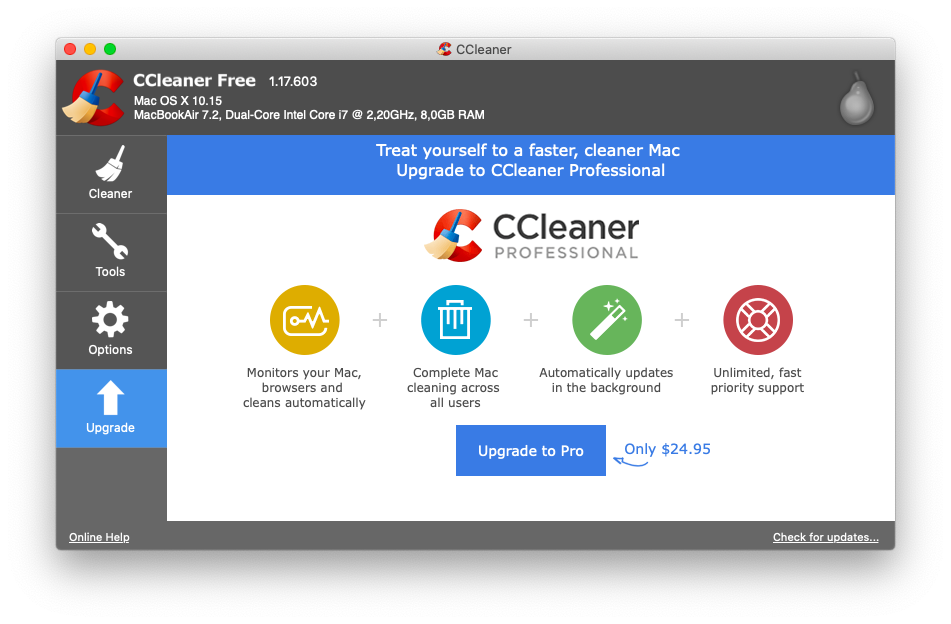 It's clear that the free version of CCleaner gives you a pretty basic set of features. But what about Professional ones? Upgrade to Professional (which will cost you $24.95 for a yearly use) will give you access to Privacy Protection, Automatic Updates, and Premium Support. You will also be able to use the Real-Time Monitoring feature, ensuring there is no harmful malware on your Mac.
As for the protection from malicious software, CleanMyMac X also has a safe module that scans your Mac for malware in real-time mode. Moreover, it notifies you when the threat is found. Learn more about it here.
Why is CCleaner unique?
Since the internet has so many cleaning tools to choose from and many of them seem similar, the question why is CCleaner unique arises. Indeed, there are a variety of anti-malware tools, decluttering apps, and antiviruses for your Mac that get the job done. But, not many of them were awarded the US patent.
In 2013, CCleaner received the patent, that confirmed that its solution is unique and recognized by the US government. This patent was followed by the fact that CCleaner reached 1 billion downloads, which proved that the award was well-deserved.
Is CCleaner safe for your Mac?
Many Windows users have already confirmed the effectiveness of CCleaner over the years. The tool is indeed great for keeping your PC safe and sound. Still, as the CCleaner for Mac covers slightly different functionality and deals with the entirely different operating system, it's wise to doubt its safety.
Although the questions about CCleaner safety are common among users, there is no reason to think that the software will do any harm to your Mac. It doesn't remove anything except you tell it to do so. Of course, when you run a scan, you may see that some files are checked automatically and ready to be removed. But, you can always exclude them from the list and keep the items for as long as you need them.

Our Verdict
CCleaner is a minimal yet powerful cleaning software that does what it says. The price for CCleaner Professional is quite reasonable. Although the free version provides you with only essential basic features, it can be enough for you if your initial purpose is to clean your Mac from unnecessary files.