20 best iPhone apps to install for a fresh start in 2020
At the start of the new year, everyone has their resolutions. And if you're anything like me, they usually last until that first week back to work. But this year is different. This is 2020. That means technology can help you keep your resolutions, and you can turn to our iPhones and apps for assistance. This article will list 20 of the best iPhone apps to have that will help make your New Year's resolution a reality in 2020.
---
Here are the must-have iPhone apps in 2020
Regardless of whether you're trying to make a crazy life change, like becoming a marathoner, or you just want to clean up your emails and finally achieve "inbox zero," there's an app that can help you.
1. Evernote: Best iOS app to keep everything organized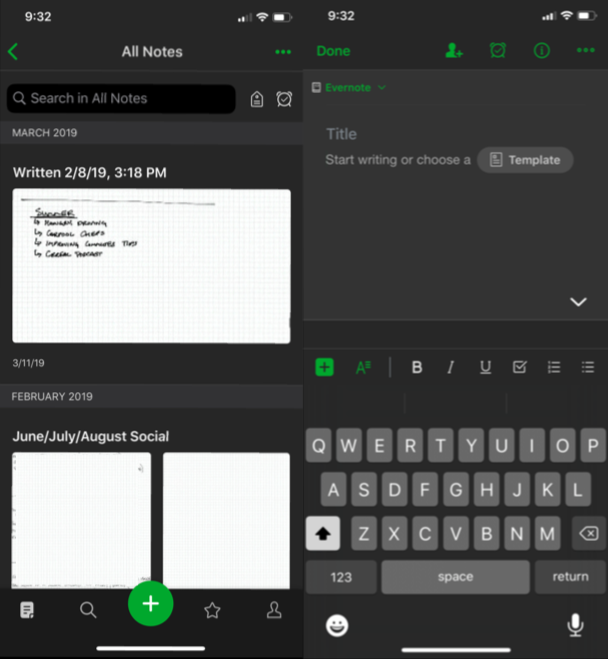 The start of a new year is a great time to get organized and start new habits that will get you through the rest of the year. That's where Evernote comes in. Think of Evernote as your digital notebook. You can keep things like notes, to-do lists, website clippings, and audio clips. You can save all of those things in a note. Then, add tags to your notes to keep them organized and help you when you're searching for them later.
---
2. Gemini Photos: Top iOS app for cleaning up your photos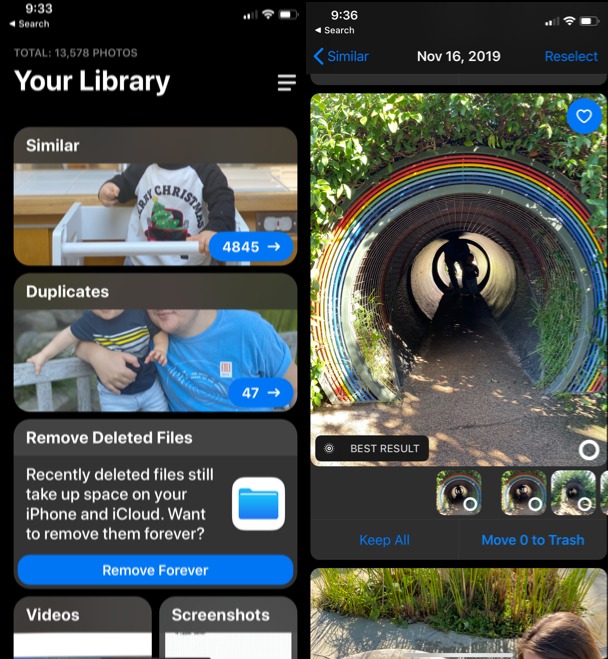 For some, the new year means it's time to clean up and get rid of the clutter you don't need. In that case, you can use Gemini Photos to quickly scan your iPhone's photo library and tidy it up. Gemini Photos uses AI to find things like duplicates, pictures of whiteboards, or even old screenshots you don't want anymore.
Gemini Photos on the App Store
---
3. Forrest: Popular iPhone app to stay focused
If you're committing to staying focused on your tasks this year or just being more present, then Forrest is the app you should get. It's designed to help you not look at your phone. Every time you want to start a new task or just not be distracted by your iPhone, you plant a virtual seed that grows into a tree the longer you stay in the app. If you leave the app, your tree withers away, encouraging you not to use your phone.
---
4. Epicurious: The best iOS app to find meals to cook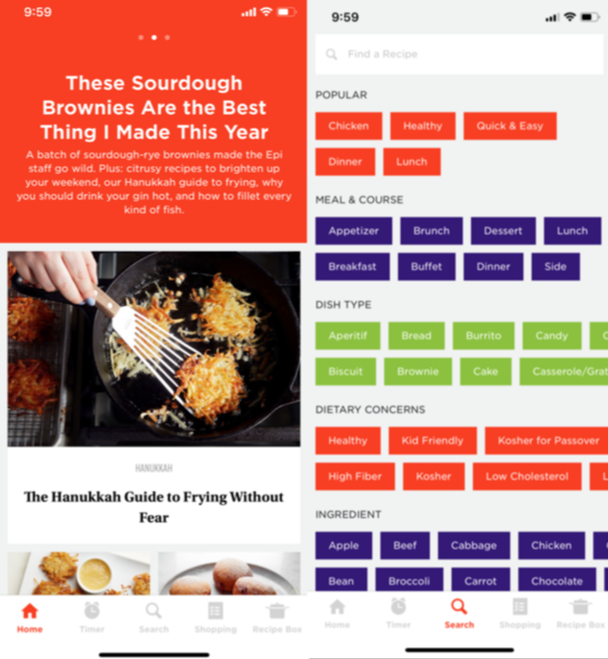 A fun resolution can be to cook at home more. Epicurious touts over 35,000 recipes from popular food publications like Bon Appetit and HarperCollins. And don't worry — even if you're on a new diet, Epicurious will let you search their recipes by any dietary restrictions, making it easier to find dishes that you can make and will actually enjoy.
---
5. Headspace: The top iPhone app to keep your head clear
If meditation is what you want to keep on top of in the new year, you should check out Headspace. It's one of the most popular apps for guided meditations on the App Store. The app offers courses to help stay focused, be more mindful, and sleep better. While Headspace is free to download, there is an in-app subscription once you complete the sample meditation course.
---
6. Lose It: Essential iPhone app to track what you eat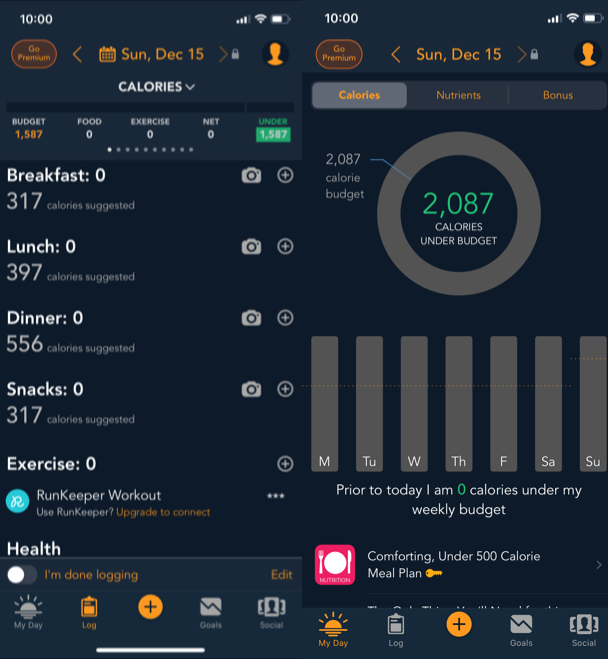 Probably the most popular New Year's resolution is to lose weight or, maybe even simpler, to eat healthier. The app Lose It! not only counts calories but also measures all of the nutritional value in every meal you enter. This allows you to see real-time information about what you're about to eat and to decide if it's worth it to take another bite of that cheesecake.
---
7. Spark by Readle: The best mail app to achieve inbox zero
Maybe this is the year you finally reach the coveted "inbox zero," where you clean out your email's inbox entirely. Spark by Readle is designed to help you do just that. With powerful search functionality, smart mailboxes, and features like snooze and send later, managing your email is made a lot simpler with this app.
Spark by Readle on the App Store
---
8. Flipboard: Fun app for iPhone to stay up with the news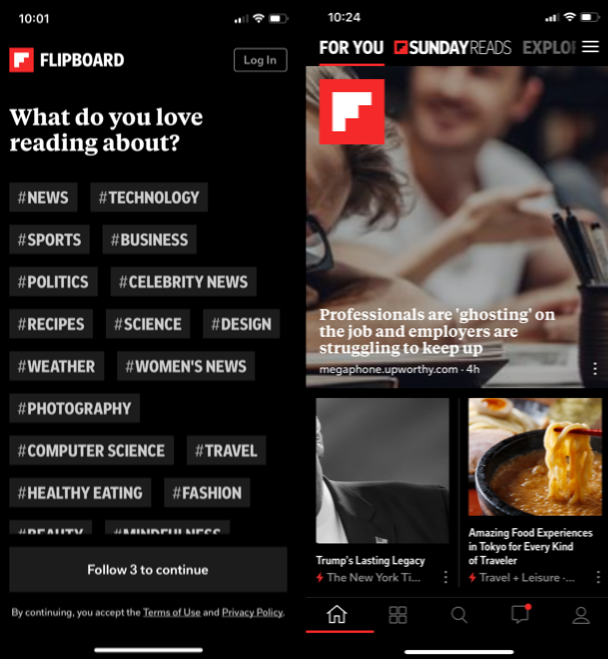 If your New Year's resolution is to stay more informed, Flipboard finds a fun way to keep you up to date. You're able to pick topics and news sources you want to follow, and Flipboard will curate articles so they're all in one place for you. This makes accessing the news you care about fast, easy, and accessible.
---
9. Mint: A cool iPhone app to manage your money better
The beginning of the year is a good time to sit down and create a financial plan for the rest of it. You can connect all of your financial accounts to the Mint app and get a complete overview of all of them. And with budgeting tools and credit monitoring, Mint will enable you to get back on — or stay on — the right financial track.
---
10. Goodreads: The best iOS app to start reading more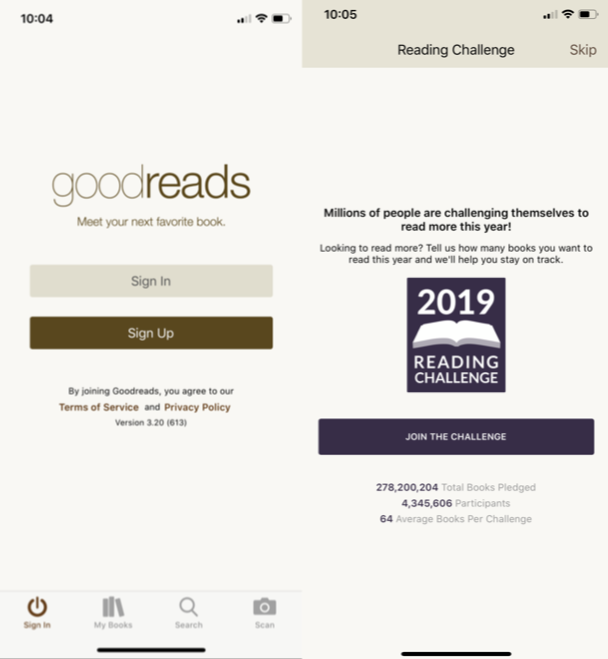 The new year is a great time to commit to reading more. To help you figure out what books to read or to save titles you come across, you can use the Goodreads app. Goodreads is a community of book lovers reviewing and recommending books to fellow users, and there's a reading list feature that allows you to save book titles when you finish one and are ready to start a new one.
---
11. 7 Minute Workout: Top iOS app for fast and easy workouts
Instead of signing up for an expensive gym membership this new year, you can use the 7 Minute Workout app. This app has personalized workout plans that are customized to whatever your personal workout goals may be. And with notifications, you'll never forget to do a workout. 7 Minute Workout is free to download but does have a monthly in-app subscription.
7 Minute Workout on the App Store
---
12. Day One Journal: Best iOS app to start journaling
Journaling is a great way to stay in the habit of writing, and it can be cathartic at the end of a long, eventful day. Day One Journal is a fantastic app to help create the daily ritual and hit your New Year's resolution of writing more. With daily reminders, you'll find yourself in the habit of writing every day, regardless of how exciting or mundane it is. And Day One's robust search functionality makes going back to relive those memories even easier.
Day One Journal on the App Store
---
13. Duolingo: A fun app for iPhone to learn a new language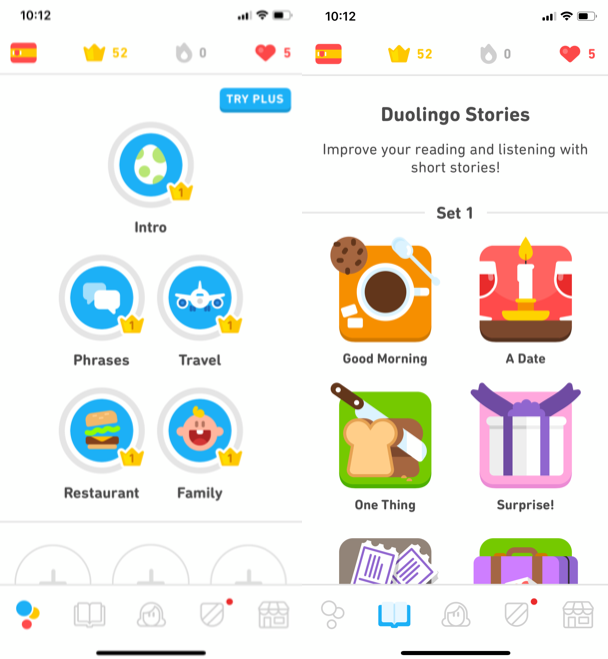 There's never a better time than the start of a new year to learn a new skill. Duolingo is a fun and free way to pick up a new language. You earn points with each lesson and chat with a community of other users learning the same language as you.
---
14. Yummly: Best iPhone app to learn how to cook
You might not consider yourself to be a home chef, but that's exactly why you should learn to cook at home in the new year. Yummly isn't just an app of recipes — even though it does have over 2 million available — but it also helps you create meals based on your preferences and dietary restrictions. The app will even suggest recipes based on the ingredients you currently have in your fridge.
---
15. The Skimm: A useful app for iPhone to get highlights of the news
Maybe you're a busy person, but this year, your resolution is to stay more informed with current events. The Skimm makes this even easier for you. The app curates essential news stories and gives you the highlights. With features like audio episodes on-the-go and big story breakdowns, you can stay updated with everything that's going on. The app has a free trial, but it is highly rated and is one of the best paid apps for iOS.
---
16. Nike Run Club: One of the most popular iPhone apps for running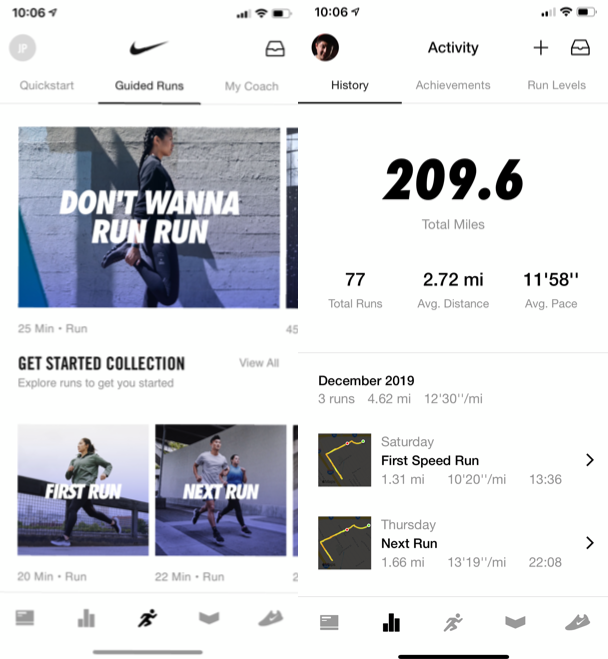 If running more is your goal for the new year, Nike Run Club is the perfect iOS app for that. The free app offers things like GPS tracking, guided runs, and goal coaching. Nike Run Club also aims to build a running community amongst its users, so the app has a ton of social features and invites to in-person meetups.
Nike Run Club on the App Store
---
17. 1Password: The best paid app for iOS to manage your passwords
Beefing up your digital security is probably something you've meant to do but just haven't gotten around to. Well, the start of the new year is a good opportunity to do it. It's time to get serious about keeping your data safe. 1Password is one of the essential iPhone apps because it creates and stores encrypted passwords for all your online accounts. While it's not free, it is well worth the price.
---
16. Productive: Cool iPhone app to help you be more productive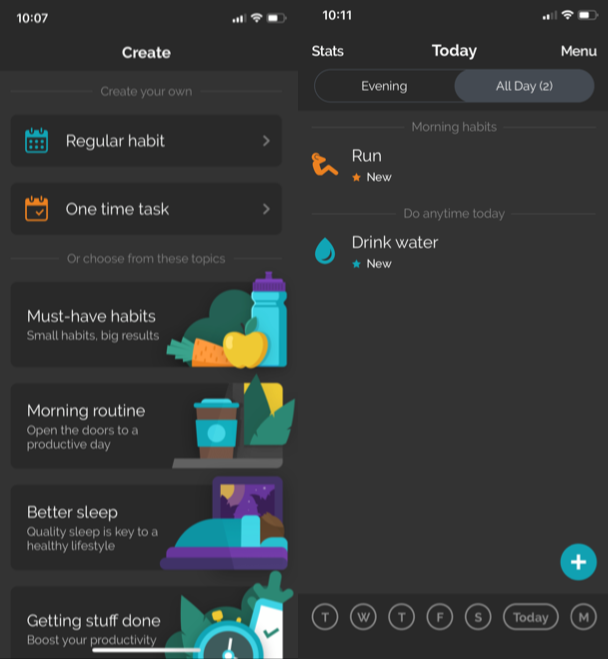 The Productive app bills itself as a tool to help you stop thinking about what you need to do and to start doing it. Its clean interface makes it easy to use, and the app uses smart reminders to schedule things throughout your day that will keep you focused on tasks to help you hit your goals. Whatever your New Year's resolution, Productive will help you achieve it.
---
17. Calm: Popular iOS app for meditation and relaxation
If you're resolving to be more relaxed this year, you should check out one of the most popular iPhone apps for relaxation: Calm. It's free to download and loaded with stories to help you sleep, breathing programs, and guided stretching exercises. You can unlock premium features when you upgrade with the subscription.
---
18. Noom: A different approach to health and fitness
Noom is a bit different than other meal-tracking apps. While the free version of the app does just that, you can upgrade to get other premium services like talking to a Concierge and a personal Goal Specialist. Noom states that its goal is to help you get over mental hurdles that are stopping you from living a healthier life. There's no better time than the start of a new year to commit to a healthier, more holistic lifestyle.
---
19. Basecamp 3: An iOS app to get your resolutions organized
Basecamp has been a long-time favorite for keeping projects organized and on task. And now, it's free for iOS. You can create calendars and to-do lists for your projects, and add members to your team, so you can guarantee everyone is on the same page. So, in 2020, whatever you're resolution is, you can stay on track with it and make sure it gets accomplished.
---
20. V for Wikipedia: Keep your curiosity piqued with this iPhone app
Everyone knows Wikipedia can be a great source for trivial facts. But some of the information on Wikipedia can be big and clunky when you look at it on your phone, and that's where V for Wikipedia excels. It shrinks things like big tables or charts to make them easier to read. And while, yes, accessing Wikipedia in your browser is free, V for Wikipedia's stunning design and features like searching nearby locations, voice search, and bookmarking make it worth the price.
V For Wikipedia on the App Store
---
There are so many great apps out there to help you keep your New Year's resolution. From health to organization, you can find a tool for it on your iPhone. So if you're losing motivation or are feeling discouraged about your resolution, remember — there's an app for that!