The best iPhone camera accessories for professional-looking photos
Gone are the days when you needed a fancy camera to take amazing photographs. Modern iPhone cameras are capable of capturing stunning high-definition photos worthy of being shared, printed, and framed. Now, new iPhone camera accessories — from tripods and selfie sticks to high-end lenses — make it even easier to get the perfect shot.
If you're looking for some iPhone camera accessories to add to your bag of tricks, read on. These are the best camera accessories for iPhone photographers, whether you're just learning the ropes or have been at it for years.
---
What accessories can you get for iPhone photography?
iPhone cameras get better with every model that hits the market, but there's always room for improvement. Want to make your iPhone photos better instantly? Try these tools and accessories:
iPhone tripod: This is an excellent tool for reducing camera shake and capturing sharp photos.
External lenses: Lenses that clip over your existing iPhone lens will allow you to take photos that wouldn't normally be possible with an iPhone.
Selfie sticks: These little gadgets are small enough to fit in your purse, and they extend far enough to capture you or your group without that awkward selfie angle.
Remote triggers: Remote triggers work in conjunction with your iPhone tripod to allow you to take selfies and other shots without touching your camera.
External lighting kits: Get creative with your night or low-light photography with lighting kits that add the perfect glow to every shot you take.
Gimbals: Used by videographers, a gimbal stabilizing mount will allow you to take smooth video clips of professional quality.
While every successive iPhone is better than the last, you can make your photos better right now with these awesome accessories.
---
Your must-have iPhone camera accessories
Now for the good stuff. If you want to take awesome selfies, make cinematic videos, or zoom in on wildlife, the following iPhone camera accessories will help you achieve your goals:
Moment lenses
Joby GorillaPod
Anker Selfie Stick
Lume Cube Lighting Kit
CamKix Remote trigger
Zhiyun Smooth 4 Gimbal
---
Moment lenses: The best iPhone camera lenses on the market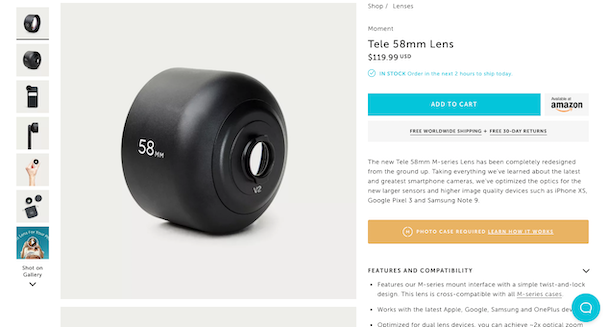 Moment lenses set the standard for iPhone photography and are a must-have accessory for professional photographers, Instagram influencers, and anyone who wants to take their photography more seriously. Moment lenses have won countless awards from the likes of Wirecutter, Gear Patrol, and the Wall Street Journal. Moment currently makes six different lenses for iPhones. The right lens for you will depend on the type of photos you want to take.
The Moment wide-angle lens is 18mm and is designed to capture a 2x wider photo than that of your current iPhone lens, and the Moment telephoto is perfect for zooming in on distant objects without losing clarity. All Moment lenses are made with five layers of cinema-quality glass and come with a full 12-month warranty.
---
Joby GorillaPod: The best iPhone tripod available
Joby makes a range of compact tripods to help you take better photos with your iPhone. A tripod is essential for helping you capture crisp, sharp photos while reducing camera shake, especially when taking photos in low-light conditions.
The Joby GorillaTight GorillaPod Pro works in landscape or portrait mode and is perfect for large smartphones. The flexible legs allow it to stand upright or wrap around and hang from objects like tree branches, doorknobs, or other sturdy fixtures to take advantage of creative camera angles.
---
Anker Selfie Stick: The best selfie stick for iPhone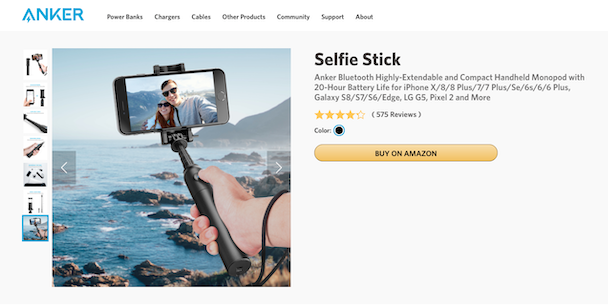 Selfie sticks are considered old school and a bit outdated in some circles, but we can't argue with their effectiveness. The Anker selfie stick extends 29.7 inches and collapses down to 7 inches to easily fit in your pocket or purse. The Bluetooth shutter has a 20-hour battery life, and the handle is ergonomically designed for comfort. When folded, the phone cradle sits over the shutter button, so you don't have to worry about pressing it accidentally. This is a great iPhone camera accessory to have on hand for those special Kodak (or iPhone) moments.
---
Lume Cube Creative Lighting Kit: Essential camera accessory for shooting at night
The Lume Cube Creative Lighting Kit consists of a small waterproof LED light that fits in your pocket. Attach it to your phone with the included mounting clip or attach it to a tripod for more versatility. The Lume Cube comes with a rechargeable battery, a diffuser pack for softening the light, and two warming gels for adjusting color tones. Bluetooth technology syncs the lighting kit with your phone, and the Lum-X app allows you to set up different lighting situations to meet your needs.
---
CamKix Camera Shutter Remote: The best remote trigger for iPhone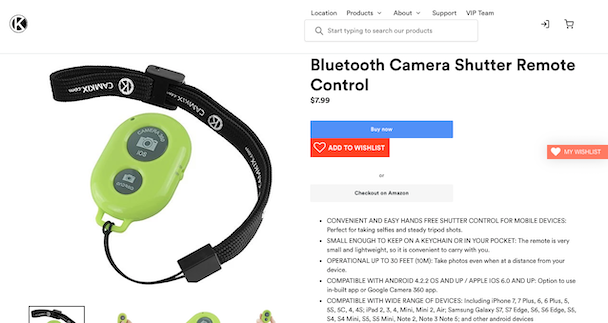 There are a million reasons why you may need a remote trigger for your iPhone camera. Perhaps you want to take a selfie of your newest yoga pose (try doing that with a selfie stick!). Or maybe you want to capture a low-light shot on your tripod but don't want to shake your phone by pressing the shutter button.
The CamKix remote shutter works via Bluetooth technology, allowing you to take photos of anything from anywhere. Keep one in your pocket, one in your purse, and another in your car. You never know when you'll need a CamKix.
---
Zhiyun Smooth 4 Gimbal: The best gimbal for iPhone users
If you're creating video footage and looking for ways to make your clips smoother and more stable, you can't go wrong with a gimbal. A gimbal is a mechanical stabilizer that acts as a gyroscope with three rotating axes, so you can move around with the camera without the jerky motions that create unusable footage.
The Zhiyun Smooth 4 Gimbal is a superb choice for iPhone users. It provides great stabilization, 12 hours of battery life, and an integrated app that allows you to take advantage of some nifty special effects.
---
With the right camera accessories, you can make your iPhone into a flexible, professional camera suitable for all kinds of photography. And with one of these more advanced camera apps for iPhone, you'll have more control over the settings you're shooting with. That way, you'll enhance your shooting experience and take remarkable photos with your phone.