It's easy to panic if your Thunderbolt Display is acting up or simply refuses to turn on – but there are a number of hacks to try before paying for a repair technician to look it over.
1. Turn it off and on again
It's a tried and tested method for hardware that sometimes needs to reset itself. It's a simple fix, but sometimes that's all it needs.
If your Mac is switched on, shut it down from the main menu.
Unplug both your Mac and the Thunderbolt Display from the power source.
Disconnect the MagSafe cable to separate the Mac from the Display.
Remove any other cables or USB devices that are connected to the Thunderbolt.
Wait at least thirty seconds before re-connecting your Mac and Display to a power source and reconnecting the two via the MagSafe cable.
Power on as normal to check if the Thunderbolt Display comes on.
This is also useful for reconnecting your cables to ensure that they are fitted snugly into the ports.
2. Check that the Thunderbolt cable is working
If you can get your hands on another cable, use that to connect your Thunderbolt Display to your Mac. If the Display turns on, then it's likely the original cable is damaged and needs to be replaced.
3. Make sure your macOS is updated to the latest version
Occasionally older versions won't recognize the hardware, and your system might need an update for it to sync effectively. To update your Mac:
1. Click on the Apple logo in the top-left of the menu bar
2. From the dropdown memory, select 'About This Mac.'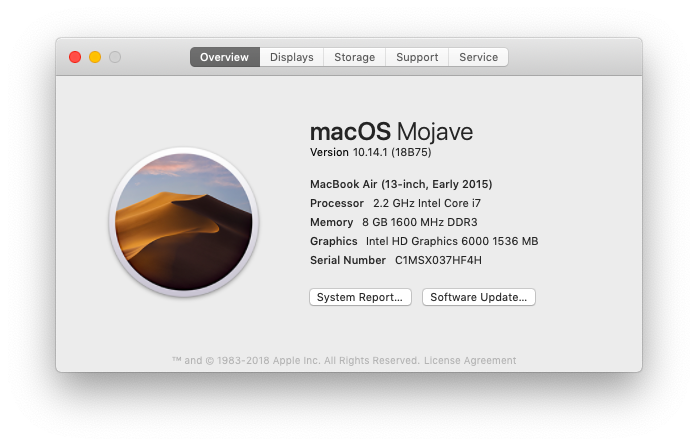 3. Click on 'Software Update.'

4. You will then be taken to the Mac App Store. From there, click the 'Update' button beside the latest version of macOS.
It is equally important to know that your Mac isn't cluttered up with junk and old files that slow your computer down. Backups,  duplicate files and folders, hundreds of images and apps that you don't need anymore all take up space that could be put to better use.
Use CleanMyMac to create space and improve performance:
Download it free here;
Run a scan;
Delete everything you don't need.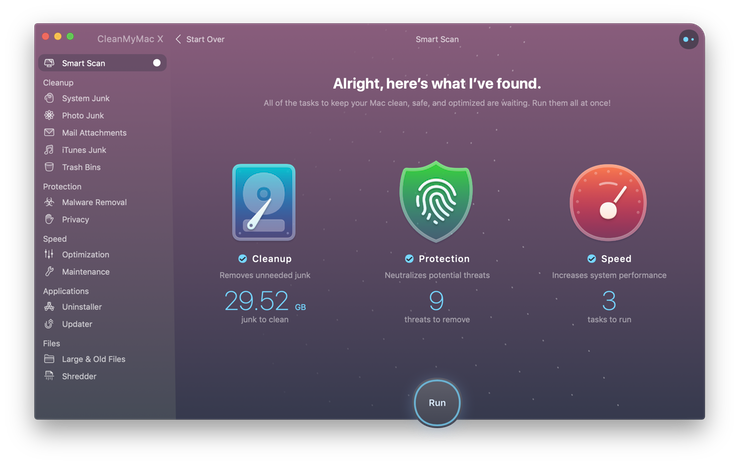 Do this every few months and your Mac will always operate at peak performance.

4. Your Mac's System Management Controller (SMC) may need a reboot
If the connection has been reset and the OS has been updated but the Thunderbolt Display won't turn on, the SMC may need to be reset. This is performed differently with different hardware.
Resetting a Mac notebook's SMC with a non-removable battery:
Shut down your Mac.
Ensure you're connected to a power source via either a MagSafe or USB-C cable.
Simultaneously press the left side Shift-Control-Option keys with the power button.
Release all of the keys and the power button, and then press the power button again to turn on the Mac.
Resetting a Mac notebook's SMC with a removable battery:
Shut down your Mac.
Physically remove the battery from the Mac.
Press and hold the power button for 5 seconds.
Replace the battery.
Press the power button to turn the Mac back on.
Resetting the SMC on an iMac Pro:
Shut down the iMac.
Once it has shut down, press and hold the power button for 8 seconds.
Release the power button and wait for 5 seconds.
Press the power button to turn the iMac Pro back on.
Resetting the SMC on a Mac desktop:
Shut down the Mac.
Once it has shut down, remove the power source.
Wait 15 seconds.
Replace the power source.
Wait 5 seconds and then press the power button to turn the Mac on.
5. Try a reset of your NVRAM (Non-Volatile Random-Access Memory, known as PRAM on older devices)
What if, after all that, your Thunderbolt display still isn't working? Don't send it to the technician just yet:
Shut down your Mac.
Turn it back on, but press and hold the Command-Option-P-R keys as soon as you hear the start-up sound.
Keep all keys depressed until the Mac restarts and you hear the start-up sound again.
Release the keys and allow your Mac to load up as normal.
Your Mac's settings for volume, time zones, and screen resolution may need reconfiguring after this reset.
If you've tried every hack on this list, it might be time to throw in the towel and call Apple Support on 1-800-MY-APPLE or book yourself a Genius Bar appointment.
---
These might also interest you:
---