How to transfer your photos from iPhone to iPhone
As much as you love your iPhone, there's always a new one around the corner. Apple releases new models every year, and sooner or later, even if you keep updating the iOS, your device starts feeling antiquated. Goodbye old iPhone, hello shiny all singing, all dancing new model!
But before you sign a new phone contract or order the latest iPhone online, it's worth checking the ways to transfer photos and other data to your new phone. We covered the three most commonly used methods how to transfer your photos from one iPhone to another iPhone.
---
How you can transfer photos from iPhone to iPhone:
Move all data using an iCloud backup
Transfer all data, including photos, using iTunes
AirDrop just the photos you want
The first two ways work best for when you're trying to transfer your whole iPhone to a new one. You'll copy everything you have on your old device, so that all photos and contacts are intact and ready to use on your new iPhone. AirDrop is a better choice when all you need to transfer from iPhone to iPhone is photos — like sharing a group pic with all your friends who are in it.
Before you start the iPhone transfer
If you're like most people, you have thousands of photos on your iPhone. Before you transfer them all, make sure you're moving the pics you actually need — not dumping useless clutter on your brand new iPhone. Download a photo gallery cleaner like Gemini Photos: it will help you get rid of multiple similar selfies and old screenshots you forgot to delete.
---
Method 1. How to transfer data from one iPhone to another using iCloud
iCloud is one of the most effective methods to transfer data from one iPhone to another — or from any iOS or macOS device to another, for that matter. Both devices need to have iCloud enabled, using the same Apple ID.
To get started, set up an iCloud backup on your old iPhone :
Go to Settings
Click the Apple ID banner at the top of the settings list
Tap iCloud
Scroll down to iCloud Backup
Tap Back Up Now
Wait for the backup to finish
Switch off your old iPhone and remove the SIM card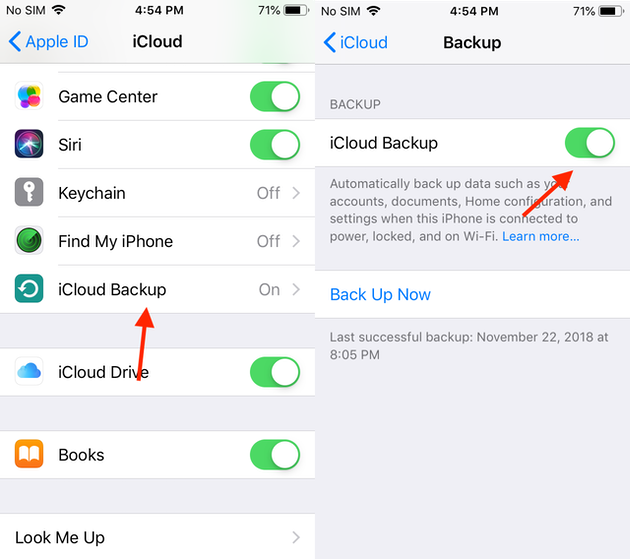 Make sure your old iPhone is off. Now start setting up your new iPhone:
Insert your SIM in the new iPhone
Switch on your new phone
Slide or press the Home button and follow the setup instructions
Make sure the device is connected to WiFi
Now tap the Restore from iCloud Backup option (part of the setup process)
Sign in using your Apple ID
Tap Next, then Agree (you may be asked this more than once)
Choose the most recent backup. This will restore your new iPhone with everything that was on your old iPhone at the time of that backup, including every image and photo you want to transfer.
This process may take a while, and your iPhone could get warm as it's absorbing all the apps, messages, photos, and videos. Don't worry, once this process is complete, everything will work the way it did on your old iPhone — except with the benefits of this newer, faster, more modern device.
---
Method 2. Transfer everything from iPhone to iPhone with iTunes
On any iOS device running iOS 11 or later, there is an even quicker way to set up a new iPhone and transfer all the data. Both devices need to be switched on and placed next to one another during the transfer.
Before going ahead with this, you'll need to make an iTunes backup. Apps, messages, videos, pictures, games — you name it, iTunes can back it up. Follow the steps in this guide to backing up an iPhone to a computer to get it done safely and quickly.
Now, here's how you can move your pictures, apps, and everything else using automatic setup and an iTunes backup:
Insert your SIM in your new iPhone and switch on the device
Slide or press the Home button and follow the setup instructions
A moving image will appear on the Home screen of your new iPhone
Scan that image with your old iPhone (it can take a few minutes)
Enter your current passcode on the new iPhone
Follow the prompts and set up Touch ID on your new iPhone
When presented with several Restore Your Apps & Data options, select Restore from iTunes Backup
With that done, you can switch off your old iPhone or restore it to factory settings. Everything should be safely moved to your new iPhone.
---
Method 3. AirDrop photos from iPhone to iPhone
Now, sometimes you all you want to transfer to your new iPhone is the photos, and other times you just need to share a few pics with a friend who also has an iPhone. Here's how you use AirDrop on both phones to transfer pictures and videos over:
On your new iPhone, go to Settings
Tap General
Scroll to AirDrop
Set it to Everyone to receive an AirDrop from any iOS device
Now go to the Photos app on your old iPhone
Select the photos you want to transfer, then tap the Share button
You'll see devices available via AirDrop below the photos and above the rest of sharing options. Your new iPhone should show up here.
Tap on the name of your new iPhone
Back on the new iPhone, press Accept to let the photos transfer from your old iPhone to the new one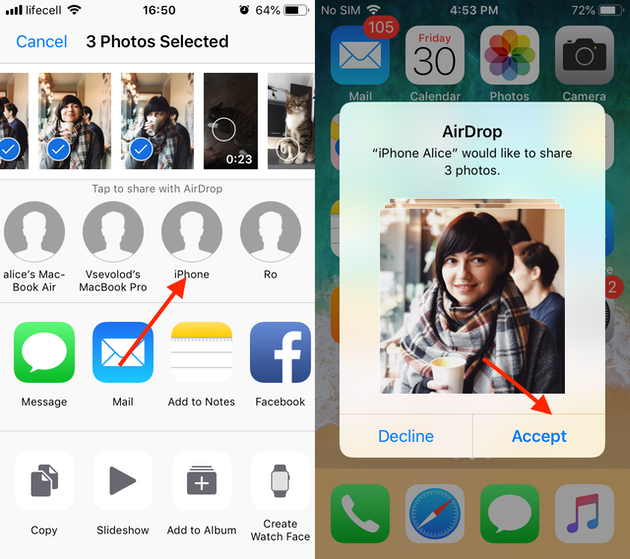 The photos will land in your Photos library on the new phone. When it's done, you can delete everything off the old iPhone.
---
Whichever method you choose, Apple made it easy to transfer data from iPhone to iPhone and start using your shiny new phone right away. And if you'd also like to have your photos stored on your laptop, here's how to move photos from an iPhone to a Mac. But wherever you're moving your photo library, make sure to unclutter before the transfer.