Apple's High Sierra: features that still matter
The September 2017 keynote has been a huge success and brought us some juicy novelties and features. So what did we get? A lot of fine tuning in terms of web browsing, graphics, and file management as well as a bunch of other goodies.

Everything you must know about the macOS High Sierra
Apple seems to have it all nailed down with the updates for the High Sierra, combining reliability with capabilities that will make for a better user experience. Although there are no complete overhauls, the fine updates are more than enough to bring a fresh and strong performance that also paves the way for VR (virtual reality) and AR (augmented reality) in future developments.
In all, macOS High Sierra 10.13 makes for a very engaging experience that will have users hooked up to their chairs in order to discover all the fun (and useful) features. It also brings a lot of powerful system technologies that will help users reimagine the way they interact with their Mac.
Apple macOS High Sierra most important features are:
Intelligent Tracking Prevention to remove advertisements in Safari by using machine learning
A better organized and streamlined file system
Professional tools for the Photos app
Utter quality videos for less storage space
Virtual reality support with a VR-optimized display pipeline and GPU queue priorities in Metal 2
A more human Siri with a passion for DJ-ing
A faster and more intuitive Mail search tool
A better Notes app with various editing options
Excited yet? Let's dig into the details — here are features to get really excited about, in a nutshell.
Safari pushes the limits of speed
One of the most exciting refinements in macOS High Sierra 10.13 is definitely its smarter Safari, which promises to be faster than the previous versions of the browser. The updated web browser will be 80% faster than Chrome.
To live up to that expectation, Safari was also given Intelligent Tracking Prevention to better protect user browsing and history data and block unwanted auto-play video advertisements. In addition, customization seems to be a key point for the Safari browser, as it allows for specific website personalization and ad-blocking or enabling according to the user's choosing.

A file system with high expectations
Following up on an earlier Apple File System announcement, it's no wonder to see that they have brought the default file system to macOS High Sierra. It streamlines daily tasks by leveraging a 64-bit architecture and responsive design.
But although faster file copying and instant file and directory cloning are great news indeed, what's more thrilling (and mind-easing) are the new features that come to strengthen security with built-in encryption, crash-safe protections, and simplified data backup.

Better videos that take less space
High Sierra updated its video experience by topping up to the industry standard and accommodating 4K and High Efficiency Video Coding (H.265). But that's just to begin with. Here are where the real goodies start, as users will enjoy better quality videos that take less space, as the new codec compresses them up to 40% more. That means it's now possible to preserve HD, 4K, and 5K HDR videos at their quality without cluttering your Mac.

Smarter photos to play with
We've become quite addicted to photos nowadays, and Apple knows it. That's why no update goes by without tinkering with their Photos app. macOS High Sierra makes it easier for users to organize photos and adds in new Memories categories, such as pets, babies, outdoor activities, performances, weddings, birthdays, and many more. Users will also be able to delight themselves with an expanded sidebar view that display imports in chronological order for easier access and face tagging synchronized across all devices.
The Holy Grail of the update is, however, the powerful set of editing tools that brings professional capabilities to the table. Now, it's easier than ever to control highlights, mid-tones, and shadows and also synchronize the changes on all devices. And for the users who don't want to manually fine-tune photos, the new filters will give them that professional feel in just a few clicks.

Bring the pedal to the Metal
Metal was a great addition to El Capitan, changing the rules of the game when it comes to stellar graphics. With macOS High Sierra, things are getting even more real, as Metal 2 brings in more power with a new API and tools developers will die for, such as the machine learning processing for apps. The technology also makes for more robust graphics and leverages external GPU for true gamers.
Built for the present needs, Metal also has an eye for the future, jumping one step ahead with support for AR and VR. So if you're looking for a game changer, here it is. Developers can rejoice with Thunderbolt 3 enclosure and an AMD Radeon RX 580 GPU and transform the way they create and implement.

A more human Siri
Meet your new best friend and most trusted help in navigating High Sierra. This time, the Siri guide will speak to you in a more expressive and natural way, making for a more human experience. As your right hand (so to speak), Siri will not only be a productive companion but also an on-demand entertainment provider, more specifically, a DJ. High Sierra's Siri has its beats all figured out and can DJ for you by using your listening preferences.
Why High Sierra story doesn't stop here
We've spoken about the big changes that are impossible not to notice, but there are also a few other updates that will have users feel their experience is better without necessarily being able to point at why that is. First of all, the desktop will bring some little improvements, and the Mail app is going to be simpler to handle with the option of Spotlight Search and the possibility to split your inbox. The Notes app will also make your life easier, and the FaceTime calls will be able to be "forever" remembered with the new feature that allows users to take Live Photos.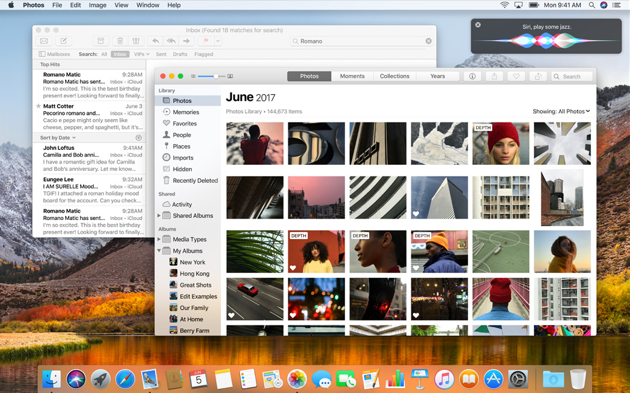 Dig into macOS High Sierra
macOS High Sierra has been around for a while already. In fact, Apple has ceased to support it. However, there are still users out there who have not updated to this macOS version. It may be a great alternative for older Mac models not compatible with newer macOS.

So there you have it, the updates that matter in the macOS High Sierra.
CleanMyMac X is ready to embrace the refinements with its release. Go ahead, try it!
Enjoy the final and perfected version of the macOS High Sierra. Even if your Mac cannot be upgraded to a newer macOS version, such as macOS Ventura, High Sierra has proved well-designed and modern. A real treat.