How to remove Advanced Mac Cleaner malware from Mac
One of the most common scams online are pop-up adverts for tools that claim to be able to 'clean' your Mac and improve its performance. Unlike legitimate Mac cleaning tools, these programs start scanning your Mac without your consent, claim to have found problems, and then demand payment. Advanced Mac Cleaner is one such program.

---
What is Advanced Mac Cleaner?
It's an application that claims to clean and protect your Mac by scanning it for potential problems. However, the problems it finds are fake, and it offers no protection or performance improvement for your Mac. It is a category of software known as 'potentially unwanted programs' (PUPs) that are downloaded to your computer by stealth and launch themselves without your consent.
In the case of Advanced Mac Cleaner, it is usually bundled with other applications so that you have no idea that you've downloaded it until it pops up on your screen. When it does, it claims to be scanning your Mac so that it can clean it and protect you from malware. Of course, it finds lots of 'problems' and then tries to sell you a 'solution' by persuading you to part with your cash. In addition to trying to persuade you to pay for a full version of the app, it also tries to upsell other supposedly helpful utilities.

Can it harm my Mac?
Advanced Mac Cleaner is not a virus, and there's no evidence it will do any lasting harm to your Mac. However, the Advanced Mac Cleaner pop-ups are irritating and can slow down your computer's performance while it's running.
If you take the bait and pay for it, you will have spent money for nothing. But you will also have given your credit card details to people who use scam tactics to make money, and so your financial security would be at risk.
How can I avoid Advanced Mac Cleaner?
The simplest way is to leave your Mac security settings for downloading applications at their default. That way, if you try to download an app that's not either from the App Store or a trusted developer, you will see a warning and will be required to override the security settings manually. As Advanced Mac Cleaner comes bundled with other tools, you'll see the warning when you try to download one of those tools. If you're worried, don't give permission for it to download.
As a general rule, avoiding malware is accomplished by being vigilant about not clicking links in emails or messages your receive or on websites unless you are absolutely sure where those links lead. Some websites are also more likely to host malware, such as PUPs bundled with apparently legitimate applications, than others. These include sites that offer access to the latest movies, TV programs, games, and software for free, and some free porn sites. You should avoid those if you want to minimize the chances of downloading malware.
Tip: If you want a tool that can free up disk space on your Mac by getting rid of unnecessary files, we recommend CleanMyMac X. This is a legit app that is notarized by Apple, meaning it doesn't contain any malicious components.

How can I uninstall Advanced Mac Cleaner?
First of all, launch Activity Monitor from Applications>Utilities and look for a process called "Advanced Mac Cleaner," select it, press the Quit Process button in the toolbar, and then close the Activity Monitor.
1. In the Finder, click on the Go menu and paste this: ~/Library/LaunchAgents/

2. In that folder, look for a file called "com.pcv.hlpramc.plist"
3. When you find it, drag it to the Trash
4. Click on the Go menu in the Finder again and paste this: /Library/Application Support
5. Look for a file called "amc" and drag it to the Trash
6. Again, in the Go menu, paste this: ~/Library/
7. Find the file "AdvancedMacCleaner" and drag it to the Trash
Don't give up just yet, we're almost there!

8. Go to the Applications folder and drag the Advanced Mac Cleaner application to the Trash
9. Empty the Trash
10. Launch System Preferences from the Apple menu and choose the Users & Groups pane
11. Click your user name and choose Login items
12. If there is an entry for Advanced Mac Cleaner, click the "-" sign next to it to remove it.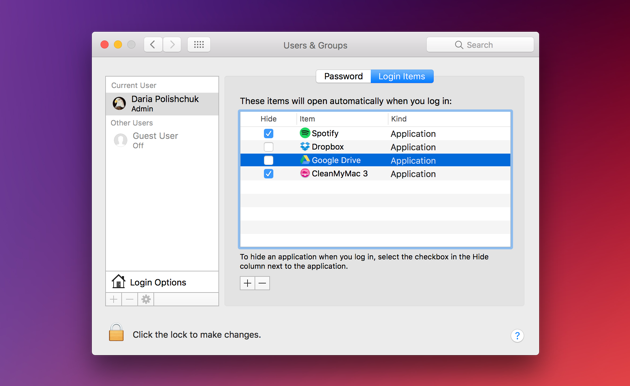 ---
Take a shortcut: Destroy it with a legit cleaning app
If all steps above seem like a lot of effort, there is an easier way. CleanMyMac X is a real cleaning tool for your Mac. CleanMyMac X has been notarized by Apple, meaning it doesn't contain any malicious components. Unlike Advanced Mac Cleaner, it does actually scan your Mac and identify files that can be safely deleted to free up disk space. It also uninstalls applications at the click of a button, including removing all the files associated with the application, including those in the Library and Application Support folders. So you can use it to remove Advanced Mac Cleaner.

1. Download CleanMyMac X (a link to the free version) and install it
2. Click on the Uninstaller utility
3. Look through the list of applications, or type "Advanced Mac Cleaner" into the search box
4. Check the box next to the Advanced Mac Cleaner icon
5. Press Uninstall

What if I've already paid for Advanced Mac Cleaner?
Inform your credit card company immediately. Tell them you think you may have been scammed and that your details are at risk. They will cancel your card and issue a new one. Then, follow the steps above to remove Advanced Mac Cleaner from your Mac.
Advanced Mac Cleaner is a potentially unwanted program that seeks to persuade you there is a problem with it that it can fix, as long as you hand over money in the form of credit card details. In reality, it has downloaded itself to your Mac without permission, hasn't scanned it, and hasn't found any problems. Of course, if you hand over the money, you won't improve your Mac's performance or security but will have exposed your credit card details to someone with bad intent.
You can remove Advanced Mac Cleaner using the steps outlined above, and you should also inform your credit card company if you've paid for the 'full' version of the application.