How to remove Google Chrome Critical Error scam message
So, what should you do? First of all, no panic! Secondly, never call the number. This message is just one of many channels exploited by scammers to implement their shady schemes.
Today, I'll show you how to detect, avoid, and report Google Chrome Critical Error scam and keep your Mac protected.
Is Google Chrome Critical Error message a scam?
Absolutely! Google Chrome Critical Error message is a tech scam that displays fake virus alerts. Its sole purpose is to scare you into calling a stated hotline. Here's how the impostor may look like: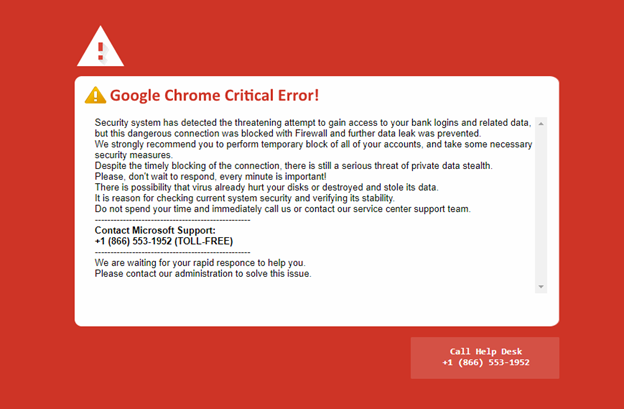 The error message unexpectedly shows up while you're browsing the web. It claims that the security system has detected malicious activity aimed to steal your data.
Although the suspicious connection was prevented, your privacy is still at stake. The only way to protect it is to call tech support. Of course, the message has nothing to do with Microsoft, Apple, Google, or any other legitimate company.
What you need to know about scammers
Knowing how tech support scammers operate helps you avoid getting deceived. If you call a given help desk number, the cybercriminals might:

Request remote access to scan your computer for malware.
Convince they've detected a severe threat or other security issues.
Force you to buy a special protection app or pay for repair services.
Crooks often use technical language to intimidate you into following their instructions. By getting shared access, they can install harmful software such as keyloggers. This malware records every key you press. In this way, hackers capture private data such as logins, passwords, and banking details.
How to remove Google Chrome Critical Error red screen scam
Once you see the annoying critical error message, immediately shut down your browser. Still, some of these websites run special scripts that prevent closing the tab. In that case, force quit the browser. Here's how:

Hold Option‐Command‐Esc to open Force Quit Applications.
Choose the browser you want to terminate.
Hit the Force Quit button to confirm.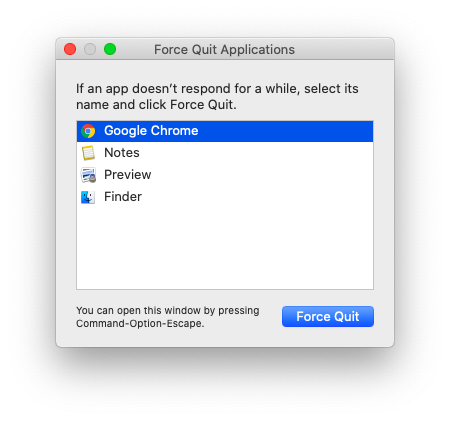 Don't restore the previous session after re-launching your browser. Otherwise, you'll go back to the fake error page.
What if redirects keep reappearing?
If redirects to fishy websites keep repeating, check your computer for potentially unwanted programs (PUPs). They may hide deep in your system folders and cause unwanted browser activity.
To find and eliminate them, opt for a reliable anti-malware tool. CleanMyMac X is a time-tested app notarized by Apple. Recommended by tech experts, it destroys many recently discovered threats, including PUPs.
Here's how it works:
Grab your copy of CleanMyMac X — available for a free download.

This app by MacPaw is not only a solid antivirus, it finds other hidden junk beyond viruses, like remains of old apps, and broken downloads.


Launch it and go to the Malware Removal tab.
Press Scan. If anything suspicious is found, click Remove to delete it.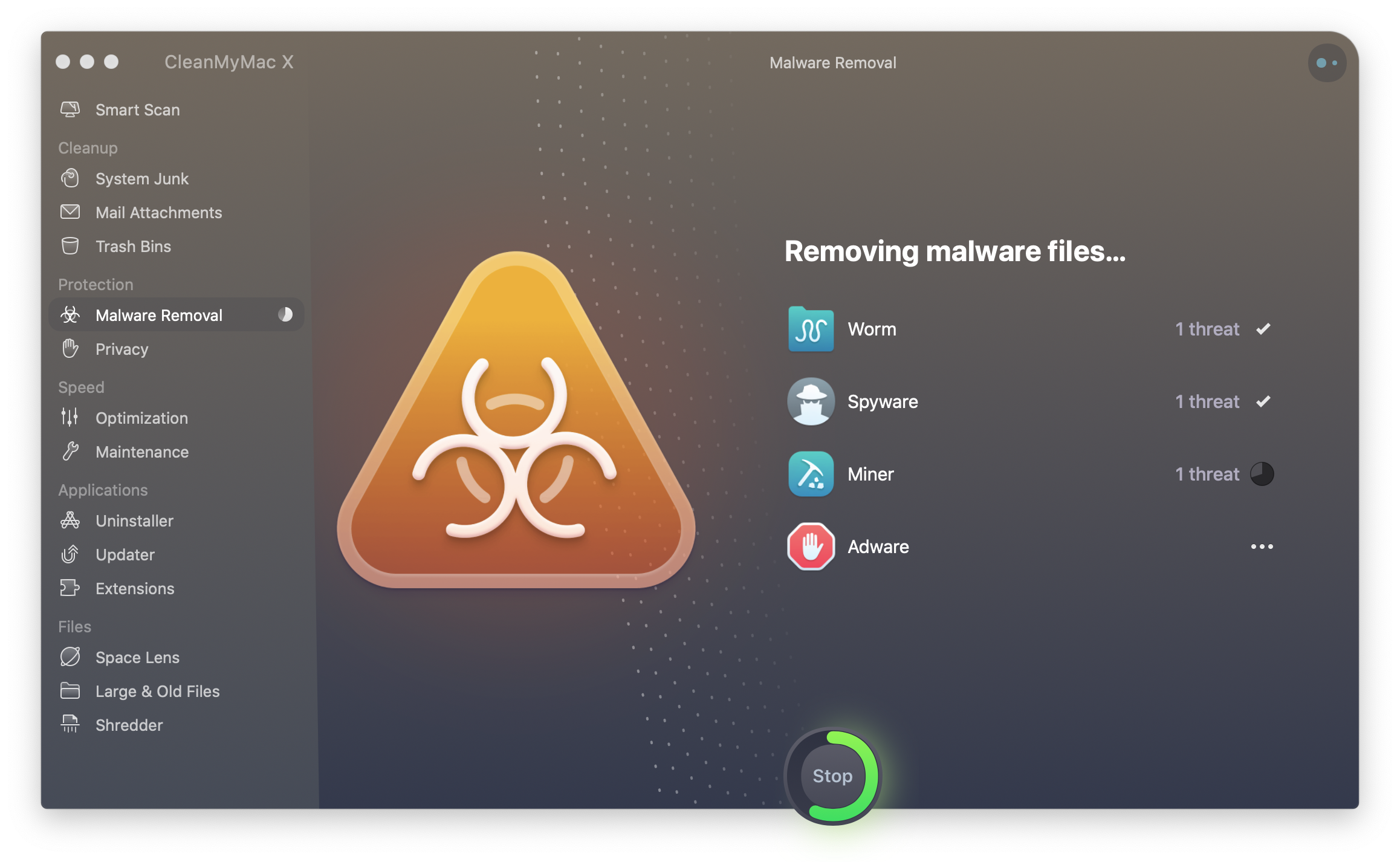 Another way to stop alerts from appearing again, is to check your Login Items. The "scammer" app will usually try to infiltrate your list of apps that start automatically. You can prevent this, by running another tool from CleanMyMac X suite.

Click on the Maintenance (in the sidebar).
Inspect the Login Items and Launch Agents tabs.
Select and remove any suspicious items.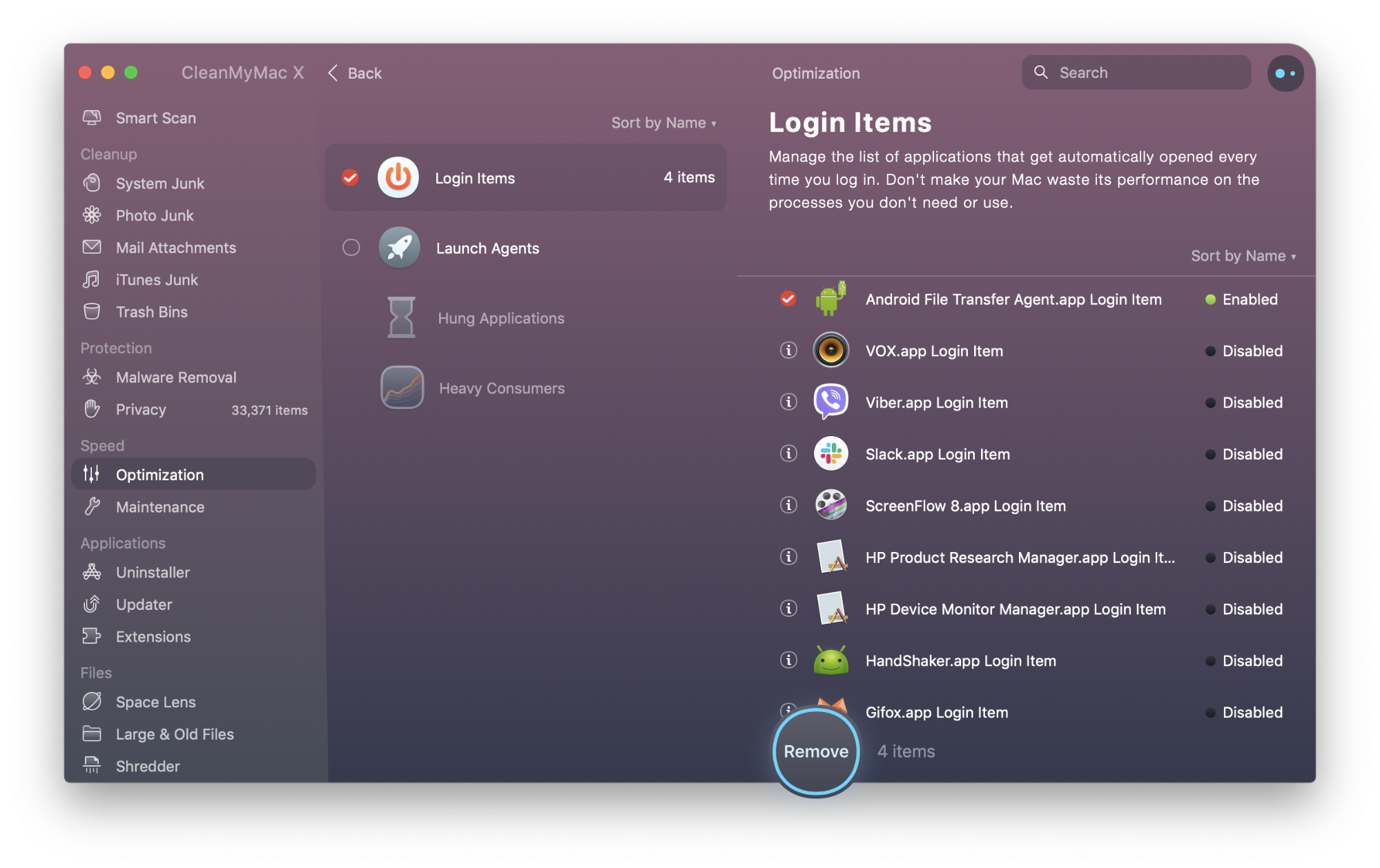 How to protect your Mac from scammers
To avoid becoming a victim, note a few things:

Close your browser once you get a spoof virus alert about malicious activity on your computer.
Never call the number from such messages or share remote access to your device with anyone who pretends to be a tech support agent.
Don't provide your payment details or other confidential info to such services.
In case of technical issues, contact a reputable company or tech specialist you trust.
Regularly check your Mac with anti-malware software.
Download software from official websites only.
Keep your operating system and all software updated. Use CleanMyMac X's Updater module to get the latest versions of all your apps.
What to do if you fell for a scam
If you share remote access with the web scams, immediately disconnect your computer from the internet and restart it. Next, ensure your antivirus is up-to-date and run a system scan to eradicate any malicious components.
Have you already paid for the fake services with a card? If you get into this trap, try to stop a transaction in progress. Call your bank and explain the situation. Ask them to cancel the payment and protect your billing information.
Finally, change all your passwords to the new strong ones to prevent data leak.
How to report tech support scam
Once you detect the scam message on your Mac, report it on the official website of:

The last email address is where Apple receives your complaints about phishing attacks and scam attempts you see in your mail.
Provided information helps fraud reporting centers bring criminal cases against web crooks.
Now you know what to do if you get an unexpected warning message telling that your Mac is compromised. Hopefully, these simple tips will help you keep your device protected.