How to delete JustCloud from Mac
It's not uncommon for people to confuse JustCloud with iCloud. That's especially true if the app magically appears on your Mac. If that sounds like you, don't feel alone. This article will show you a couple of different ways you can delete JustCloud from your Mac. It'll also explain how it might have gotten installed on there and what you can do to try and prevent it from happening in the future.
| | |
| --- | --- |
| Name | JustCloud |
| Category | Adware, Potentially Unwanted Program |
| Symptoms | Slow performance, prompts for paid upgrades |
| Infection method | User installed or bundling with other apps |
| System damage | Compromises your data |
| Removal | |
What is JustCloud?
JustCloud is a cloud service that is similar to any of the other popular ones you may be familiar with. The significant difference is how the app was installed on your computer. If you didn't do it intentionally, then it was more than likely installed by being bundled with another app. Sneaking onto your computer in the hopes of you using it and then paying to upgrade your storage.
Any app that has to install itself on a computer covertly might not be the most trustworthy with your private data. And that's why you should be a bit more hesitant to use it.
How to avoid apps like JustCloud
Whenever you install an app, make sure it's from a trusted source. A good rule of thumb is if it's on the Mac App Store, you can trust Apple's vetting process – for the most part. If you need an app that's not there, you should always choose a "Custom" or "Advanced" installation to see if there's anything else it's trying to install, like JustCloud. If you see an app listed in the installation you don't want – you can usually choose not to install it.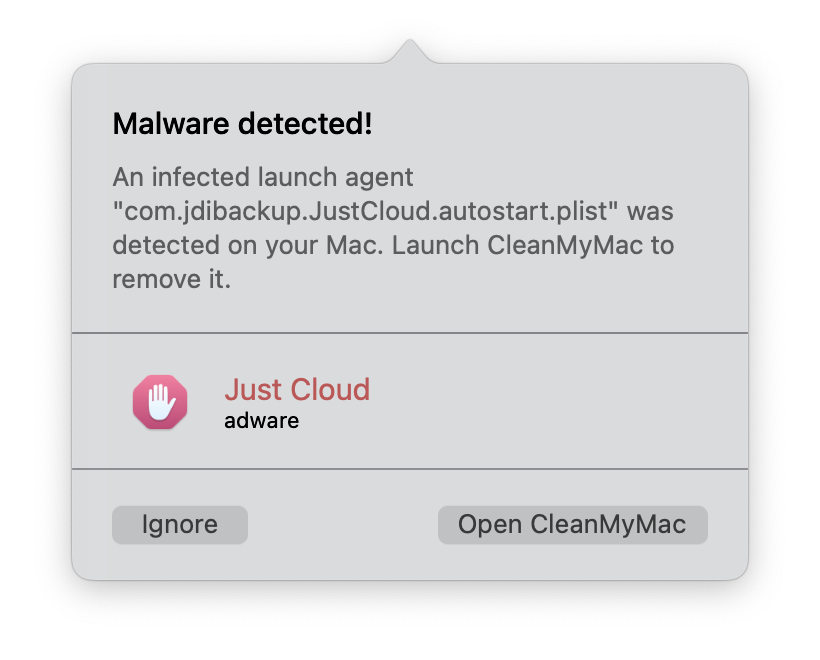 How to remove JustCloud from my Mac manually
If you've found JustCloud on your computer or you've installed it and now want to get rid of it, thankfully, it's pretty straightforward. After you quit JustCloud, follow these steps:
Open a new Finder window.
Click Go > Applications.
Right-click or hold down control and click JustCloud.
Then, click Move to Trash.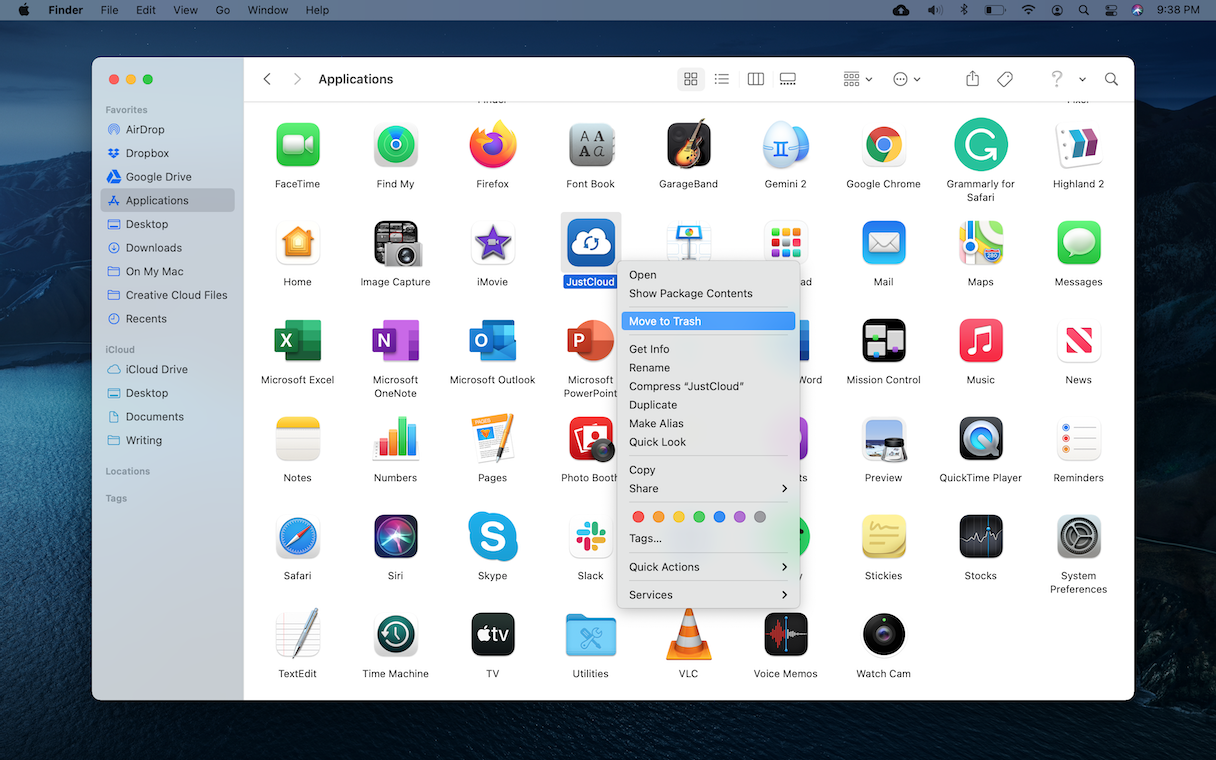 Remember to empty your Trash once it's in there. But, if you have any other files in there, those will also be permanently deleted too.
How to delete JustCloud with CleanMyMac X
When you manually delete a malicious app, it can leave behind supporting and cache files on your computer. If you want to remove malware thoroughly, download CleanMyMac X — it will scan your Mac for malicious files and remove them in no time.
Open CleanMyMac X (Download its free version here).
In the sidebar, click Malware Removal.
Hit Scan and wait till it's complete.
Click Remove to delete JustCloud.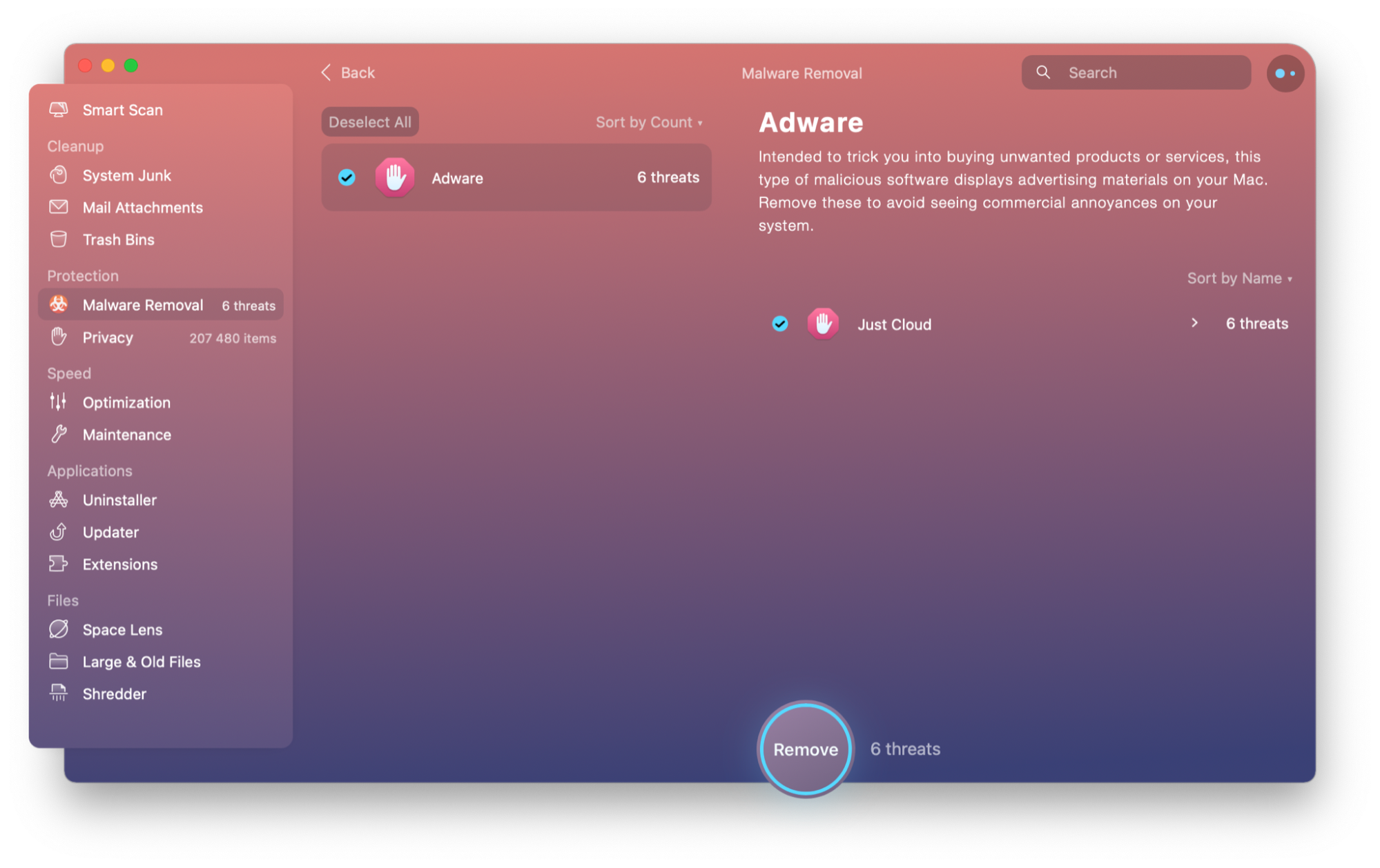 I think it's fair to say that you should be cautious of any app that installs itself by secretly bundling with other apps. You should be even more careful of any bundled app that asks you to pay for upgrades. But, hopefully, after reading this article, you were able to uninstall JustCloud and keep your Mac clean of any and all malware.
Please note that the article is provided "as is" for informational purposes only. We do not make any warranties regarding the manual removal of the virus. You have to understand that as a user, you are fully responsible for changing your Mac's configuration.