How to remove MyWay from Mac
Did you know that you might not be getting the best results on your internet searches? If you're used to using search engines like Google or Bing, but your browser is suddenly defaulting to Search.MyWay.Com, then you might have a browser hijacker installed. Keep reading, and this article will show you the best ways to get rid of the MyWay search hijack.
| | |
| --- | --- |
| Name | Search.MyWay.com browser hijacker |
| Category | macOS browser hijacker |
| Symptoms | Changes the default search engine, causes pop-ups, and alters search results |
| Infection method | Bundled with other free software |
| System damage | Locks your browser settings and can install other in-browser content |
| Removal | |
| How it got there | Downloading and installing software from unknown developers. |
What is the MyWay redirect virus?
As you read earlier, it's a browser hijack that installs on your computer and adjusts all of your browser settings. So, before, your default search engine might have been Google. But now that you have this malicious software on your Mac, it's changed your defaults to Search.MyWay.com. And you probably have already been bombarded with pop-up browser ads. Those are usually bundled with browser hijacks as well.
MyWay works by installing an extra user profile in your system. This allows it to override standard user privileges.
How to remove MyWay from Mac manually
It is possible to manually get rid of the MyWay hijack. If it installed as a profile on your Mac, follow these instructions:

Open System Preferences.
In the search box, type Profiles.
Click on the malicious profile and then click the "—" button at the bottom.
A profile isn't the only way a browser hijack like this can work. It can also install directly into your browser. Depending on which one you use, the removal instructions will vary.
Delete MyWay Browser Hijacker in Safari
If you're using Safari, you can follow these steps to remove the MyWay software:

Open Safari.
Click Safari > Preferences > Extensions.
Find the malicious extension and click Uninstall.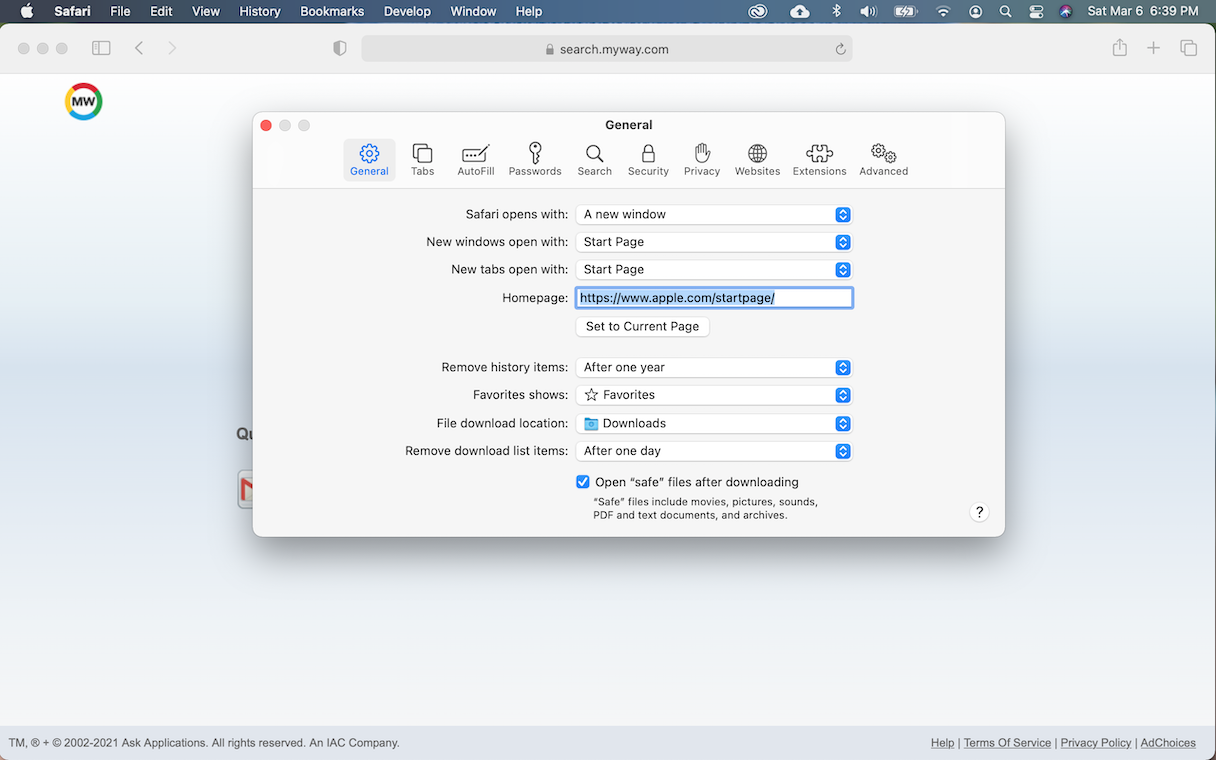 After you've deleted the extension, you may need to reset your homepage. And you can do that under the General tab in the Safari Preferences.
Remove MyWay from Google Chrome
It doesn't install as a simple extension in Google Chrome. So, getting rid of the hijack means you need to reset your settings entirely. But the good news is, if you're syncing Chrome with your Google account, you'll be able to log back in and download all of your settings again. This is how you get rid of the MyWay redirect in Chrome: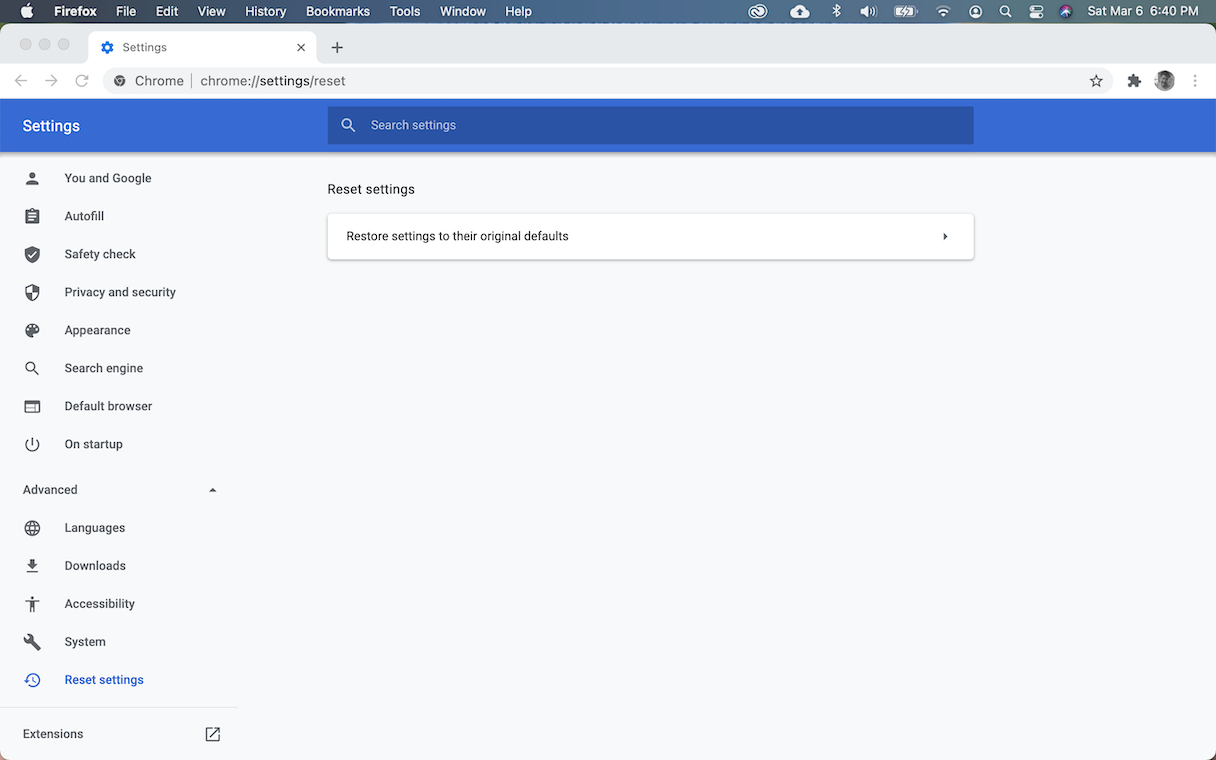 Open Chrome.
Click the three dots in the right corner.
Then, click Settings > Advanced.
In the Reset and clean up section, click Reset settings to their original defaults.
Confirm by clicking Reset settings.
Get rid of MyWay in Firefox
Similar to Chrome, you'll have to reset Firefox to uninstall the search redirect. Just follow these steps to remove MyWay from Firefox: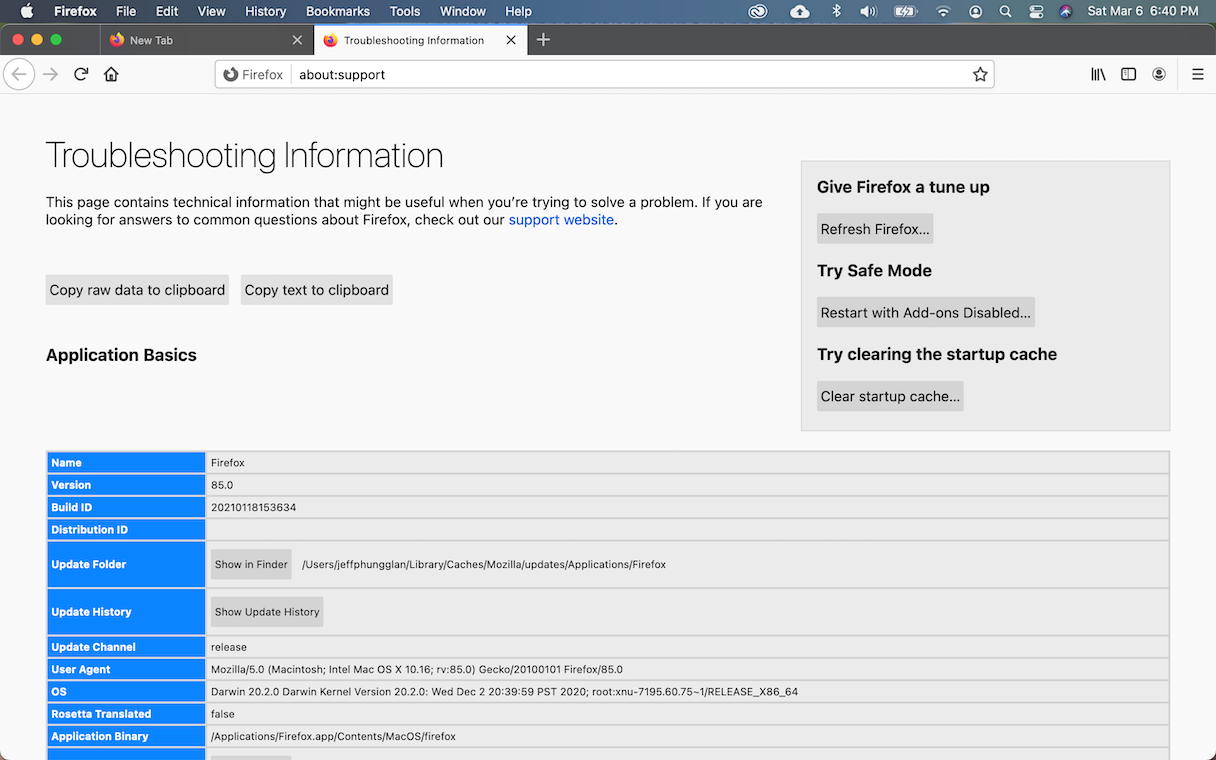 Open Firefox.
Click the three lines in the top right.
Then, click Help > Troubleshooting Information > Refresh Firefox.
Confirm by clicking Refresh Firefox again.
When Firefox is done refreshing, you'll see a pop-up window. Click Finish.
How to get rid of MyWay automatically with CleanMyMac X
Sometimes manually removing apps and extensions like the MyWay redirect can leave behind supporting files. Fortunately, CleanMyMac X has an uninstall feature that gets rid of apps and any associated files. But it will also find and delete any leftover files from apps that were already deleted.
When you have the app installed on your computer, follow these instructions to get rid of the leftover files:
Open CleanMyMac X (Download its free version here).
In the sidebar, click Uninstaller > Leftovers
Select the application files you want to delete.
Click Uninstall.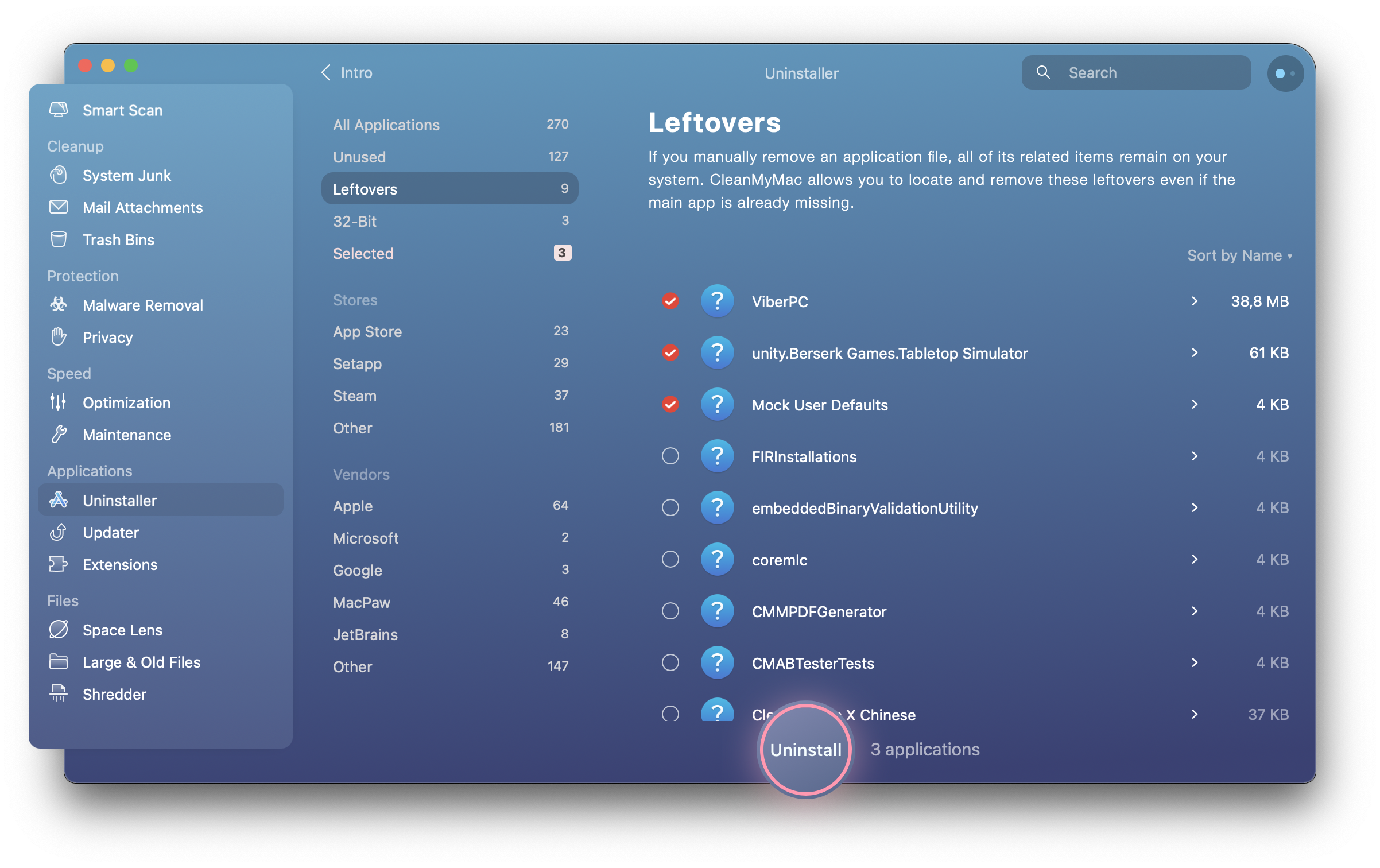 After you've gotten rid of the support files, you should use CleanMyMac X to scan for any other malware that might be lurking on your Mac. Here are the steps to do that:

Open CleanMyMac X (Download its free version here).
Click Malware Removal in the sidebar.
Then, click Scan.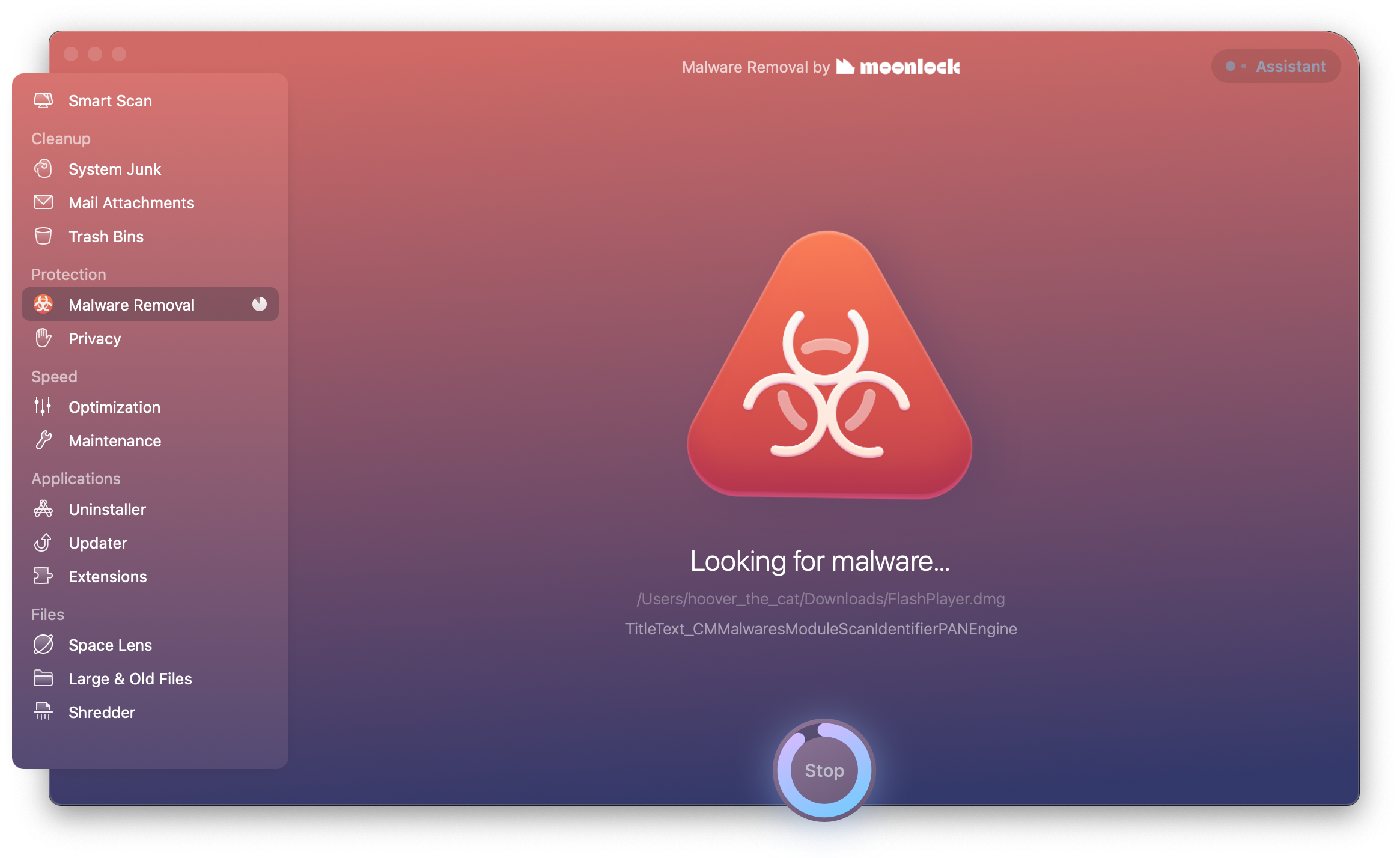 CleanMyMac detects several variants of MyWay, so you may check if yours is detected.
Even if you're confident enough to delete MyWay manually, it's still a good idea to scan with an app like CleanMyMac X. Other malicious software might have been installed at the same time. Plus, it offers peace of mind and extra assurance that your Mac is safe and protected.
Please note that the article is provided "as is" for informational purposes only. We do not make any warranties regarding the manual removal of the virus. You have to understand that as a user, you are fully responsible for changing your Mac's configuration.