Since the release of macOS 10.14 Mojave, third-party applications can't access system-level privileges without your consent. That's why now even trusted apps may ask for permissions to run their basic operations.
CleanMyMac X relies a lot on additional permissions because they enable correct uninstallation of applications, thorough system cleanups, interaction with Mail, iTunes, and Photos apps, and many more. Default app permissions restrict these features.
If you need a more profound technical explanation in a simple language, here's our blog post: Full Disk Access and why you shouldn't be afraid of It."
Grant Full Disk Access permission to CleanMyMac X
The steps below apply for macOS 10.14 Mojave and later. To find out which OS is on your Mac and whether it's later than 10.14, see this Apple Support article.
According to Apple's security and privacy rules, you need to provide extra privileges manually, in macOS System Preferences. Luckily, the configuration takes less than a few minutes and easily unlocks all capabilities of CleanMyMac.
To start with, open CleanMyMac X and click Scan. During Smart Scanning, CleanMyMac X registers its components in macOS Preferences.
Now, provide CleanMyMac's components with essential permissions. Follow these steps:
From the Apple menu  in the corner of your screen, choose System Preferences.

Click Security & Privacy and switch to the Privacy tab.

In the left pane, scroll down and select Full Disk Access.

Click the lock in the lower-left corner, then enter your password or use Touch ID.

In the pane on the right, scroll down and select these components:

CleanMyMac X.app

CleanMyMac X HealthMonitor.app

CleanMyMac X Menu.app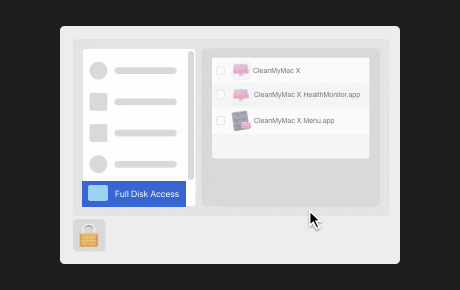 Done! Now CleanMyMac can easily find all unneeded files on your Mac. Thanks for your trust!
On older macOS versions, we also recommend providing Full Disk Access for CleanMyMac X as the most convenient variant. The steps are almost identical to the ones above.
However, instead of Full Disk Access, you may choose to provide separate permissions for these macOS services: Photos, Calendars, Contacts. If you have any questions or need any assistance, please contact our Customer Care Team.