The App Store version of CleanMyMac X slightly differs from the versions you'll find on other marketplaces. This means some features described below may be not available from the App Store due to its guidelines. Read more about different versions of CleanMyMac X.

Space Lens is an all-new CleanMyMac X module that builds a detailed map of your storage, which is fascinating to explore and easy to clean. Neat and beautiful, the module represents folders and files on a drive as bubbles of various size.
Get to know your storage better
Space Lens can analyze both Mac's internal and external drives. So first, choose a volume and then click Scan to build a storage map.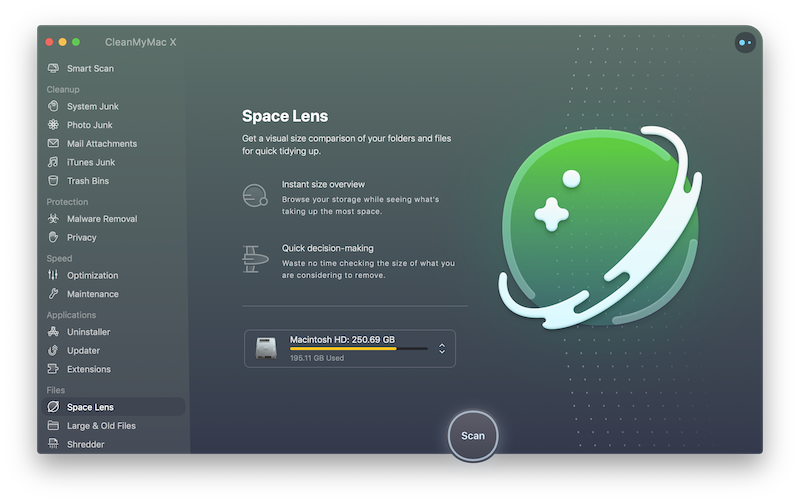 When the map is ready, you see a list of top-level folders and files and their bubble-like incarnations. The bigger the bubble, the more disk space it takes. By the way, bubbles are shown only for the heaviest items, but you can always find the lightweight rest in the list.
Just hover over a bubble to highlight it in the list.
NOTE
Please note that CleanMyMac X doesn't remove system files for the safety of your Mac. That's why we disabled some essential items, and you can't select them for removal.

Spot the largest wasters
To dive deeper into space and check what's in, you can either
Look through the list and use double-clicks or arrows (>), or
Click the bubble that draws your attention.
To go back, click outside the bubbles in the lens or use the arrows (< >) above the list of found items.
To preview a particular item, control-click it and go for Quick Look. Alternatively, just reveal it in Finder.
NOTE
While looking through the root directory of the drive, you may notice the Purgeable Space item (not available from the App Store). This is the space occupied by temporary system files that are removed automatically in case of need. You can get rid of them safely whenever you want in the Maintenance module.
Get rid of space debris
If you're sure you've found the baddie, select it for removal:
Select the corresponding checkbox in the list, or
Control-click the bubble and choose Select for Removal.
You can check the list of all selected items by clicking Review Selected in the lower-right corner.
When you're ready to make your Mac spacier, click Remove, review all trashed items, and make sure your choice is correct. After you click Remove again, all selected wasters disappear from your Mac.