How to Clean Install the macOS High Sierra?
Upgrading to the latest Mac operating system released at the Apple keynote this September can be everything you envisioned. Want to know the secret on how to upgrade the right way? Introducing clean install of the macOS High Sierra.
And don't worry! A clean install is as easy as it gets with the comprehensive guide we'll give you today. So you can easily do it yourself without extra help or technical knowledge. But first, let's find out what the new operating system brings to the table regarding new, exciting features.
Why you should upgrade to High Sierra
macOS High Sierra's features are a series of elegant refinements that improve performance and user experience while paving the way toward virtual/augmented reality. Here are those noble upgrades:
Safari gets faster and more intelligent, offering multiple customization options for users
The file system is now more secure, with built-in encryption and crash-safe protection
Videos look and feel stunning while taking 40% less space in storage
The Photos app brings improved professional editing tools and new synchronization options
Metal 2 leverages more power with state-of-the-art development tools, robust graphics, and an external GPU
Siri sounds more human and has unique talent (even a hobby as a DJ)
Now, are you ready to get the beta version of macOS High Sierra?
Once you're convinced that macOS High Sierra is what you need, jump right into the clean install!
Why opt to clean install macOS High Sierra
A clean install of macOS High Sierra will ensure maximum performance for your Mac. The reason is straightforward: formatting your Mac drive will eliminate all the issues accumulated over time and have a clean slate to start again. Oh, how we enjoy a fresh start, don't we?
Opting for a clean install will regain valuable disk space and eliminate the useless files and junk apps causing a slow Mac. Thus, you will both be able to enjoy the top performance of your Mac, all the great features of macOS 10.13, and experience a much faster Mac.

How to prepare your Mac for the clean install
Check macOS 10.13 High Sierra compatibility
Before you can enjoy all the new goodies from macOS High Sierra, you must answer the question: can your Mac run macOS High Sierra?
Nervous? Don't be! You'll be able to upgrade to High Sierra even if you own a Mac as old as 2009. Sure, the hardware might cause you some slight drawbacks and refuse to run all the features, but overall you should be able to enjoy its major refinements. Things look even brighter when it comes to the newer version of Macs, which should support the new operating system without any problem whatsoever.


Go for system cleanup and fast backup
The first step toward a clean install is drive formatting. But act with caution! Before you do anything drastic, cleanup and backup your Mac to keep all necessary files.
Start with a system cleanup: removing everything you don't need, throwing away any duplicates, and erasing all the useless data.Not sure how to do that? Check out How to clean up your Mac for detailed instructions on performing a thorough cleaning.
There are going to be some important files you will want to keep. No matter files, documents, photos, movies, or other apps, you'll want to create a backup for them. Where? That's up to you. You can choose either iCloud or any external storage device.
Alright, let's wipe your Mac clean. You did perform a Mac backup, right? Good! Then you can format the drive!
Here's how:
Go to Utilities and click on Disk Utility. From here, select the drive and hit Erase as you select Mac OS Extended (Journaled) as the format type.
Before you start your new life with the latest macOS, get equipped with a couple of backup and maintenance tools. They will protect you should something goes wrong. The reasonable solutions are Get Backup Pro or Disk Drill.

And the last thing. A new OS needs a fresh Mac, so trim down the fat on your system. Use an app like CleanMyMac X to remove all system junk, large hidden files, and old apps' leftovers.
A step-by-step guide to clean install macOS High Sierra
1. How to download macOS High Sierra
The new macOS High Sierra has long been available for the developers only, but then it became available to the public in Mac App Store.

* Make sure you download the macOS High Sierra Installer to the /Applications folder and leave its default name.

2. Create a macOS High Sierra Bootable USB Drive
A clean install wouldn't be possible without creating a macOS High Sierra Bootable USB drive. So let's go ahead and create one! Find an 8 GB USB stick and ensure it is formatted as GUID Partition Map and Mac OS Extended (Journaled). To check if it is, launch the Disk Utility application. From here, you'll also be able to make the needed changes.
Once you've done this, plug the USB into your Mac and launch Terminal. There are two options: you either go to Launchpad, or you can choose the Spotlight search. Next, write the following command, letter by letter:
sudo /Applications/Install\ macOS\ High\ Sierra.app/Contents/Resources/createinstallmedia --volume /Volumes/USB --applicationpath /Applications/Install\ macOS\ High\ Sierra.app --nointeraction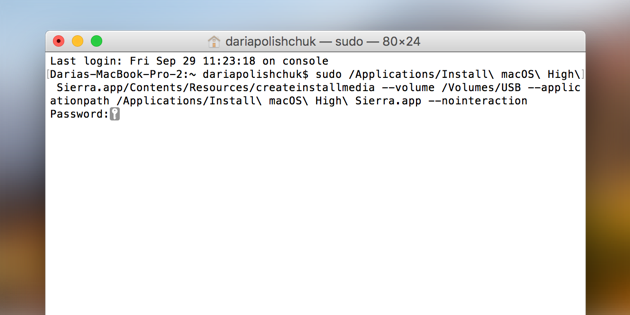 Ready? Great! Hit return, enter your admin password when prompted, and follow the instructions to complete the process. In about 15 to 30 minutes, you'll have your bootable USB and be one step closer to macOS High Sierra's world with exciting new features.

3. Clean Install macOS High Sierra from USB Bootable Drive
Great, you've got this far! Now, it's time to hit the install button and leverage all your completed steps. Take your bootable USB and connect it to your Mac. To continue, restart your Mac while pressing the Option Key.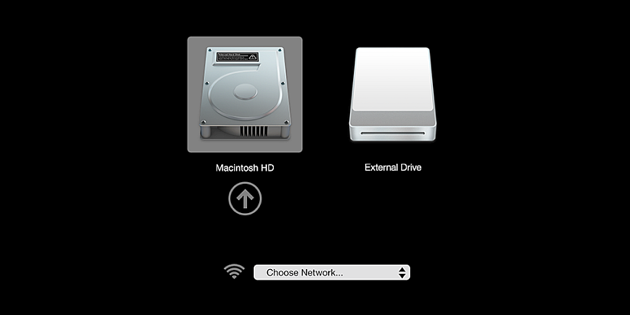 It will open the Startup Manager so you can start the clean install. Proceed by erasing your hard drive from Disk Utility. Once you've deleted this, go back to the main menu and hit install. The steps will be prompted to you on screen, and you'll easily be able to complete the installation. Voila! Now enjoy macOS High Sierra!
There you have it! A step-by-step guide to clean install macOS High Sierra Bea and be able to explore the brand new features. Do let us know what you think!