How to dual boot macOS — Sierra & High Sierra Beta
Do you want to run two operating systems on the same hard drive? Here's a step-by-step guide to dual boot macOS.

The new macOS 10.13 High Sierra is here and the fresh features it brings are more than promising. However, if you're not ready yet to give up on macOS 10.12 Sierra, you can opt to install two operating systems. Maybe you want to see for yourself how the two operating systems perform in comparison, or maybe you need to run apps on both. Whatever the reason, you'll have to carry out a Mac dual boot.
But how? We're glad you asked. Here's a complete guide on how to run two operating systems at the same time or, put in another way, how to have your cake and eat it too.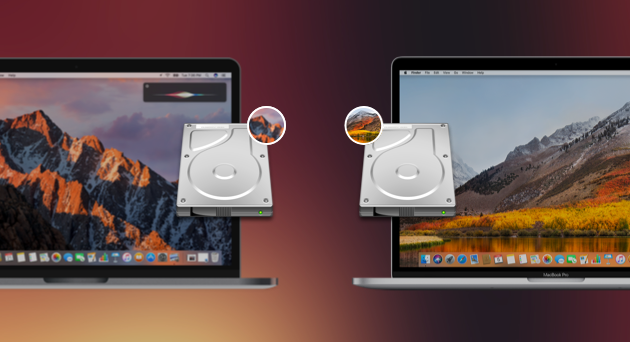 Preparing to install two operating systems on one hard drive
Before you get to juggle between macOS Sierra and its younger twin, macOS High Sierra, you need to make a few preparations in order to store your current data safely and create the necessary space. Here's your quick action plan.
1. Back up your Mac
Because dual booting your Mac involves cleaning of your startup disk, you need to backup a Mac first in order to safely store all your data. You can manually backup files, documents, and apps by copying everything to iCloud or an external drive. Another way, that's even more secure, is to choose Apple's own software - Time Machine - to do a reliable backup that you can later go back to.
2. Clean up your drive
Running two operating systems at once doubles the demands on disk space. That's why a full system cleanup should be your next step. You'll have to remove all the old baggage that lurks in your Mac's memory. It's system junk, application leftovers, and tons of temporary files. To do it without head-scratching you can download CleanMyMac app, that does an automatic cleanup in one go. According to developers, CleanMyMac finds 74 GB of old junk on an average Mac. That should give enough free space for your two systems to operate.
Hit Smart Cleanup
Finish disk cleaning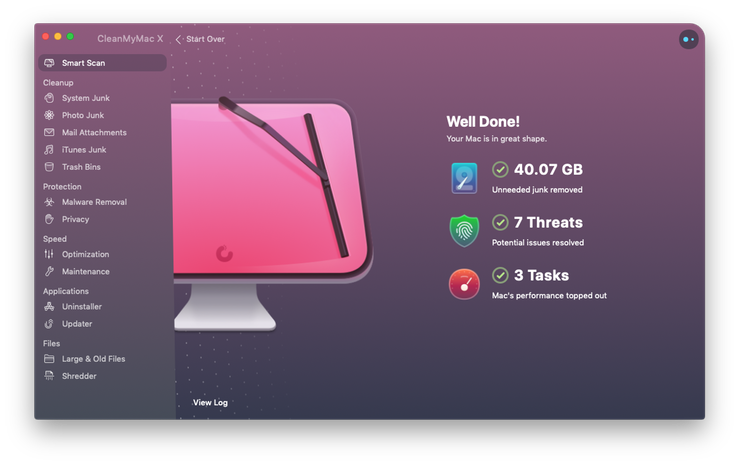 3. Create a second partition on your hard drive
To create a new partition on your Mac, you need to open Disk Utility and select the hard drive which contains your main OS partition. From here, by simply clicking on the Partition tab, you'll be to create an extra partition, name it, and designate its size. macOS High Sierra requires about 8GB of space, so make sure to reserve at least 20GB for a proper-working partition. Once you're happy with all the specifications, click Apply. Mind that the new partition takes some time before it mounts and becomes available for use.
Open Disk Utility
Click Partition tab
Choose partition name and size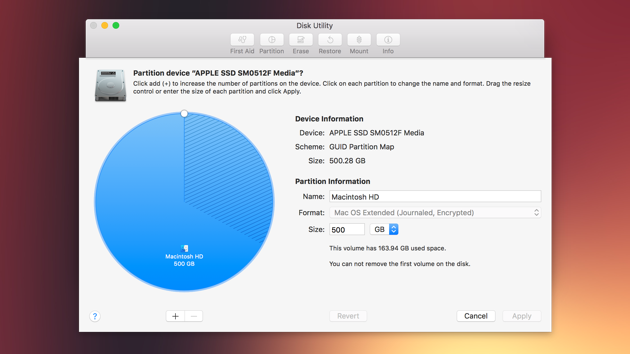 If you're going to dual boot a Mac, but planning to install other another combination of OS, you might also investigate their system requirements. While macOS Sierra and macOS High Sierra's requirements are the same, other pairings might not be so in tune.
But now that you have a second partition, it's time to dig into the actual installation guide.


How to run macOS High Sierra and macOS Sierra on the same Mac
Once you've created a new partition, you can configure a dual boot Mac. The tips for installing the two operating systems are rather straightforward, following the same recipe as the normal install, only in duplicate. So, here are the steps in order to run both macOS High Sierra and macOS Sierra.
Step 1: Install macOS Sierra on the first partition
In order to install macOS Sierra on the first partition, you need to launch the installation in Recovery mode. Once you do, follow the prompted instructions to complete the process and finish the macOS Sierra install.
To enter Recovery mode: Press Command + R during Startup
Step 2: Restore your backup data to the partition with macOS Sierra
Once you've installed macOS Sierra on the first partition, make sure to recover all your important data from the backup. Copy everything on this partition and once again launch Time Machine to ensure your documents are stored safely.
Step 3: Install macOS High Sierra on the second partition
Now, install the macOS High Sierra on the second partition. Take note that currently, the macOS High Sierra is still in Beta version and you need an Apple Developer account to get your hands on it. Once you download the installer, follow the instructions to complete the process. And if you get stuck anywhere along the way, here are a few tips to help you through: How to install macOS High Sierra

Alternative way to run two operating systems on a Mac
Creating a second partition on your hard drive is not the only way to dual boot Mac. To run two operating systems at once you could try a virtual machine. A virtual machine is a piece of software that emulates the OS environment and will allow you to easily switch between different systems.
There are a few virtual machines out there that could help you get the job done. You can try and compare Parallels, VMW Fusion or VirtualBox. Some of these virtual machines are free to use, some require a subscription, and others a one-time payment.
Although virtual machines are easier to use and have a simpler setup process, they may possibly slow your Mac down. It's because VM's are memory-demanding, so you'll need to have at least 6 GB RAM (if your Mac allows it).
And that's all there is to it. Happy testing two operating systems at the same time!