How to Run a Clean Install of macOS Sierra
macOS Sierra is a fantastic update arriving from Apple to make us love our Macs even more. It has plenty of new features, and also has the same easy clean install and upgrade flow as did the previous OS.
LEARN MORE: How to Clean Install the macOS High Sierra?

Note, that getting an upgrade is the easiest way of installing the new macOS. It saves all your personal files, apps and user data, while a so-called clean install of Sierra will erase all data on the startup drive and replace it with a clean copy of OS. But, if you like an idea of giving your Mac a fresh start with a new macOS and nothing else, a clean install is the right option for you.
Also, in case you've noticed that with time your Mac is running slower, it has unusual startup or shutdown issues and crashes, a clean install may be a good way to get back the speed and fix the problem.
First of all, make sure that your Mac is able to run MacOS Sierra.
Then, you should prepare your Mac for the installation:
Download macOS Sierra Installer from the Mac App Store. Once the download completes, it will automatically launch. Quit macOS Sierra Installer app without performing the installation.
Take a 16GB or larger USB flash drive to create a bootable Sierra installer. This flash drive is only needed for a clean install on your Mac's startup drive. But if you plan to clean install on a non-startup drive (you have and extra HDD or SSD on your Mac), you don't need the USB.
Backup your Mac to ensure your personal data is intact.
---
Clean Install macOS Sierra on Your Mac's Startup Drive
If you're going to perform a clean install on the startup drive, you need to backup your data, create a bootable copy of the installer, and, finally, boot from the bootable installer. So, let us begin.
Step 1: Clean up your Mac
To make sure Sierra has no troubles installing and works fine after, you need to get rid of system junk on your Mac first. You could clean it up manually, but using a cleaning app like CleanMyMac X will save you hours on that. Junk removal with CleanMyMac takes only a few minutes. Download CleanMyMac for free, launch it, click Scan, and then Clean. Now you've got plenty of free space and your Mac is free from system trash.
Step 2: Back up your data
Note: A clean install of macOS Sierra on the startup drive completely erases all data on that drive: all your files and documents, including music, movies, pictures, and even apps.
So, If you skip this step, you wouldn't be able to recover your data if something goes wrong.
To backup your Mac:
Open Time Machine.
Click Select Disk.
Choose where you wish to save your files (to the external drive or to the cloud storage).
Click On to turn Time Machine on.
Click on the "arrow clock" icon and select Back Up Now in the menu bar at the top of the screen.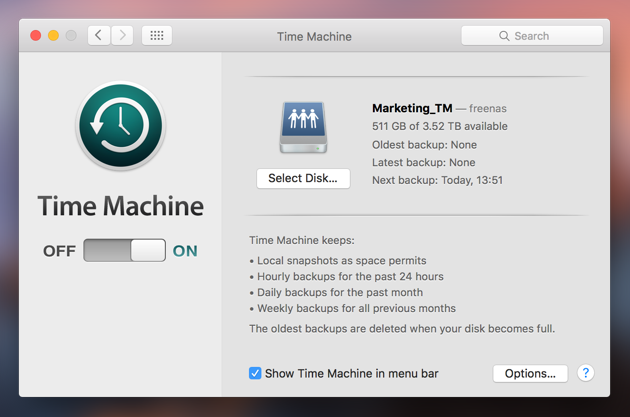 Step 3: Clean Install macOS Sierra on your startup disk
1. Create a bootable flash drive with macOS Sierra.
First, make sure your USB flash drive is formatted and named as "Untitled".
To format a USB drive launch Disk Utility (Finder -> /Applications/Utilities/Disk Utility).
Select your USB drive under External.
Click the Erase tab at the top of the Disk Utility window. Select Mac OS Extended (Journaled) from the format list. Then, click the Erase button. When the process is complete, click Done, and close the Disk Utility window.
If your drive is named something else, you need to rename it (Open Finder -> right click on the USB drive and choose Rename).
Now, your USB flash drive is ready.
Launch Terminal (Finder Applications Utilities Terminal)
Enter the following text into Terminal:


sudo /Applications/Install\ macOS\ Sierra.app/Contents/Resources/createinstallmedia --volume /Volumes/Untitled --applicationpath /Applications/Install\ macOS\ Sierra.app --nointeraction

Hit the Enter key.
Terminal will ask you for an admin password (the one you use to log in). It won't display characters when you type, so just do it. Hit Return. You'll see that Terminal erases your drive. Then, Terminal will copy the installer file to your disk. This will take a few minutes. When the process is complete, the Terminal window will report "Done." You can quit Terminal and your bootable macOS Sierra installer USB drive is ready for use.
Also, you can follow the instructions from an Apple article on how to create bootable installer.
2. Plug in the bootable macOS Sierra installer USB drive to your Mac.
3. Restart your Mac while holding the Option key or Cmd+R. Make sure to keep it pressed!
4. When Mac restarts, you'll see the macOS Startup Manager with a list of bootable devices that your Mac can start up from.
5. Use the arrow keys to choose your USB drive with macOS Sierra installer. Press Enter.
6. Select Disk Utility.
7. In the window, at the top of the left bar, select your Mac's Main Drive (it looks like a MacintoshHD).
8. Select the Erase tab located next to the First Aid button at the top.
9. Near the center of the window, select the Format drop-down list and select Mac OS X Extended (Journaled) type.
10. Click Erase (Note: this will erase all your data from your main drive!) and give the drive some time to format.
11. When it's done, close Disk Utility and select "Install macOS" from the menu.
12. Select your main drive and install the new macOS Sierra 10.12.
Follow these Sierra install instructions and enjoy your newly clean-installed macOS Sierra.
---
Clean Install on a Non-Startup Drive
This type of clean install doesn't require you to make a bootable copy of the macOS installer, since you can run the installer directly from your Mac's startup drive. But you need to have another hard drive or volume that you can use for installing macOS.
So, this is the easiest way to clean install macOS 10.12. Simply use an extra drive or volume (it doesn't have to necessarily be empty already, you just need to be fine with it being erased) and install Sierra there.
Step 1: Erase your non-startup drive
If your non-startup drive has any other Mac OS, erase it before installing Sierra. If the target drive only has personal data on it, or is already empty, you can skip the erase process.
To erase the non-startup drive, use a Mac's Drive Using Disk Utility (OS X El Capitan or later)
After the non-startup drive is erased, you can start the install process.
Step 2: Download the macOS Sierra Installer from the Mac App Store
When the macOS download completes, it will automatically launch the installer. Quit the macOS Sierra Installer app without performing the installation. You'll find the macOS Sierra Installer in the /Applications folder.
Step 3: Start the Installation of macOS Sierra on the Non-startup drive
Launch the Installer from /Applications folder.
Click Continue.
Check the non-startup drive that you can install Sierra on (usually, the installer will display the default target for the installation of macOS Sierra as the startup drive (Macintosh HD). So, you should to click the Show All Disks button, and the installer will display a list of all attached volumes).
Click the Install button.
The macOS Sierra installer will display a progress bar. You'll be guided through the macOS Sierra setup process to create a user account, set up date and time, and other introductory stuff.
Enjoy your fresh, clean-installed macOS Sierra.