How to Delete Cookies on Mac? – Guide for: Safari, Chrome & Firefox
Here's a handy guide on how to delete cookies on Mac. Removing cookies is naturally directly connected to the browser you use. To make it easier, we'll go over each and show you how to clean up cookies from the three most popular browsers: Firefox, Safari, and Chrome.
Before we plunge into details, I should say there's an easier (and a considerably faster) way to cleaning cookies, with an app like CleanMyMac X. Try it, it really saves time. Now, let's figure out why you want them deleted.
---
What are internet cookies?
Cookies are parts of information (tiny pieces of specific data) sent from websites you visit to your browser. Cookies identify you and help these websites recognize you when you return.
Why are cookies important?
These pieces contain information about your online behavior, which allows websites to tailor your browsing experience to your preferences. Cookies also allow you to stay logged in on the website even if you close the tab.
As web servers have no memory to store cookies, they are instead saved to your Mac. Some of them get erased when you close your browser, others (permanent cookies) exist on your hard drive until you remove them.

---
Why is it important to clear cache and cookies?
While the cookies are definitely good for the website's marketing team, they might turn out to be useless for you. Some sites raise prices with every new visit by the same user; some offer you the items you might not want to see again (like items you already purchased) or show you old usernames you don't use anymore.
If you feel like your browsing experience isn't as pleasant as it was before, maybe the outdated cookies are to blame. So, here's how to clear cookies on your Mac.
---
How to clear cookies: the quick way
It's not hard but takes some time if you use multiple browsers. In case, you're not into wasting efforts on cookie-brushing each time you need it, we recommend CleanMyMac X. It's an amazingly useful app, specifically when it comes to dealing with browser junk. It cleans cookies, caches, histories, plus removes system junk from the Mac itself.
To clear cookies with CleanMyMac X:
Download the app (a free trial is available).
Go to the Privacy module and choose your browser.
Tick the cookie icon, and hit Remove.
Voila!
The Privacy module erases all traces of your online activity from multiple browsers. Moreover, it also allows you to conveniently manage all your application permissions and control the access to the camera and microphone.
---
How to clean up cookies in browsers manually
To remove cookies manually, chose your browser from the three sets below and follow the steps.
How to clear cookies in Safari
To eliminate cookies in the Safari browser manually you'll have to dig into its settings. It shouldn't take more than a few seconds though. Here's how to clear cookies in Safari browser on any Mac:
Open Safari.
Go to the Safari menu and select Preferences.

Go to the Privacy tab.
Press Manage Website Data.
Hit Remove All.
How to clear cookies in Chrome
To delete cookies in the Chrome browser manually you have to get into its "Privacy and security" section. Here, you can manage all the website data and control site settings. So to clean cookies in Chrome browser:
Open Chrome.
Type chrome://settings into the address bar.
Go to the "Privacy and security" section.
Click "Clear browsing data."
Choose "Cookies and other site data."
Press "Clear data"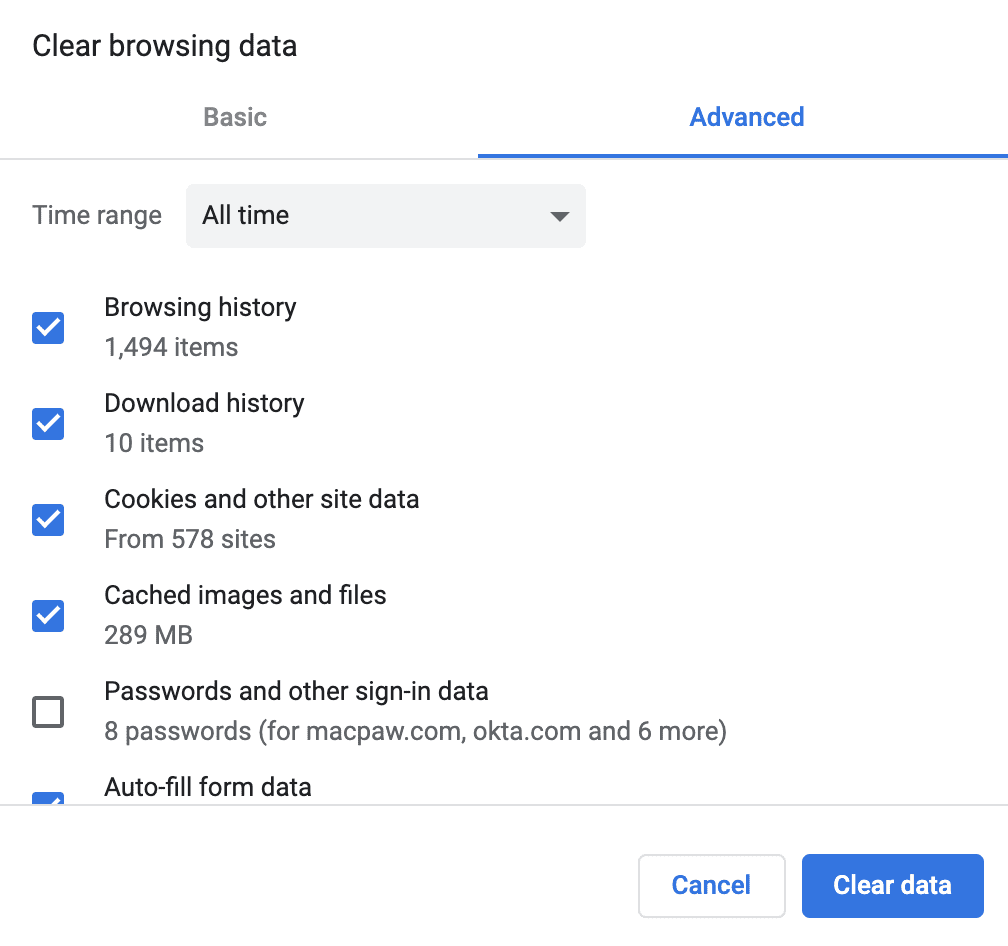 To configure Chrome to clear cache and cookies when you're done using the browser for the day, go back to "Privacy and security." Here, click "Site settings," and then "Cookies and site data." Turn on "Clear cookies and site data when you quit Chrome."

How to clear cookies in Firefox:
Finally, to delete cookies in the Firefox browser you'll have to spend only a few seconds. To clear cookies in Firefox browser:
Open Firefox.
Enter about:preferences in the address bar.
Go to Privacy & Security from the menu on the left.
Choose Clear Data next to "Cookies and Site Data."
Press Clear and confirm.
You can set Firefox to clear cookies every time you close the browser. Just go back to the "Cookies and Site Data" section and check the box next to "Delete cookies and site data when Firefox is closed."

To be on the safe side, you should repeat these steps in your browser once in a while. It's also a rule of thumb to clean up your caches and other stored info. A browser stuffed with the old information may malfunction, show you something irrelevant or get clingy with the advertisement.

Doing it on your own each time is a mess, so CleanMyMac X is a good deal. It reduces the whole ordeal to a few clicks, it's pretty fast, and does a ton more useful things for Mac cleaning. It's free to download, so give it a go.