What Is Intelligent Tracking Prevention In Safari 11 Browser
Apple just rolled out an update for Safari and quite soon it will hit all of our Macs, iPhones, and iPads. It's called the intelligent tracking prevention or ITP for short. If you search for the details on the web, you'll come across tech-related articles on its machine learning and smart classifiers.
Since none of that is of any importance to a regular Mac user, we decided to create an article focused more on what it means for you and your Mac.
Long story short: Safari now deletes all your info about visiting a certain website in 30 days. If you think that's too long and don't want to be tracked at all, try CleanMyMac X and its Privacy feature to clean up your history and cookies from all apps and browsers, not just Safari 11.

Why Apple introduced intelligent tracking
You have a device, say, your iPad. You open Safari and go on buysomestuff.com to look for a new swing chair because you're cool and this is what cool people have at home. The swing chair costs an abominable amount of money so you decide to be cool otherwise and leave.
Before the ITP, you'd be forcefully reminded of that moment of weakness by ads for the swing chair everywhere you go. That's because advertising people at buysomestuff.com have bought Google or Facebook advertising spots on many other websites and you're on their tracking list.
You would stay on their list for ages because they still believe that one day you might want that chair. And they follow you everywhere you go. Apple thought this is kind of creepy and decided to pull away from the stalker theme by introducing a cookie-purger aka intelligent tracking prevention.
How the cookie-purging works
The ad was following you around because when you were on buysomestuff.com you've got a cookie, an identifying number that ad giants like Google and Facebook have kept for themselves to recognize you wherever you are.
Safari ITP allows these so-called 3rd-party sites to keep your cookie active for only a day. For a day they still know what you did with the chair: add it to your cart, drop out on the checkout etc. After a day, they lose track of you, and after 30 days — the very mention of you ever visiting buysomestuff.com is gone forever. Given that you don't visit the website again and restart the circle.
30 days sounds like a lot, what if I want my privacy back instantly?
You might want to retrieve your privacy a little faster that 30 days, that's understandable. In that case you might need a specific tool like CleanMyMac X, an app for Mac maintenance. It has a Privacy module that allows you to clean up all cookies from all websites and all browsers. And do it really fast.
How to prevent tracking instantly in any browser
Open it and find Privacy tab.
Choose the browsers you use.
Select cookies.
Hit Remove.
Repeat whenever you feel like some ad is following you.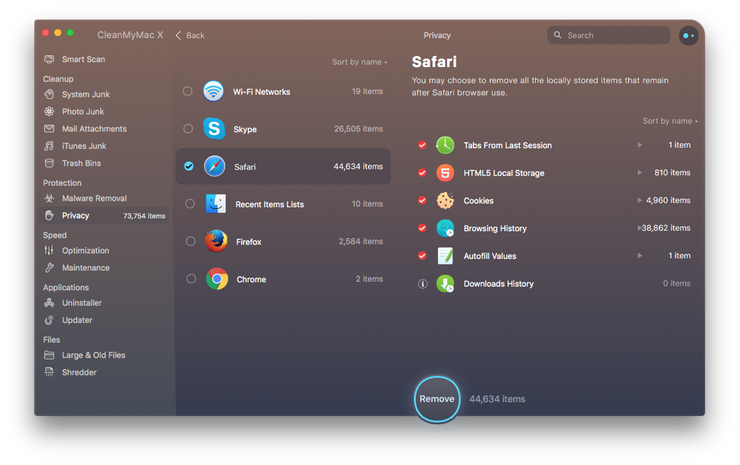 How to block ads in macOS High Sierra Safari?
There's an important difference between ITP and ad blockers for Safari browser. The difference is: intelligent tracking prevention doesn't block ads. You'll still see advertisement, only it will be site-related, or more random but definitely not tied to your previous browsing.
If you wish to block ads, install a Safari ad blocker. It's a whole separate software and there are plenty of them on the web. Simply updating Safari to ITP won't help, since they're not redundant. ITP tracks the kind of advertising you're shown, not the amount of it.
There's also another thing which is a Safari content blocker and that involves blocking unwanted videos, adult websites, automatic redirects, and many more. These kinds of software allow you to have a "cleaner" browsing experience, free from excessive marketing and frustrating content.
That's about it on the subject of intelligent tracking prevention in Safari 11.0 browser and complimentary plugins like ad blocks and content blockers. We hope this article has been of help, cheers.