How to download your photos from Google Photos to your iPhone
People use Google Photos for a variety of reasons. Google Photos can help you save space on your iPhone, or it can be an automatic backup for all of your pictures. If you were to get a new iPhone or need to do a factory reset on your current one, you wouldn't have to worry about your priceless photos — you would be able to download your entire photo library again. And best of all, Google Photos is offered for free. Keep reading to see how you can back up your photo library or download specific pictures.
---
How to save individual photos from Google Photos to Camera Roll
If you only want to download a select handful of pictures, this can be done in the Google Photos app on your iPhone.
Open the Google Photos app on your iPhone.
Select the photo you want to download. (Hold on a photo to select multiple.)
Tap the Share button > "Save to device."
Please note that if any of the pictures you're trying to save are already on your iPhone, the "Save to device" option will not appear.
---
After you download photos from Google Photos to your iPhone
Downloading photos onto your iPhone can quickly start to take up a lot of space, so only keep the pictures and videos you truly want on your iPhone.
Thankfully, you can use an app like Gemini Photos to quickly sort through your photo library and help you get rid of pictures and videos. Here's how to use it:
Download Gemini Photos and launch it to start scanning.
Tap Similar.
Choose one of the groups of pictures.
Select all of the photos you want to delete.
Tap Move to Trash.
When you're finished with similar photos, tap Your Library.
Go through each of the other categories like Duplicates, Videos, Screenshots, etc.
After you're done cleaning with Gemini Photos, open the Photos app on your iPhone.
Tap Albums > Recently Deleted > Select > Delete All to remove those pictures from your phone.
---
How to download photos from Google Photos to Files, Google Drive, or iCloud Drive
Maybe instead of saving your pictures from Google Photos onto your iPhone, you want to save them in another cloud service. Fortunately, you can do that as well.
On your iPhone, open Google Photos.
Select the picture(s) you want to save.
Tap the Share button > Share to… > Save to Files.
Choose where you'd like to save your pictures.
How to download all photos from Google Photos
Downloading your entire library from Google Photos can be a bit of a process, but the good news is that it can be done. You will have to download your pictures to a computer and then sync them back over to your iPhone.
On your computer, go to photos.google.com.
There is no select all in Google Photos, so you have to select your most recent picture, hold down shift, and then select your oldest picture.
Click the three dots in the top right corner.
Click Download.
Depending on whether you're using a Mac or a PC, continue to the respective section.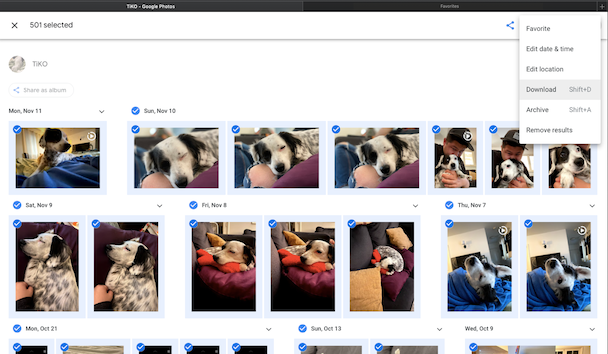 If you're using a Mac:
Open the Photos app on your computer.
Click File > Import. Note: If you're using iCloud to sync your photos to your iPhone, then you're done after this step.
Plug your iPhone into your Mac.
Open iTunes.
Click the iPhone in the top left.
In the sidebar, click Photos.
Check Sync Photos and select the Photos app, if not already selected.
Click Apply.
If you're using a PC:
Connect your iPhone into your PC.
Open iTunes if it doesn't open automatically.
Click on the iPhone icon in your upper left.
Click on Photos in the sidebar.
Check Sync Photos.
In the "From" drop-down, select Choose Folder.
Select the folder of downloaded Google Photos.
Choose to either sync all or just selected folders.
Click Apply in the bottom right corner.
Depending on the size of your photo library and your internet connection, this process can take a bit of time. Just be patient because you are downloading and transferring a lot of data.
---
Google Photos can be a lifesaver in so many ways. Whether you're using it to save space or back up irreplaceable pictures, it's a quick and easy solution. And hopefully, after reading this article, you're able to re-download all of those memories you have saved.