Here are all the ways to dual boot High Sierra and Mojave
If you're excited about the release of the macOS Mojave and are keen to install it and try it out, but need to be able to run High Sierra as well, you can create multiple volumes on your startup disk and boot from whichever one you choose.
So, why dual booting is a good idea? For example, High Sierra was the last version of macOS that fully supported 32-bit applications. It's likely that in Mojave, if a 32-bit app runs at all, it will have problems with performance and stability. Microsoft Office 2011 is 32-bit, as is Adobe CS 6. So, if you want to keep using those apps, you'll need to run them in High Sierra. That means you'll need to install macOS Mojave on a separate volume.
There are several different ways to dual boot High Sierra and Mojave beta. You could run a virtual machine, say Parallels Desktop or VMWare Fusion, and install Mojave on that. Or you could install Mojave on an external drive and boot from that when you want to use it. However, if you want the best possible performance, it's better to install the OS natively on its own volume.
Step 1: Create space on your startup disk for another volume
Running two different versions of the operating system on the same drive takes up lots of space, especially when you install applications and start using them. To free up space for the new volume, you should uninstall any apps you don't use and get rid of 'junk' files the OS has created but aren't needed. These include temporary files, caches, and files created by Photos and iTunes.
The easiest way to remove all those files and free up space is to run CleanMyMac X. In just a few clicks, you can remove up to 74 GB of junk files. Here's how to use it:
Download CleanMyMac (for free) and launch the app.
Click Run to start the Smart Scan.
Click Remove.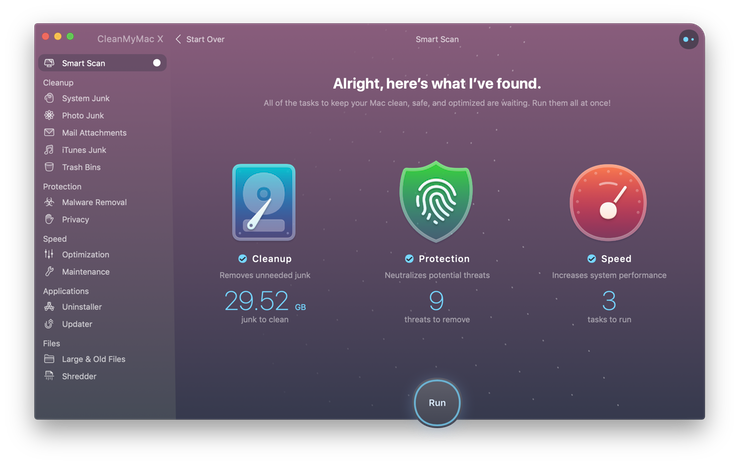 Then you can go to the Uninstaller tab and remove the apps you no longer use or need. Plus, consider using the Large & Old Files tool that allows you to scan your system for files you didn't open for months and delete the unneeded ones. That will save you tons of space.
Step 2: Create a new partition or add a volume
Until High Sierra, the only way to add a new volume to your startup disk was to partition it. High Sierra introduced a new file system, APFS and that added a new way to create volumes.
How to choose whether to create a new partition or add a volume
If your Mac's startup disk is formatted using MacOS Extended, even if it's running High Sierra, you should follow the instructions to partition the disk. If it's formatted as APFS, you should use the 'Add a volume' method. APFS disks are containers that can house multiple volumes. Storage space for each volume is managed dynamically, meaning that free space can be swapped from one volume to the other as necessary.
Here's how to check the format of your startup disk:
Go to the Apple menu and choose About this Mac.
In the Overview, click System Report.
Choose the Storage section under Hardware.
The fourth item down on the list, File System, will either say APFS or MacOS Extended.
How to partition your hard drive
Partitioning a drive doesn't erase it. However, as with any process involving low level tasks on a disk, it carries a risk of data loss. So, you should always backup your Mac before partitioning a disk. You can do that by running a Time Machine backup manually just before you start, if you use Time Machine. If you don't use Time Machine, run a backup using application you normally backup with. If you don't have a regular backup routine, clone you startup disk using a tool like Get Backup Pro, CarbonCopyCloner, or SuperDuper.
Backup your hard drive. Don't do anything more until that's done.
Go to Applications > Utilities and launch Disk Utility.
Click the Partition button in the toolbar.
You'll see a pie chart representing the two volumes.
Click the "+" button.
Disk Utility will split the volume in two. If your startup disk has more than half of its capacity free, the volumes will be of equal size. Otherwise, one will be big enough to house the existing data, and the other will be whatever free space is left.
Click on each volume in turn and name them Mojave, for the new volume, and High Sierra for the existing one.
Type in the data size you want for each volume, or drag the slider on the pie chart.
Click the Format menu and select Mac OS Extended (Journaled).
Click Apply.
Choose Show Details to display the step-by-step process for creating a new volume.
When Disk Utility reports that it's finished, click Done.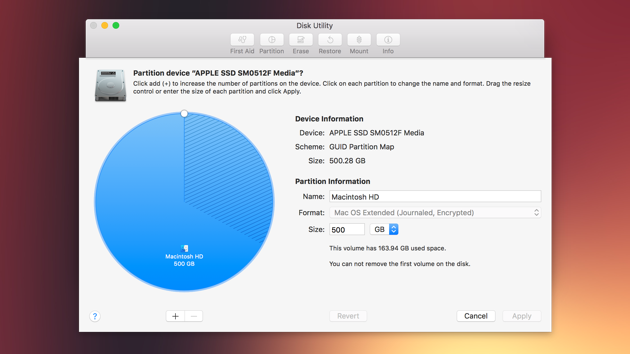 You'll now see two volumes in the Finder, one called High Sierra and one called Mojave.
Launch the App Store and go to the Updates section.
Find the Mojave update there.
Click Update.
Once the download has finished, click Continue.
Agree to the terms.
Click Agree to confirm you've read the terms.
Choose Show All Disks to see your new partition.
Select the Mojave partition.
Click Install.
Once the installation has finished, your Mac will restart into the Mojave partition and you'll see the Setup Assistant. Follow the instructions onscreen to set up Mojave. You'll be given the option to transfer data from another Mac, which could be your High Sierra partition, or from a Time Machine backup. It's up to you whether you choose to do that or run Mojave as a completely clean install.
To reboot into High Sierra, go to the Apple menu, choose System Preferences and click on the Startup disk pane. Choose the High Sierra partition. Whenever you want to boot into the other version of macOS, just go back to System Preferences > Startup Disk and choose the one you want.
How to add a volume to APFS drives
If your Mac's main disk is formatted as APFS, Apple recommends that you add a volume, rather than partition your drive.
Go to Applications > Utilities and launch Disk Utility.
Click the View button in the toolbar and choose Show All Devices.
Select an existing APFS volume in the sidebar and press the Add Volume button (it's a disk with a "+"on it) in the toolbar.
Give the new volume a name, say "Mojave."
Click the Format menu and choose APFS.
If you want to set maximum or minimum storage limits for the volume, click Size Option and enter values. "Reserve" is the minimum size the volume can be and "Quota" is the maximum. When you've done that , click Ok.
Click Add.
You can now install Mojave on the new volume by following the instructions above
Step 3: Install macOS Mojave on an external disk
The process for installing Mojave on an external disk is very similar to the one for installing it on a new volume. You can use an external hard disk, SSD, or USB flash drive. Just make sure it's at least 16GB in capacity.
Plug the drive or USB stick into your Mac.
Launch Disk Utility.
Click on the disk in the sidebar.
Choose the Erase tab.
Give the disk a name.
Click the Format menu.
Choose MacOS Extended (Journaled) or APFS.
If the partition map menu is available, choose GUID Partition Map.
Press Erase.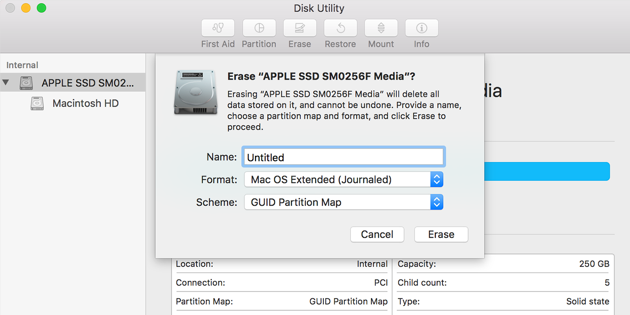 Once your drive is erased, you can install Mojave. If you need some help, here's a comprehensive guide on how to do that.
Running two versions of the operating system on the same Mac isn't for everyone. But it's not difficult to do, and it's perfect if you want to try out the public beta of Mojave, but still need to run High Sierra. Follow the instructions above to dual boot High Sierra and Mojave and you'll be running both in no time.