The beginner's guide to iCloud Photo Sharing
With iCloud Photo Library, you can access all of your images, videos, GIFs, and screenshots on all your devices. But that's not the only way you can share photos using iCloud and what's more, you don't have to share your whole library. Even better: if you want to share photos with someone, that person doesn't need to be using an iOS or macOS device. iCloud Photo Sharing allows you to do all that, and this quick guide covers everything you need to know to use the feature.
---
What is iCloud Photo Sharing?
Within your iCloud settings on iPhone, you've got three options for photo sharing. iCloud Photo Sharing is one of those, giving you the ability to privately share an album with other people you invite. You can grant or revoke access, upload and share up to 5000 photos or videos, and none of this impacts your iCloud storage limit.
Is iCloud Photo Sharing the same thing as iCloud Photo Library?
No, these are two separate features of iCloud.
iCloud Photo Sharing gives you a photo sharing experience similar to that of social networks. You share albums privately with friends, family or colleagues — up to 100 invites are available for every album. Anyone who's part of this shared album can comment, like, or upload their own photos and videos. And the great news is, shared albums don't count towards your iCloud storage limit, giving you and contributors to the album the ability to store up to 5000 photos and videos. Once you hit that limit, you will need to delete something before uploading new content.
iCloud Photo Library, on the other hand is a way to share your photo library between all iOS or macOS devices you own, without the invites feature of iCloud Photo Sharing. And My Photo Stream, in turn, allows sharing only the latest photos between your own devices.
Perhaps aware of this common confusion, Apple has rebranded iCloud Photo Library as iCloud Photos, and iCloud Photo Sharing — as Shared Albums. But since many Mac and iPhone users still refer to the feature as iCloud Photo Sharing, we'll call it that for now.
---
How to use iCloud Photo Sharing
Sharing photos between people is simple. All you need to do is make sure everyone has iCloud Photo Sharing enabled on the devices they're using.
Setting up iCloud Photo Sharing
To set up iCloud Photo Sharing, follow these steps on your iOS device:
Go to Settings
Click on your name at the top of this list of menu options
Go to iCloud
Underneath the iCloud storage indicator, you'll see a list of Apps Using iCloud
Click on Photos (it should be the top option)
Switch on iCloud Photo Sharing (Shared Albums in iOS 12)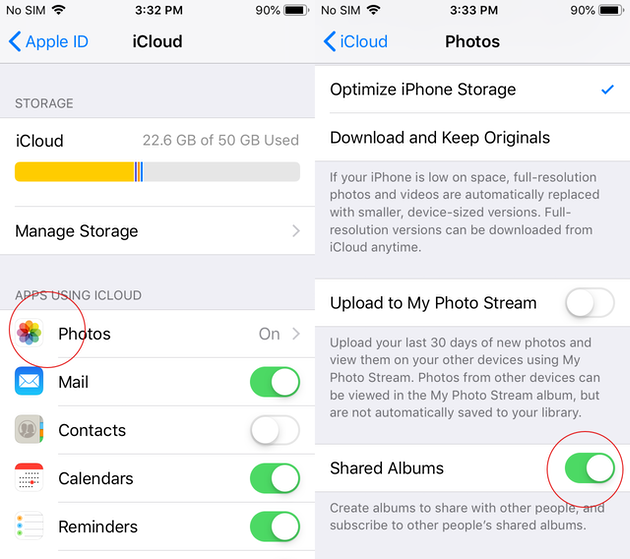 On a Mac, the process is similar, and you can create and share albums using the Photos app.
To enable iCloud Photo Sharing on macOS:
Launch the Photos app
Go to Photos > Preferences from the menu bar
Select the iCloud tab
Check the iCloud Photo Sharing box (Shared Albums in macOS Mojave)
How to share a photo album with iCloud Photo Sharing
To share photos with other people, you need to create a Shared Album. Here's how you do that on an iPhone or iPad:
Open Photos and tap Albums at the bottom
Tap the + in the top left-hand corner
Select New Shared Album
Once you've named your Shared Album, tap Next
Invite subscribers by email (these should be the email addresses they use for iCloud) or add them from iPhone's Contacts using the Add button
Tap Create
Invitees will get a notification, either through email or their iPhones notifications. To make sure they can add their own photos or videos, tap People in the shared album settings (where you invited everyone), then turn on Subscribers Can Post.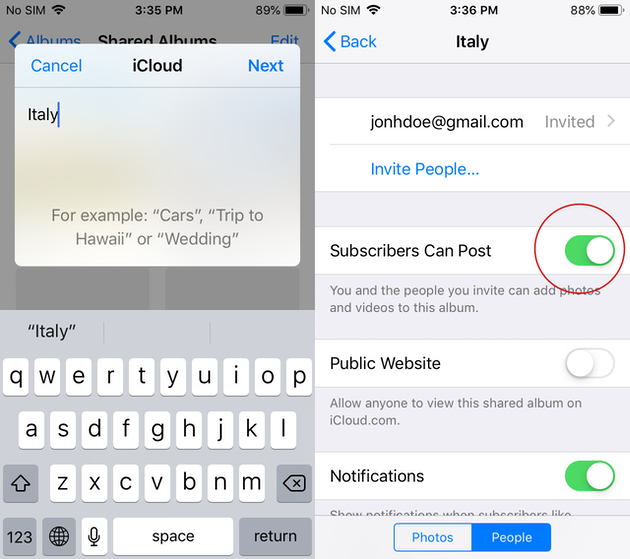 On a Mac, the process is pretty straightforward as well:
Select the photos you want to share
Tap the sharing button (a square with an arrow) in the toolbar
Select Shared Albums
Click New Shared Album and enter a name for it
Directly below the name field is an Invite People box with a + button
Invite as many people as you want using their iCloud email addresses (up to 100)
Tap Create
How to share an existing album on iCloud
As the album creator, you can add or remove people at any time. To add people on your iOS device (iOS 8 or later), just do this:
Tap on your Shared Album in Photos
Tap People
Tap Invite People
Either enter email addresses or use the Add button to invite people from your contacts
Tap Add
To invite people on a macOS device:
Open the Shared Album in Photos (you'll find all your Shared Albums in the left-hand menu)
Click on the People icon in the toolbar
Click Invite People
Add their email addresses
Hit Enter/Return on your keyboard
At present, there seems to be no way to share a regular album you've already made. Copying images into a new Shared Album, then inviting people is the easiest way to get others to view and contribute to the album.
How to view shared albums on iCloud
On an iPhone or iPad, you can view and contribute to a shared album in the Photos app.
Launch Photos
Go to the Shared tab
Select the album you want to view
On a Mac, the album will be in the sidebar of Photos, under Shared Albums.
Another way to view, comment and upload images is through iCloud.com, making it easier for those who are taking part in the album from Windows or Android devices.
How to stop sharing photos and remove subscribers
Album creators can always delete images, videos, comments and remove members from Shared Albums. Anything you delete is automatically deleted across every device with access to the shared album. Subscribed members might have been notified to changes, such as a comment, before it was deleted.
If you ever need to revoke access, a subscriber can easily be removed.
Here's how to remove a subscriber on an iOS device:
Go to the Shared Album
Tap the People button at the bottom of the screen
A menu will appear showing who it has been shared with
Click on the people you want to stop sharing with
Scroll to the bottom of the contact and tap Remove Subscriber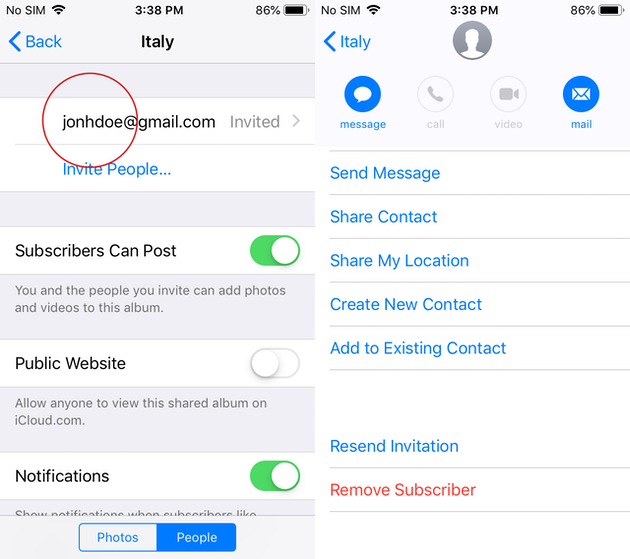 When you've created a Shared Album on a Mac, you can remove subscribers in the Photos app. Here's how:
Open Photos
Click on the Shared tab
Go to the album you want to modify
Click on the People icon in the top toolbar: this will show you who it's been shared with
A menu will appear. Select the person you want to remove from the album.
Click on the arrow to the right of their name
Now click Remove Subscriber
iCloud Photo Sharing not working: Why can't I see shared photos?
There could be a few reasons this isn't working. As the album creator, you may have hit the upper limit of images and videos (up to 5000) or subscribers (up to 100), which could prevent sharing from working. Or, maybe you've got poor signal or WiFi connectivity, which can prevent you from viewing images and comments.
As one of the subscribers, you might want to check if the album still exists or if you've been removed, which is always at the discretion of the album creator.
---
We hope this quick guide proves useful for anyone wanting to share photos with friends and family. Apple makes this quick and easy, so that everyone can join in, share memories, and relive happy moments together.