My Photo Stream: What is it and how to use it?
Do you know the frustration of looking for a photo on your computer only to realize it's on your phone? Or trying to show someone a picture from your vacation only to remember you took that pic with your DSLR camera, so it's on your computer at home? It's this exact pain point that Apple tried to alleviate with My Photo Stream.
---
What is My Photo Stream?
Think of it as a feed of all your most recent photos. With the exception of Live Photos, My Photo Stream automatically uploads 1,000 pics from the last 30 days from each of your devices. So regardless of which device you're using, your latest photos are on it.
iCloud Photo Library vs. My Photo Stream
You might be wondering what the difference is between iCloud Photo Library (iCloud Photos in iOS 12) and My Photo Stream. While they offer similar functionality, it's best to think of Photo Stream as a means of syncing pictures between devices, whereas iCloud Photo Library is more akin to a backup for your photos.
iCloud Photo Library tends to be a little more robust than My Photo Stream. It's not limited by the number of files and can keep photos for longer than 30 days. It also supports a broader array of file formats for photos, as well as Live Photos and videos.
I'm sure at this point you're asking yourself why you'd even bother with Photo Stream over iCloud. Let me quickly bring up one point about My Photo Stream: it's free. That's right, anyone with an Apple ID has access to it without requiring any additional cloud storage.
In other words, both have their benefits, and each serves a specific purpose. My Photo Stream is just a nimble way to access your recent photos on all your devices.
What's the difference between Camera Roll and My Photo Stream?
The simplest way to explain the difference between your Camera Roll and Photo Stream is that your Camera Roll is where all the pictures you've taken with your iPhone are, whereas My Photo Stream syncs only the most recent ones, so you can access them on other devices.
Does My Photo Stream use iCloud storage?
Unlike iCloud Photo Library, My Photo Stream doesn't use any iCloud storage. It does, however, take up space on the devices it syncs with, which is why there is a limitation of only 1,000 pictures and only from the last 30 days.
---
How to use My Photo Stream on iPhone and Mac
The beauty of My Photo Stream is that once you turn it on on each of your devices, you're all set. My Photo Stream automatically uploads your photos, so there's no additional thought or action required from you. You can set it and forget it!
Before you upload to My Photo Stream
Now that you know Photo Stream is limited to only 1,000 most recent photos, you should be smart about what you're uploading. The last thing you want is to waste that limited amount on dozens of only slightly different shots from the trip you took last weekend.
So before you turn on My Photo Stream, take a few minutes to clean up your Camera Roll with Gemini Photos for iPhone. It helps you quickly find and delete unneeded similar photos, so that only the best ones make it to My Photo Stream. Gemini Photos also detects blurred shots, screenshots you may no longer need, and other clutter.
Here's how you delete similar photos on your iPhone:
Download Gemini Photos from the App Store
Launch it to scan your Photos library
Go to Similar. Similar photos will be grouped and pre-selected, with the best photo in each group remaining.
Review a group of pics and tap the Trash icon to remove selected
Repeat for other sets of similar pics and tap Delete at the bottom
That's it! Just like that you've got an organized photo library that's ready for My Photo Stream.
---
How to switch on My Photo Stream
With your photo collections all cleaned up, let's go ahead and turn on My Photo Stream. We'll go through how to do this on both your iPhone and Mac. On your iPhone:
Open Settings on your iPhone.
Tap on your Apple ID account
Go to iCloud > Photos
Turn on the switch Upload to My Photo Stream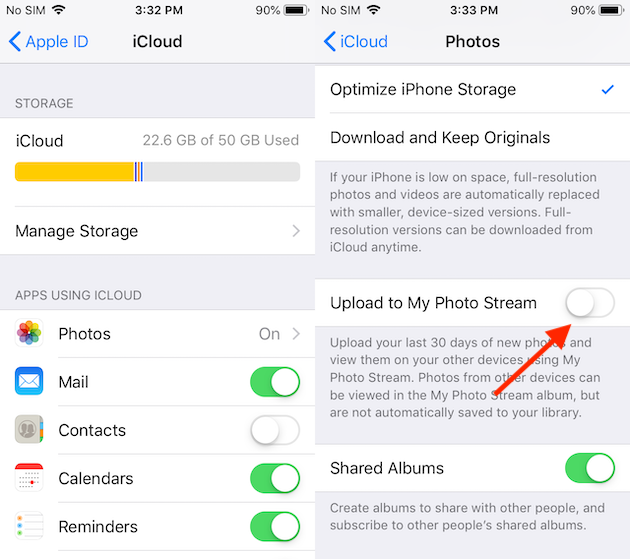 On your Mac:
Open the Photos app
Click Photos in the menu bar
Go to Preferences > iCloud
Check the box for My Photo Stream
---
How to turn off My Photo Stream
If you decide Photo Stream isn't working out for you, you can turn it off without deleting any photos from your iPhone or Mac. Turning off My Photo Stream on one device does not turn it off on all of them, so this is a process you'll have to do on each connected device.
Follow the steps below to turn off My Photo Stream on iPhone:
Go to Settings
Tap on your Apple ID account
Select iCloud and then Photos
Turn off the toggle for My Photo Stream
And this is how you switch it off on Mac:
Open the Photos app
Go to Photos > Preferences > iCloud from the menu bar
Uncheck the box for My Photo Stream
---
Why is My Photo Stream not updating?
If you check out your Photo Stream and it looks like it's not updating, here are a couple of things that may be causing the issue.
My Photo Stream doesn't update over cellular. On iPhone, My Photo Stream only uploads when connected to Wi-Fi. On Mac, it requires a Wifi or Ethernet connection.
Check your battery. To conserve power, My Photo Stream stop syncing if the device's battery drops below 20%.
Make sure Photo Stream is turned on on each device.Just because you have it on on your iPhone doesn't mean it's turned on on your Mac.
Make sure you're using the same Apple ID. My Photo Stream only syncs with the Apple ID it's connected to, so check if you're logged in with the same Apple ID on all your devices.
---
Now that you've got the basics of My Photo Stream covered, it's time to test it out. Take all the pictures you want and try syncing them between your iPhone, your Mac, your iPad, what have you. Once you have Photo Stream all set up, you can snap photos away, knowing that when you get back to your Mac, your new pics will already be there.