Best cloud storage for your photos in 2021
Think about the best picture you've ever taken. It doesn't matter if it was with your phone or that shiny camera you have. Would you be upset if you something happened and you lost the photo? Chances are, you would.
But fear not, gone are the days of having to explain to your spouse how you lost all the pictures of your newborn or why your honeymoon only exists in your collective memories — hypothetically, of course, not speaking from any kind of previous experience here. Now there are countless cloud-based services for storing your pictures safely. We'll go over three best cloud storage options for photos and compare their free and paid plans.
---
What is a cloud storage service?
Cloud storage can be used for many things. But most people like you and I will simply use it to store files. Think of it like an external hard drive that's not physically in your possession. A cloud storage service comes with the obvious benefit of always being connected to it. So, as long as you have a working internet connection, you'll be able to backup your files.The services you'll be reading about are designed specifically for your photos. And deciding which service will work best for you depends entirely on what features you're looking to get. Do you want to be able to sort your pictures? Do you want to create collages and slideshows with them? Or do you simply need a place to store them without any bells and whistles?

The best online photo storage sites we know
So what are your best photo storage options? Well, there are a couple of things to consider before jumping to that answer. The best 5 online photo storage sites that we're going to look into are:
Apple iCloud
Google Photos
Amazon Photos
Microsoft OneDrive
Adobe creative cloud
We'll see what each of these cloud-based services offers in their free and paid plans. And since we're on a quest for the best place to store your photos, we'll get into the major differences between them, so you can weigh out the pros and cons before making your choice.
---
Before you upload photos to the cloud
One of the main differentiators between these cloud photo storage sites are their storage limits. When gigabytes cost you, you might want to get frugal about the content you're uploading and unclutter your photo collection before you sync it to the cloud. That means you should:
remove duplicate photos, like those you saved to your iPhone twice
find and sort out similar shots, like five identical selfies of you in The Grand Canyon
clear out old screenshots, pics out of focus, and other junk
To get rid of similar photos and photo clutter on iPhone, download an app like Gemini Photos. It will scan your devices for duplicate and even similar pics. Download it for free and check it out.
---
iCloud Photo Library: Apple's native cloud photo storage
Apple's iCloud Photo Library (iCloud Photos in the latest OS versions) is the cloud storage most Mac and iPhone users are familiar with. iCloud is the native cloud storage on both iOS and macOS devices, so there's an immediate benefit for people who are already on these systems.
iCloud Photo Library, as mentioned earlier, works with iOS, macOS and will also sync with Windows devices using the iCloud for Windows app.
iCloud's free photo storage is available to anyone with an Apple ID and offers 5 GB of storage. There are no functionality differences between the free and paid tiers, only storage capacity varies:
50 GB for $0.99/month
200 GB for $2.99/month
2 TB for $9.99/month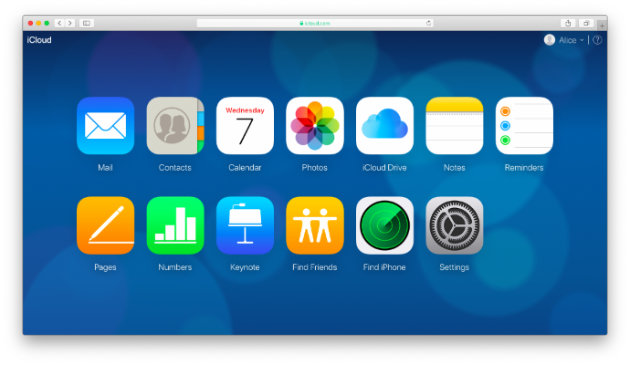 ---
Google Photos: Intuitive photo store and loaded with features
The next option, Google Photos, does require the use of a separate app on your iOS device. The app itself should feel somewhat familiar with pictures, albums, and sharing features. But you'll also notice a handful of features unique to Google Photos. On your Mac, you can use an uploader app and access your photos via a browser at photos.google.com.
When you upload your pictures to Google Photos, you're given the option of uploading them at full resolution or saving some space by slightly compressing them. At the time of writing this, full quality from an iPhone camera is still lower than the compression specs of Google Photos. This means even the "compressed" versions of your pictures are still full-resolution iPhone photos.
Thankfully, if you're concerned about storage space, the free plan Google offers comes with 15 GB. But, if that is still not enough, you can always upgrade it:
100 GB for $1.99/month
200 GB for $2.99/month
2 TB for $9.99/month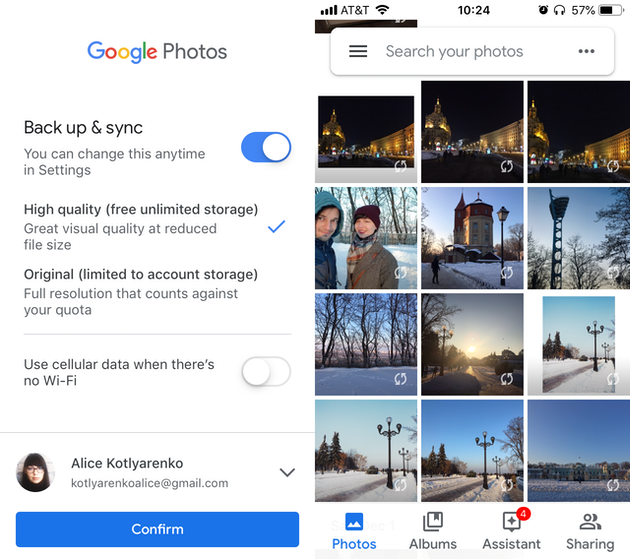 ---
Amazon Photos: The best photo storage for Prime members
The third pick, Amazon Photos, has free and paid plans comparable to the other two photo storage sites, but its biggest benefit — unlimited storage — requires an Amazon Prime membership.
The Amazon Photos app is required on both iOS and macOS, but your library is also accessible from any browser. A lot of the functionality present in Google Photos and iCloud is there, so you won't be missing much using the Amazon Photos app (by the way, here's how to use Amazon Photos on iPhone).
Like iCloud, Amazon offers 5 GB of free online photo storage. But more like Google, they offer unlimited storage for all Amazon Prime members — and without the compression. So if you're already a Prime member, this might be worth your while.
If you're not a Prime member and find yourself still needing more storage space, Amazon's plans are:
100 GB for $1.99/mo
1 TB for $6.99/mo
2 TB for $11.99/mo
---
Microsoft OneDrive: Reliable cloud file storage
Another option is Microsoft's cloud storage, OneDrive. If you're already using the Office365 suite, you'll probably be the most familiar with this option. It's completely integrated with the rest of the Office suite and utilizes all of Microsoft's cloud services, which makes it nice if you're looking for storage not just for your photo library but for other files as well.

The downside is that while OneDrive has a few photo-centric features, there aren't nearly as many of the services offered by other services on this list. And it leaves quite a bit to be desired when it comes to organizing your pictures. But if you're just looking to back up your photos and would prefer to keep them in a folder structure, then OneDrive might be a good fit for you.

Microsoft provides users with 5 GB of storage for free. Beyond that, you can upgrade to one of the other tiers:

100 GB for $1.99/mo
1 TB for $69.99/year
---
Adobe Cloud Storage: Cloud Photo storage for all your creative projects
If you're using any apps from Adobe Creative Cloud, then you'll definitely want to check out Adobe's cloud service. You'll find this service particularly useful if you're using Lightroom to edit your photos. In fact, you can even use Lightroom to help manage your entire library.

Using Adobe Creative Cloud to back up your pictures is incredibly easy and straightforward, but it does require a bit of a commitment. Using Adobe is not quite as cheap or intuitive as iCloud or Google Photos. If you're looking at Creative Cloud as a cloud-based backup, you should really only consider it if you're already using Adobe's apps.

Adobe's pricing for storage is bundled with the app's subscription plans. The cheapest bundle includes Photoshop and Lightroom, and the storage options include:

20 GB for $9.99/mo
1 TB for $19.99/mo
---
Honorable mention: Dropbox
Any conversation about cloud storage isn't complete without at least mentioning Dropbox. While not explicitly known as a place to store photos, Dropbox is highly versatile and can easily compete with top online photo storage sites.
The free Dopbox plan comes with 2 GB of storage. However, unlike the other options on this list, Dropbox offers a few more bells and whistles with its paid plan — like offline file access and remote device wipe. The two paid tiers are:
2 GB for free
2 TB for $9.99/mo
Because Dropbox is not solely for online picture storage, their app is more similar to Finder on Mac and lacks some of the photo features offered by the others.

---
So as you can see, the top 5 cloud storage options all offer similar features and comparable storage at competitive prices. What your best photo storage option is really depends on what added benefits you get out of it. Let's recap:
Apple iCloud is an excellent solution if you're an iOS/macOS users and want to keep photos within the Apple ecosystem.
Google Photos is one of the cheapest solutions for a photo storage, if you're okay with slightly compressing your photos.
Amazon Photos is your best choice if you're already an Amazon Prime member.
Microsoft OneDrive is a great choice if you are Microsoft Windows user.
Adobe Cloud Storage is very useful cloud storage especially for professional photographers.
Dropbox is worth considering if you're looking to store other files, not just your photos.
If you're still unsure which photo cloud to choose, why not try them all out? They all offer free plans to varying degrees. Set aside a small portion of your photo library and back it up using the options that seem interesting to you. Once you get hands-on experience, you'll see which photo storage app is right up your alley.