How to transfer photos from your iPhone to your PC
Just because you have an iPhone doesn't necessarily mean you use the entire Apple ecosystem. So when you need to copy photos from your iPhone or iPad to a Windows laptop or desktop PC, it may seem puzzling. But don't worry: you don't need any special software or tech knowledge to do that. All you need is either the same Lightning-to-USB cable you use for charging your iOS device, or your iCloud account enabled on both devices. In this article, we will cover the three easiest and quickest ways how to transfer photos from iPhone to a PC.
---
How to transfer photos from an iPhone to a PC
Upload via a Lightning-to-USB cable
Import using Windows Photos
Sync using iCloud Photo Library
Depending on what you want to transfer — you may want to move photos from a weekend trip or your entire photo collection of 14,000 shots — the process can take quite a lot of time, and the photos might gobble up a significant amount of space on your hard drive.
Before you transfer your photos
To make the transfer faster and avoid cluttering up your computer, it's worth taking a closer look at your Camera Roll. Are you sure all of these 15 selfies from slightly different angles should go to your PC? Or these year-old screenshots you forgot to delete and these photos of whiteboards from a meeting three months ago? If you unclutter your photo library before transferring it to your computer, it will reduce the time it takes to complete the transfer.
Of course, a major cleanup like that could take you hours, especially if your iPhone contains all your photos since 2014. But as with anything, there's an app for it. Download Gemini Photos for iPhone and run a scan. The app will find all the similar shots, unneeded screenshots, and blurred photos, so you can delete them in a few taps.
---
1.How to transfer photos from iPhone to a computer using a Lightning-to-USB cable
Before connecting your iPhone or iPad to a PC, make sure you've got iTunes downloaded on the computer. Importing photos this way requires iTunes 12.5.1 or later, which you can download from the Apple website.
Once that is ready, connect your Lightning-to-USB cable to the PC. You may need to unlock the phone and verify you Trust This Computer when prompted.
Now your iPhone will appear as a new device, either in File Explorer, under This PC (in Windows 10), or under Computer in Windows Explorer ( Windows 7). If it doesn't show up straight away, unplug and plug back in.
Right-click on the iPhone and select Import pictures and videos
Follow the instructions in the Import wizard
If you see photos with the .HIEC file extension, it means that your iPhone running iOS 11 or later is storing images using the new HEIF image format. Unfortunately, these aren't compatible with Windows devices, so to make them easy to transfer:
Go to Settings on your iPhone
Scroll to Transfer to Mac or PC
Tap the option: "Automatic": this will turn them into JPEGs
And there we go. That is one way to transfer images and videos over to a PC from an iPhone.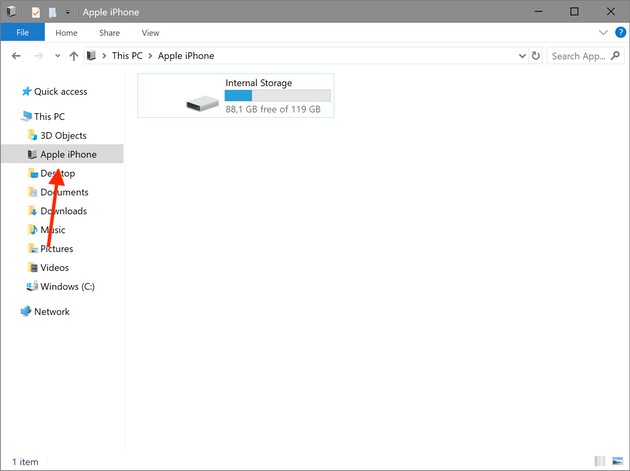 ---
2. How to move photos from an iPhone to a PC with Windows Photos
Connect your iPhone to the computer, just like described above. Once you've unlocked your phone and confirmed you trust the PC device, follow these steps:
Go to the Windows Photos app that comes with Windows 10
Click Import in the top right-hand corner
Your photos should be ready for import.
Select or deselect pics, depending on what you want to import
Click Continue and follow the instructions
Everything you import should now be saved in the Windows Pictures folder.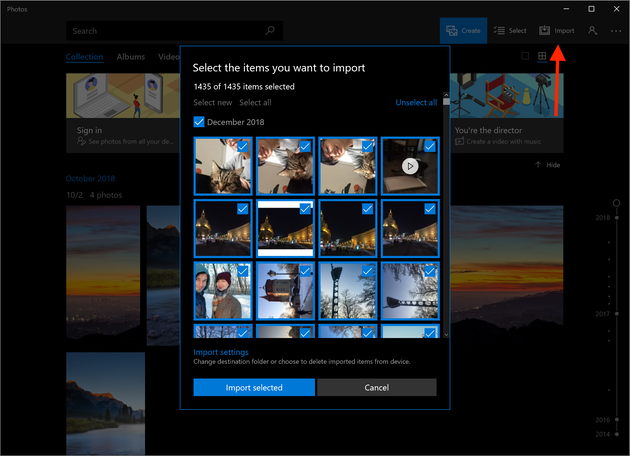 ---
3. How to transfer pictures from an iPhone to a computer using iCloud Photo Library
Another way to sync iPhone photos with a Windows device is using iCloud. Let's make sure it's switched on and ready to go. On your iPhone, follow these steps:
Go to Settings
Click on your name at the top
Go to iCloud
Underneath the iCloud storage indicator, you'll see a list of Apps Using iCloud
Click on Photos (it should be the top option)
Switch on iCloud Photo Library (iCloud Photos in iOS 12)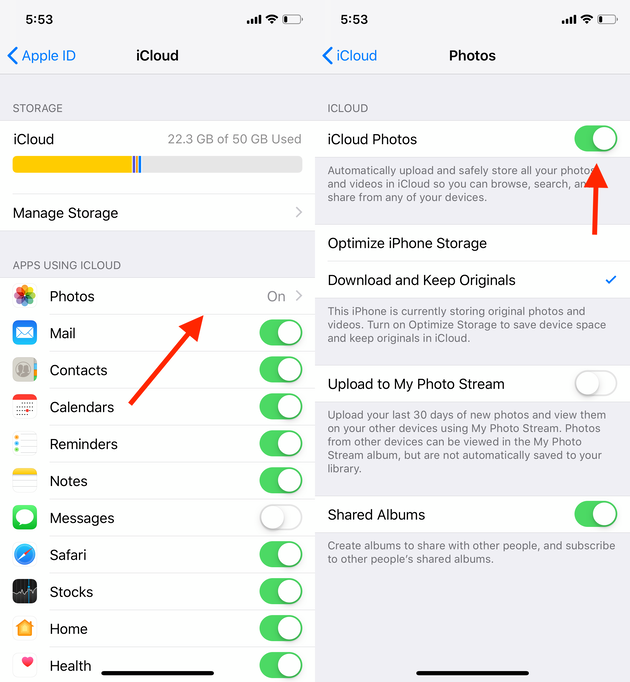 Now, make sure the iCloud is enabled on your PC:
Download iCloud for Windows and install it
Restart your PC
Open iCloud for Windows
Sign in to iCloud with your Apple ID
Check the box next to Photos and any other types of content you want synced
Click Apply
From now on your photos should sync from your iPhone to your computer automatically. iCloud is also an obvious way to sync photos between an iPhone and a Mac, so if you also own a Mac computer, check out our guide to moving photos from iPhone to Mac.

---
Why can't I copy photos from my iPhone to a PC?
If you have encountered any difficulties, it is worth looking into the following:
Does your Windows device have sufficient memory?
Are the photos in a compatible format?
Does your iPhone sync images with other devices without any problems? If yes, it could be the cable or the computer.
Is Wi-Fi enabled for transferring images via iCloud?
Are you sure your antivirus, security settings, or firewall software aren't preventing the transfer?
Have you confirmed you trust the PC before initiating the transfer?
Once you've checked everything, if the transfer still isn't possible, further troubleshooting might be necessary. However, in most cases, transferring pictures from an iPhone to a PC is simple and straightforward.
So these are the 3 ways to move iPhone photos to your computer. Whether you're transferring photos to edit them on a bigger screen or trying to back up your iPhone to a PC, it's fairly easy to do with the tools above.